EAST GREENSBORO, N.C. (Nov. 17, 2022) — North Carolina Agricultural and Technical State University College of Agriculture and Environmental Sciences student Leila Noufal has been named a 2022 recipient of the American FFA Degree, the highest degree awarded by the National FFA Organization.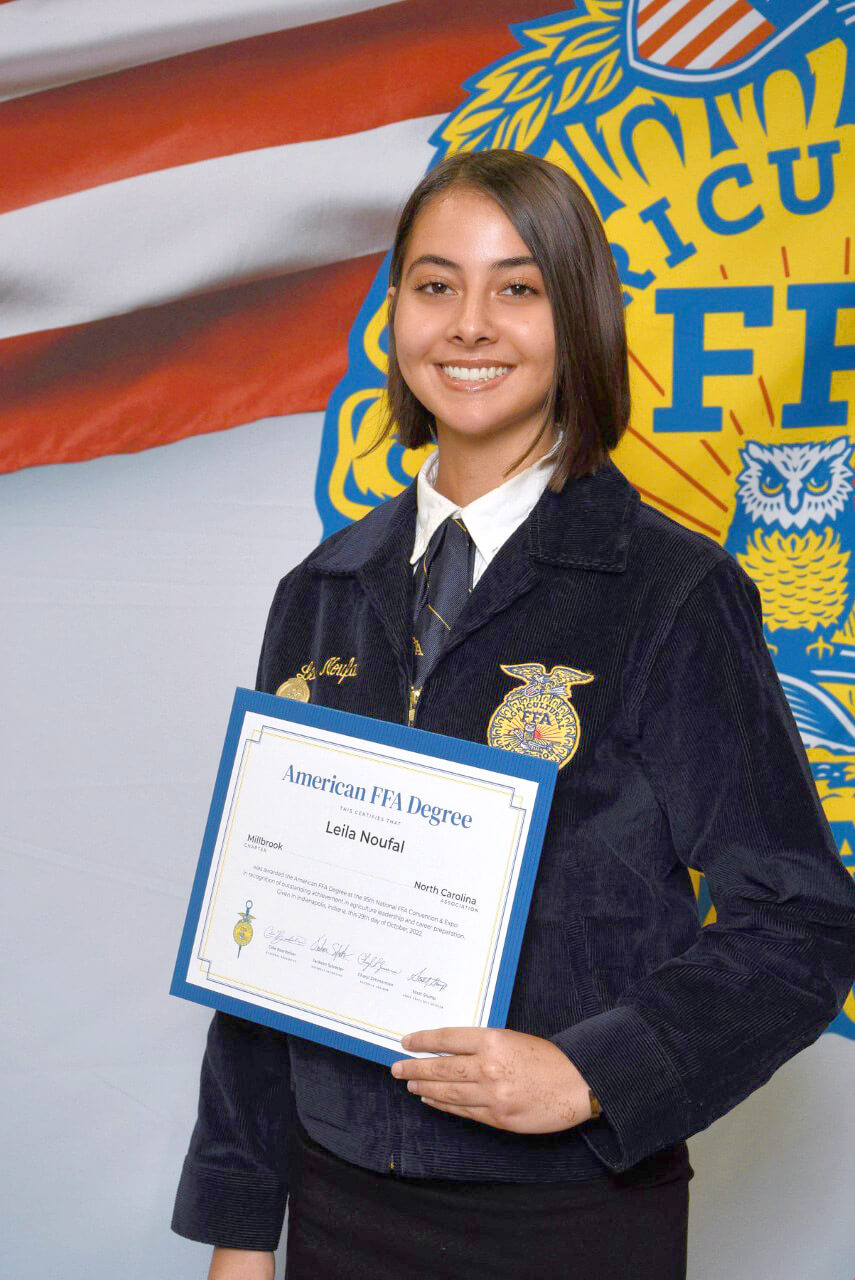 Noufal received this prestigious honor at the 95th National FFA Convention & Expo, which brought more than 60,000 FFA members to Indianapolis. Fewer than 1% of FFA members earn the American FFA Degree.
"This award says that agriculture is my passion and that I'm an effective advocate for agriculture," Noufal said. "It shows my commitment has been consistent over the years."
Recipients of the American FFA Degree must have first earned their State FFA Degree, have been an active FFA member for at least three years and completed at least three years of agricultural education. Recipients also must have taken part in community service and participated in a supervised agricultural experience that can include raising crops or livestock or working in agribusiness or a research lab over multiple years.
FFA members become eligible for the degree 12 months after they graduate from high school. They must apply to be considered.
"Earning the American FFA Degree marks each recipient as a hard worker, a planner and a leader — someone willing to go beyond their peers in learning, growing and preparing for life," National FFA Education Specialist Brett Evans said.
Noufal grew up in Raleigh and joined FFA in middle school. At Millbrook Magnet High School, she served as FFA vice president for two years, led a donation drive to collect clothes and supplies for migrant farm workers and their families, and was inducted into her high school's service club.
At A&T, Noufal is majoring in agricultural education with a concentration in plant and soil science. She also serves as secretary of A&T's chapter of Collegiate Farm Bureau and as Miss Poultry Science Club. She satisfied her supervised agricultural experience requirement for her American FFA Degree through work.
Noufal is employed as a lab technician on campus and at the N.C. A&T University Farm by Guochen Yang, Ph.D., a professor in the department of Natural Resources and Environmental Design. This past summer, she held a 10-week internship with Cooperative Extension at A&T in Franklin County. She also has worked in the farm store operated by Mike and Suzanne Jones at the State Farmers Market in Raleigh. Mike Jones was the 2021 N.C. Small Farmer of the Year.
Noufal plans to earn her bachelor's degree in 2025, then pursue a master's degree in agribusiness. Later, she hopes to teach middle school agriculture to give back to students like her.
"Being part of FFA and to have that connection to this huge community of people has already been such a privilege," Noufal said. "To be someone who has an American FFA degree — that's a whole other level."