College of Agriculture and Environmental Sciences
College of Agriculture and Environmental Sciences
2022 CAES Aggies Do: Spring Commencement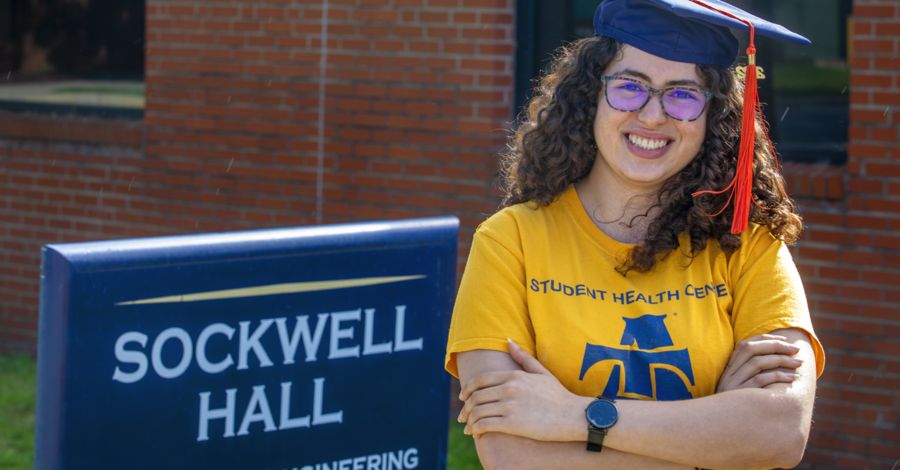 In 2019, Onnr Grogan endured a life-shattering accident, spending months in the hospital, re-learning to walk and write numbers 1-6. On May 14, she graduated summa cum laude with a degree in biological engineering.
Read more and Graduation Slideshow
1l3 CAES students became Aggie alumni at 2022 Commencement on May 14.
Feeding a hungry planet and protecting the environment we all share are challenges that become more important every day. At the North Carolina A&T College of Agriculture and Environmental Sciences (CAES), you can help meet those challenges.
This is a field that needs bright young minds, eager to make a difference. From our pioneering Laboratory Animal Science and Landscape Architecture programs to our award-winning Cooperative Extension and Agricultural Research programs to our Center for Excellence in Post-Harvest Technologies, we have a rich history of innovation in this area. Here you will gain the knowledge and expertise to take advantage of the many career opportunities available in agricultural practice and research from North Carolina to every part of the globe.
Points of Pride
WITH A RICH HISTORY OF INNOVATION, application of cutting-edge technology and delivery of educational programs for students and North Carolina communities, we engage in practical research that enriches the lives, the land and the economy of our state and nation and helps to meet the food challenges of a hungry planet.
#1 in graduation of Black agricultural science undergraduates
- Diverse Issues in Higher Education
#1
Largest Among the 1890 Land Grant Universities
175
Grants Funded $109,911,916 total
2,116
Small-scale producers helped by Cooperative Extension at N.C. A&T
Academic Departments
The College of Agriculture and Environmental Sciences offers undergraduate and graduate degrees in four departments:
College of Agriculture and Environmental Sciences News