EAST GREENSBORO, N.C. (July 6, 2022) – North Carolina Agricultural and Technical State University student researcher Kayla Alston is one of 60 undergraduates selected for the 2022 Posters on the Hill conference presented by the Council on Undergraduate Research (CUR).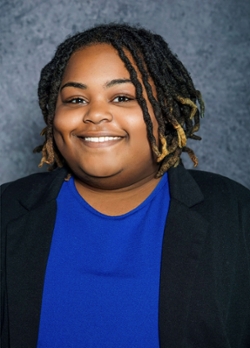 Alston is the only participant chosen from North Carolina, as well as the only one representing a historically Black college or university, for CUR's signature advocacy event at the federal level.
Alston, of Greensboro, North Carolina, is a rising fourth-year student pursuing a B.S. in animal science from the College of Agriculture and Environmental Sciences with a minor in chemistry. She is a member of the University Honors Program (UHP) and has been on the Dean's List since 2019.
A U.S. Department of Agriculture 1890 National Scholar sponsored by the USDA Agricultural Research Services (ARS), Alston presented her abstract, "On-Site Mastitis Testing," during the virtual conference, CUR's prestigious signature event.
"Mastitis is an inflammation of the mammary gland caused by infection with pathogens," wrote Alston. "It impacts dairy farm economics through medical costs, decreasing the income from milk because of discarded milk, and occasional deaths."
Alston, who will complete her second year interning as a biological science aide for the USDA-ARS, started as a high school research apprenticeship student with Mulumebet Worku, Ph.D., director of the Office of Undergraduate Research, with whom Alston works as an undergraduate research assistant in the genomics lab at the Department of Animal Science. The research performed by Alston and Worku is funded through the USDA Evans-Allen Research Program.
Alston has conducted and presented mentored research since 2019, including her work on protein treatment to improve bovine immunity. She is a member of Minorities in Agriculture, Natural Resources, and Related Science and will serve in the N.C. A&T Aggie Mentor Collective for the 2022-23 academic year.
A fourth-generation 1890 agricultural science student and third-generation Aggie, Alston joins Jasmine Scott (2013) and William R. Rowe (2015) in having represented the university at Posters on the Hill.
"I am proud of Kayla's ongoing contributions to research that has local and national ramifications," said Margaret I. Kanipes, Ph.D., UHP director. "Kayla is a great example of an Honors Aggie because she is more than a high-achieving student. She in on a path to become a transformational leader committed to excellence and the Aggie Legacy to serve humankind."
CUR hosts the annual Posters on the Hill conference to highlight the work of undergraduate researchers from around the country to members of Congress, congressional staffers, federal government officials, academics and others, demonstrating the value of federal investment in undergraduate research. The event is highly competitive, with several hundred applications received each year and judged by a national panel of experts in their fields.
With a membership of more than 700 institutions and more than 13,000 individuals, CUR supports faculty development for high-quality undergraduate student-faculty collaborative research and scholarship.