N.C. A&T's Anderson, Henderson Chosen for 2022 HBCU White House Initiative
By Jackie Torok / 06/10/2022 Academic Affairs
EAST GREENSBORO, N.C. (June 10, 2022) – The White House Initiative (WHI) on Historically Black Colleges and Universities (HBCUs) has selected North Carolina Agricultural and Technical State University students Sullivan G. Anderson and Tiera A. Henderson as 2022 HBCU Competitiveness Scholars.
Anderson and Henderson are among 86 students who were chosen from 56 HBCUs nationwide to receive the initiative's highest honor based on academic achievements, campus leadership, civic engagement and entrepreneurial spirit. They raise North Carolina A&T's total number of participants in this program to nine since it began in 2014.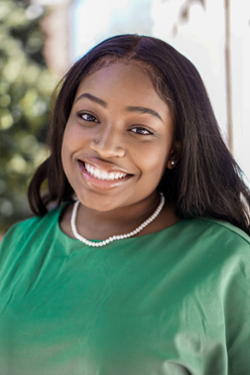 Rising junior Anderson, of Chicago, is pursuing a B.S. in economics. A Dowdy Scholar, she is a Management Leadership for Tomorrow Career Prep Fellow, Honors Ambassador for the University Honors Program (UHP) and has been Miss Honors for A&T's Honors Student Advisory Board. She is a member of Alpha Lambda Delta Honors Society, Omicron Delta Epsilon Economics Honors Society, and Toastmasters.
Anderson also founded the HBCU Courage Scholarship to increase access to HBCUs for Chicago students, having raised funds for two $500 scholarships awarded to Chicago high school seniors to offset the costs of academic travel.
"I've worked diligently to involve myself on campus as an elected member of the University Honors Program Student Advisory Board, president of the Aggie Economics Association, and newly initiated member of the Alpha Phi chapter of Alpha Kappa Alpha Sorority Inc.," she said. "It's rewarding to see my efforts to represent students who may not feel empowered to speak out on their own pay off by being a representative for HBCU students overall. Sharing the excellence of our institution with White House representatives and faculty is an opportunity I do not take for granted."
Anderson has completed virtual internships with the University of Chicago as a member of its BFI Summer Economics Institute and with Deloitte through its Pioneer Internship Program. She also participated in the inaugural Goldman Sachs "Market Madness: HBCU Possibilities" Program case study competition.
"Sullivan has set a great example within her community service co-chair roles and Ambassador roles with current and incoming Honors Aggies," said Margaret I. Kanipes, Ph.D., UHP director. "She has also won praise from her department chair Dr. Scott Simkins, who is proud to claim her as an economics student who wants to contribute to the HBCU legacy and pursue a graduate career in economics. I look forward to seeing her become a leader in shaping policies to help marginalized communities."
Second-year graduate student Henderson, of Greensboro, North Carolina, is pursuing an M.S. in school counseling. She earned her B.S. in psychology from Virginia State University, where she also received certification in project management.
"As a wife, mother of four and member of Zeta Phi Beta Sorority Inc., I have an appreciation for balance and diverse perspectives," she said. "I am excited to contribute my background in psychology and project management to the goals of the White House Initiative on HBCUs as I complete my master's degree and start my doctoral degree, both in counseling."
Henderson serves as chair of communications for the Graduate Student Advisory Council at A&T, where she was inducted into Chi Sigma Iota International Honor Society. She has also volunteered with Guilford County Schools and Constance Covington Youth Center and has been a member of the Parent-Teacher Organization for Cornerstone Charter Academy. Additionally, she is participating in the Behavioral Health Traineeship Program and has collaborated with the Department of Juvenile Justice to develop programming geared toward youth success.
"Tiera's academic performance has highlighted the need of awareness among school counselors when working with diverse and often forgotten marginalized groups of students," said Maylee Vazquez, Ph.D., assistant professor of counseling in the College of Education who wrote an academic letter of recommendation for Henderson's application. "As a school counselor and former ESL special education teaching assistant, it brings me so much joy to know that someone of her caliber is passionate about working with youth in our schools."
As 2022 HBCU Scholars, Anderson and Henderson will be invited to monthly virtual events hosted by the initiative and its various partners representing a wide range of disciplines. They will have the opportunity to network with fellow scholars, federal agencies and private partners to showcase individual and collective talent across the HBCU community.
They also will be invited to attend 2022 Annual National HBCU Week Conference workshops designed to help them learn and adopt promising practices in areas such as leadership, professional development, HBCU excellence and workforce development.
Scholars are expected to carefully assess their personal and career aspirations, as well as the needs of their institutions and communities, to help determine the best ways the Initiative and its partners might provide support.
Eligible candidates are encouraged to review the web pages for the White House Initiative on Advancing Educational Equity, Excellence, and Economic Opportunity through HBCUs through the end of the calendar year in advance of the next application cycle.
Institutional nomination or endorsement is typically required before students can apply for the WHI HBCU Scholar Recognition Program, which also has also been known as the White House Competitiveness Scholars Program for HBCU Students. Students, faculty, and staff may contact Alsace-Lorraine Gallop, A&T's national scholarships and fellowships coordinator with
NCAT Extraordinary Opportunities
, at
acgallop@ncat.edu
for details.