EAST GREENSBORO, N.C. (Dec. 23, 2021) – Lithium-ion batteries now are more and more widely used in electric vehicles, laptops, cell phones, smart watches and other gadgets. In these batteries, lithium ions are the energy currency, traveling back and forth between two electrodes through liquid called electrolyte. However, these liquid electrolytes are typically highly flammable, which can catch fire and even cause explosion during battery abuse such as car crash, battery overcharging, too high working temperature, etc. 
North Carolina Agricultural and Technical State University researcher Xiaochuan "Frank" Lu, a professor in the College of Science and Technology in the Department of Applied Engineering Technology, is studying ways to avoid the use of these liquid electrolytes in the batteries and sustainably manufacture efficient solid-state sodium batteries that will reduce the risks of battery fire. This research was published in the December issue of monthly peer-reviewed scientific journal Nature Nanotechnology. 
Solid-state batteries use solid materials such as ceramics as the electrolytes between the two electrodes, like a sandwich. Gaps can always be observed between the meat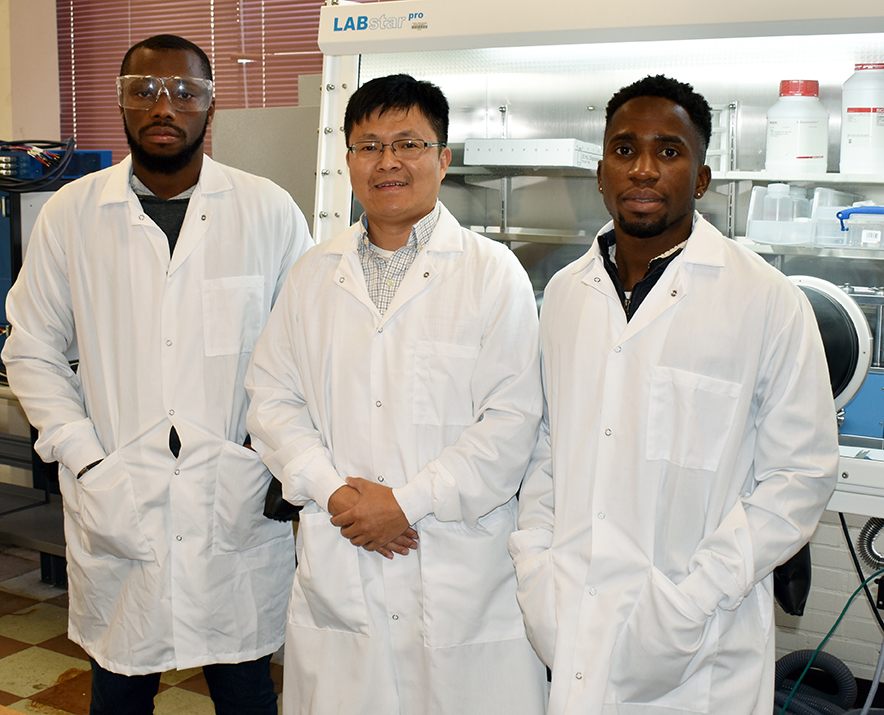 and the bread. When observed under a microscope, this type of "gap" also exists between the solid electrolyte and the electrode, which makes the lithium or sodium ions traveling between them more difficult. Because of this "gap" and the incurred higher resistance for the ion traveling, less current and energy are drawn from these batteries during discharge compared to other batteries with liquid electrolytes.   
Lu's research team introduces a second ceramic material to the major one in the electrolyte. This additional material serves as an anchor between the solid electrolyte and the electrode that can tightly hold them together during battery charge and discharge. Because of this anchoring effect, the "gap" no longer exists at the electrolyte/electrode interface. The resistance for the ion traveling across the interface remains low and stable and the battery can last longer. This represents significantly better performance compared to other reported solid-state batteries. 
Led by Lu, this work is a synergy between N.C. A&T, University of Maryland, Pacific Northwest National Laboratory, and Idaho National Laboratory. In addition to Lu, other A&T authors of the paper include Obinna Chiekezi and Toyosi R. Adebisi, both graduate students. 
"It's really amazing to have the opportunity to be published in this top-notch journal," Lu said. "Our research shows that this battery will significantly improve performance and interface which makes solid-state battery more practical." 
This more practical battery could reduce costs for manufacturer's attempting to enter or further explore the electric vehicle market. This study also represents a new class of sodium batteries with significantly lower operating temperature and higher safety than those of traditional high-temperature sodium batteries. 
With the move toward a more green and sustainable forms of transportation and stationary energy storage applications, Lu's research could lead to a breakthrough in producing solid-state batteries that are more cost effective, efficient, and safe.