College of Engineering 10th Graduate Research Poster Competition Produces a First
By Alexander Saunders / 04/28/2021 College of Engineering
Photo Caption: A student explains their research to a judge during the 2019 COE Graduate Research Poster Competition, the most recent to be held virtually.
EAST GREENSBORO, NC (April 28, 2021) – The tenth College of Engineering (COE) Graduate Research Poster Competition came down to the wire this year and produced a first-ever three-way tie for runner up in the Ph.D. category. The marquee annual event is a showcase of talent of COE students studying in the eight master's and five doctoral programs at North Carolina Agricultural and Technical State University.
This year's winner for the Ph.D. category was Elsie Otibu Mpere of the Department of Industrial and Systems Engineering, along with advisor Lauren Davis, Ph.D. The winning poster is titled, "SEIR-ABM approach to ascertain the impact of Covid-19 on food processing as a result of cultural practices at home."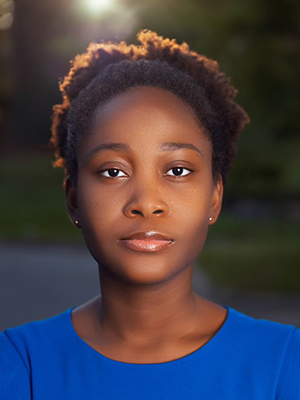 Mpere's problem statement was "Has Covid-19 impacted food processing as a result of cultural practices at home; if we surveyed food workers could we tell if they contracted Covid at work and brought it home or contracted at home due to living in close quarters and brought it to work?" Learn more about Mpere's conclusion for this timely problem on video and poster. 

Remarkably, the competition was so competitive this year that it finished with a three-way tie for runner-up in the Ph.D. category. The runners-up included:
Simrit Safarulla Arakka studies bioengineering and won the master's poster competition, along with advisor Arvind Chandrasekaran, Ph.D. Arakka presented, "Targeting Innate Neutrophil Response to Brain Metastatic Breast Tumors for Engineering Potential Therapeutic Strategies." The research investigates the impacts of introducing neutrophils into the brain microenvironment to find treatment solutions for brain metastasis caused by breast cancer. The treatment could ultimately be a safer alternative treatment than chemotherapy or radiotherapy.
Kelsey Almanzar studies mechanical engineering and was the runner-up for the master's poster competition along with advisor Sun Yi, Ph.D. for the poster "Human Machine Interaction Through Virtual Reality."
For only the second time in the competition's history, the event was held virtually. Twenty-four judges from industry, the College of Engineering, and the College of Science and Technology listened to 95 student presentations over two days and engaged with the students about their research. Students prepared posters and videos ahead of the event and answered challenging and relevant questions from judges about the work they presented.
AMD sponsored the event and the Ph.D. winners will be awarded $500 and each runner up will receive $350. The master's poster winner will receive $400 and the runner-up will receive $250.
Media Contact Information: uncomm@ncat.edu
Headlines, College News, All News