N.C. A&T Alumnus Brings Coming 2 America Set to Life with Fashion
By Alana Allen / 03/24/2021 Alumni
East Greensboro, N.C. (March 24, 2021) – On March 5, the world was reintroduced to Zamunda, with the premiere of "Coming 2 America" on Amazon Prime. Fans from all generations gathered together at home to enjoy this anticipated comedy and many were captivated by the fashion and the esthetics of the set that gave us a front-row seat to the continent of Africa. The behind the scenes work that brought these intriguing visuals to life was due to North Carolina A&T alumnus, James "Jimmy" Hawkins, who is a costume designer that worked as a fitter on the set of the movie.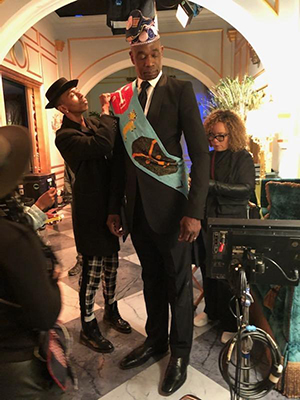 "This entire journey felt like an out-of-body experience because we created a world where black people are successful, getting along and I was surrounded by amazing talent," said Hawkins.
For more than seven years, the Wilmington, North Carolina native's, fashion career has elevated to many levels, from working on the set of VH1's "Single Ladies," and TV One's "Bad Dad Rehab 2" to the "Christmas Dilemma," as a costume designer.
"I really got my start in fashion out of being frustrated with my career in 2013 working at Nordstrom and I just so happen to meet a woman who people deemed as being difficult in our store. However, I decided to help her and she loved my demeanor and she asked me to connect with her after I got off of work – and the rest is history. I met her at a warehouse address, I found out she was a fashion designer and I was hired as a production assistant on the set of Single Ladies," said Hawkins.
In early 2019, the opportunity for "Coming 2 America" came knocking when Hawkins was working on the set as a costume designer for BYU's "Dwight in Shining Honor" when he received an anonymous call requesting for him to work on a project.
"I remember setting up the meeting, sitting on the couch, and waiting for the meeting to start when Ruth Carter, the Academy Award-winning costumer designer of Black Panther, walked in the room. I immediately knew that greatness had shown up and she asked me three questions and the last one was when can you start," said Hawkins.
On the set of "Coming 2 America," Hawkins worked with a team of designers led by Ruth Carter for six months that provided costumes for over 3,000 people.
"For six months we would fit up to 150 people per day, it was everyone from the dancers, housekeepers, choir members to the people who worked on the lawn. Our goal was to make sure that the esthetics of the set came to life," he said. "I spent the majority of my time at Tyler Perry's old and new studios and the mansion used for the film, which is Rick Ross' house."
"I will never forget this experience and I am grateful for my mother who instilled in me work ethic and the values of always showing up looking fashionable. She plays a vital role to my success and she is someone I truly admire."
Hawkins' resume includes iconic films set to premiere in 2021- 2022 such as "Genius: Aretha" and "Respect," two films that focus on the life of Aretha Franklin; HBO's "First Ladies," with Viola Davis; and BET's "The Oval."
To learn more about James "Jimmy" Hawkins' work, please visit his Internet Movie Database profile online.