EAST GREENSBORO, N.C. (Nov. 1, 2023) – Growers, researchers and community members no longer have to leave their tech behind during field demonstrations or community outreach sessions at North Carolina Agricultural and Technical State University.
A new portable charging trailer, customized for the College of Agriculture and Environmental Sciences research division, can run presentations, access the internet, charge phones and other electronics, even play Bluetooth radio.
"Today's agricultural world is digitally connected," said Greg Goins, Ph.D., CAES associate dean for research. "The importance of connecting researchers to Cooperative Extension, students, and farmers cannot be overstated. This solar charging trailer allows us to work beyond the physical space at a pace consistent with the rest of everyday life – even when we're in the field."
The trailer is equipped with two 55-inch outdoor-rated screens, a 400-watt audio system, 10 USB ports and an HD media player for displaying both photo and video content. It can stream Bluetooth audio and can charge more than 60 cell phones simultaneously. The trailer is heated and cooled, and with 700 watts of solar power on the roof and 1260 amp/hour of battery storage, there is more than enough power to stream and charge all day.
Tour the trailer:  https://youtu.be/vtRoRCILB8I
"This trailer is another example of our college's participation in digital agriculture and artificial intelligence technologies on the farm," Goins said. "In 21st century agriculture, we have charging capabilities for our cell phones and drones, and full video capability to offer presentations in the field."
Users do not have to go inside the trailer to charge; they can use one of two external charging tables, each with its own solar panels to keep its USB and wireless pads, for charging cell phones power, charged.
"It's the ultimate classroom, but it's small enough that we can move it anywhere in Greensboro, or go down east, where there's less broadband but more agriculture," said Goins. "It's portable power on wheels. It's a momentous day for North Carolina A&T."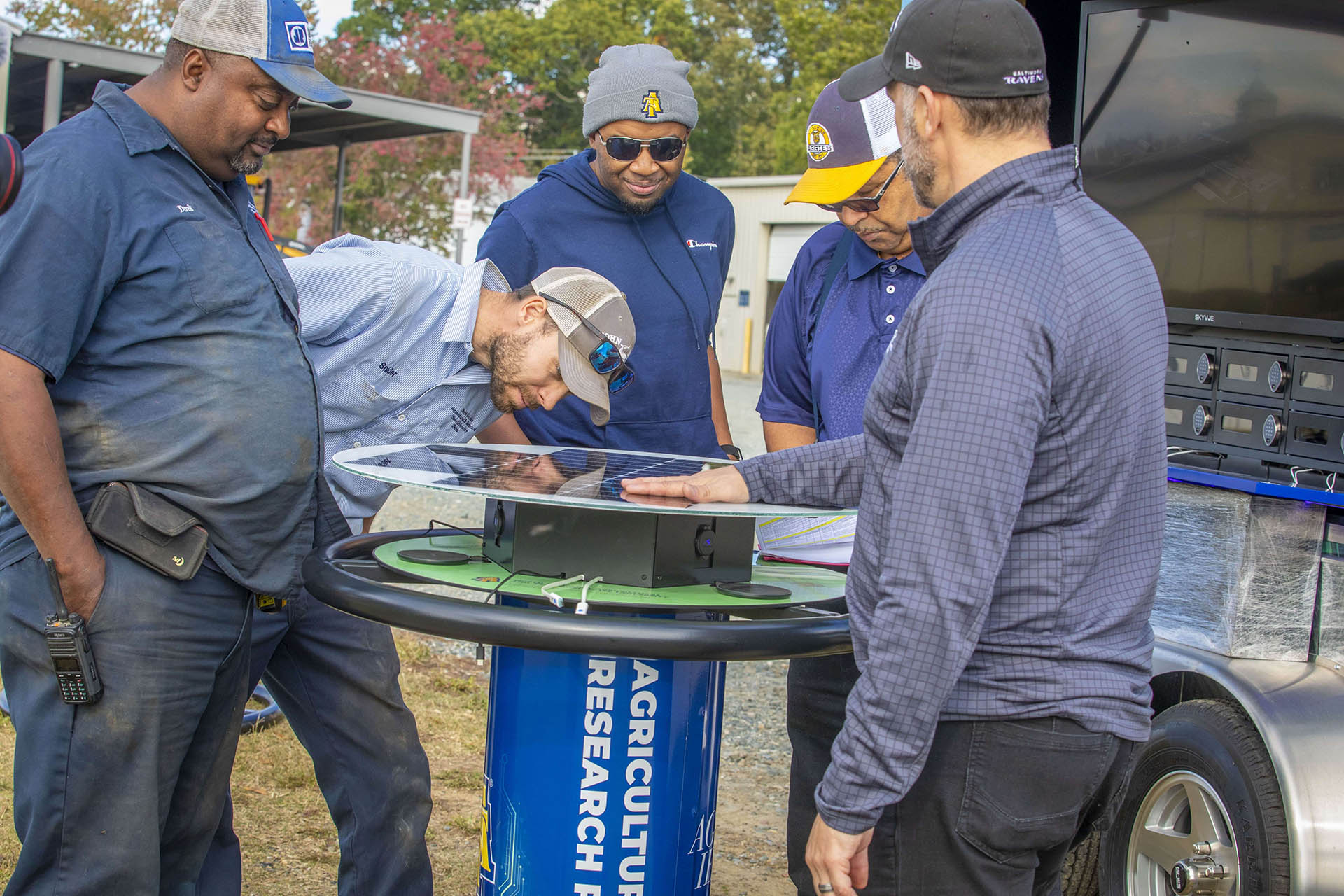 University Farm field staff inspect a table equipped with solar panels and charging cords, part of the solar-powered charging trailer the College of Agriculture and Environmental Sciences will use to present in the field.