EAST GREENSBORO, N.C. (Nov. 10, 2023) – North Carolina Agricultural and Technical State University's Paula Groves Price, Ph.D., dean of the College of Education, was recently selected as a 2023 recipient of the Joseph R. Biden Lifetime Achievement Award and Presidential Medal for her community and volunteer service efforts.
"It is very humbling to be included as an honoree with trailblazers and legends of civil rights who have dedicated their lives to community uplift and service," said Price. "I feel that I am only halfway done with walking in my purpose as a servant leader, but I am thankful for the recognition and validation that the work that I have done has made a difference in the lives of others."
Groves Price received the award and recognition for her lifelong commitment to building a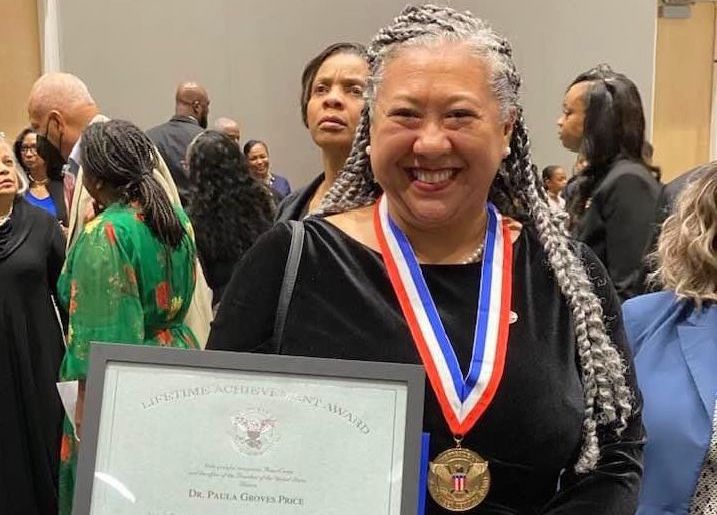 stronger nation through volunteer service. The award includes a letter from Biden, a presidential lapel pin, the Lifetime Achievement recognition and the Presidential Gold Medallion during a special ceremony for regional awardees at North Carolina Central University. Other ceremonies were held in Georgia, Florida and the District of Columbia.
As a recipient, Price stands among great company. Former awardees include Congresswoman Eleanor Holmes Norton; former U.S. Surgeon General David Satcher M.D., Ph.D.; Honorable Shirley Franklin; The Isley Brothers (Ronald and Earnie); Chancellor Johnson O. Akinleye; Pastor John P. Kee; Honorable Julian Bond (posthumously) and many more. 
The Presidential Lifetime Achievement Award was established by former President George W. Bush in order for citizens to be recognized who have made major differences within their communities and around the world. Each recipient was vetted and nominated by both former presidential award recipients and community leaders.
Headlines, All News, College News