Wayne County Sisters Named 2023 Small Farmers of the Year
By Lydian Bernhardt / 04/03/2023
EAST GREENSBORO, N.C. (April 3, 2023) – Joyce Martin Bowden left her family's farm in Wayne County, North Carolina, for college, marriage and a career in Philadelphia. Jeannette Martin Horn stayed closer to home, working both a career in law enforcement and the land, with her brothers and family.
When Bowden returned to North Carolina after the death of her husband, she had a goal in mind: to start a produce farm with her sister.
"When Joyce came back, she revealed to me that she had this vision of farming, just the two of us," Horn said. Horn was agreeable, and J&J Martin Produce LLC was born on a parcel of the family's "Century Farm," land that has been in the family for five generations.
The sisters and their farm were honored March 29 as North Carolina's 2023 Small Farmers of the Year, a recognition awarded by Cooperative Extension at North Carolina Agricultural and Technical State University as part of its annual Small Farms Week.
Watch the video: https://www.youtube.com/watch?v=tC_mXLbbOJ8
Since 2019, Horn and Bowden have grown a wide variety of produce – including green beans, mustard and turnip greens, squash, onions, tomatoes, pecans and their signature field peas – on 100 acres of their Wayne County land. The sisters' ancestor, a soldier in the 135th U.S. Colored Infantry, bought the land after the regiment was "mustered out" in 1865.
"The field peas are just a phenomenon, at this point," said Bowden. "In the beginning, we would pick them and take them to the Farmer's Market, and when people found out where the farm was, they would come to us. So we've increased the amount of field peas each year – we're up to five acres. We'll probably plant even more this year."
Jessica Strickland, horticulture agent for Wayne County, has worked closely with the sisters since the beginning, helping them get started at the regional Farmer's Market; diversify their operation by adding a farm stand; apply for grants for high tunnels and put down a drip irrigation system.
"They're not just selling the produce; they're talking to people. People get the opportunity to ask questions and learn more about their food," Strickland said. "They give back to the community, whether it's school groups or having interns on the farm. They're giving people the opportunity to learn more about agriculture and about farming."

Small Farms Week, N.C. A&T's annual tribute to small-scale agriculture, returned to a fully in-person format this year, with educational programs, panel discussions and farm tours. The weeklong annual celebration was launched by Extension at A&T 37 years ago to connect with small-scale farmers—including minority farmers and those in limited-resource communities— to ensure they receive the latest research-based information on farming techniques, new tools and technologies. It also gives the public a chance to meet their agricultural neighbors and learn about farm operations and food production. 
The Small Farmer of the Year award was presented at the Small Farmer Appreciation Luncheon, one of the highlights of Small Farms Week. The sisters received a plaque, monogrammed jackets and $2,000.  
"Our theme this year is 'Growth in a Changing Climate,' and our message is that we at Extension will be here to help you understand the impacts of climate change and not only survive, but learn to thrive," said M. Ray McKinnie, Extension administrator, told the luncheon audience. "Taken together, small farms comprise 80% of all farms in the state. We all know that farming isn't just an occupation, it's a way of life. That's why we recognize these committed and hard-working people every year. It's a chance to say 'thank you' and to share your stories with your neighbors across North Carolina."
Among the VIPs of the agricultural sector to attend the luncheon were Steve Troxler, North Carolina commissioner of agriculture; Mohamed Ahmedna, Ph.D., dean of the College of Agriculture and Environmental Sciences; Shawn Harding, president of the North Carolina Farm Bureau; and Rich Bonanno, Ph.D, Extension director at N.C. State University.
The event also included a keynote address from Chavonda Jacobs-Young, Ph.D., undersecretary for research, education and economics and chief scientist at the U.S. Department of Agriculture (USDA.)
"Small farmers are the lynchpin of U.S. agriculture. Here in North Carolina, that couldn't be more accurate because of how critical you are to the nation as a top producer of horticultural products," said Jacobs-Young.
"With most of the population living in urban or semi-urban communities, it's easy to forget that the range and reach of agricultural production in this country is vast. Small, family-owned farms operate almost half of U.S. farmland and generate 21% of production. According to the Census of Agriculture farm typology report, small farms produce 57% of the poultry and eggs and 52% of hay in the United States. That's not small in anybody's book. And cattle, poultry, grain and soybeans account for over 70% of all small, commercial farm production. Without you, our citizens would be spending significantly more for food and would have fewer healthy choices."
For Small Farmer of the Year Jeannette Horn, farming is not only a vital enterprise, but one headed toward a bright future in which the entire community can participate.
"This is not just for us. This is for the community," Horn said. "This farm was started by a veteran – my father was a veteran, we've got veteran mentees on the farm. It's for family. It's for the next generation. It's for women. We're offering something we believe is a benefit not only to us, but also to the community. We represent more than Joyce and Jeannette."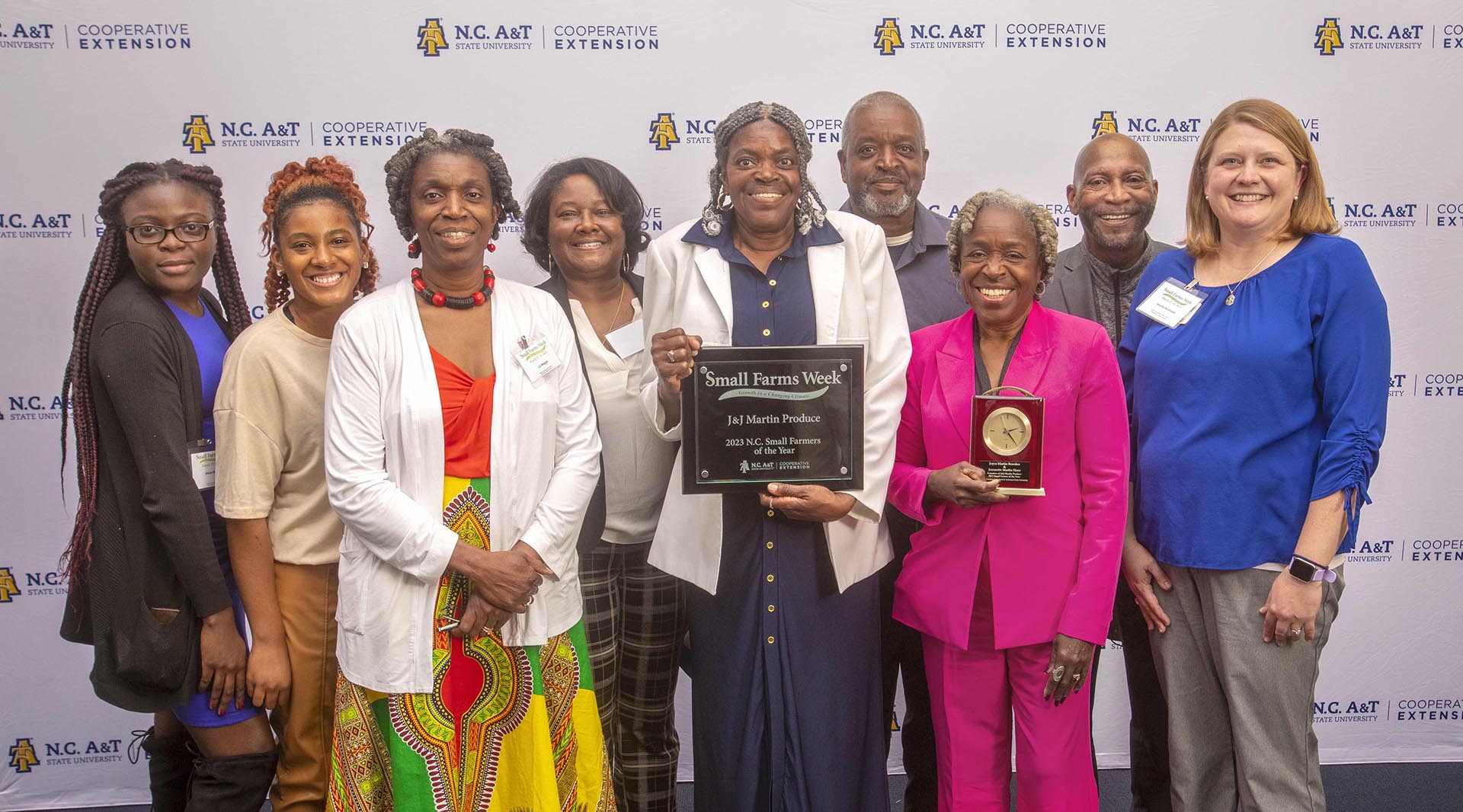 Joyce Martin Bowden, center, and her sister, Jeannette Martin Horn, at right, celebrate with their family and Wayne County Cooperative Extension agent Jessica Strickland, far right, after being announced as 2023 Small Farmers of the Year. The event was part of N.C. A&T Cooperative Extension's 37th annual Small Farms Week.