EAST GREENSBORO, N.C. (March 2, 2023) – North Carolina Agricultural and Technical State University and Cone Health today signed a Memorandum of Understanding (MOU) that strengthens their partnerships in clinical education, research and strategic workforce development.
To achieve these goals, the two institutions have developed a joint steering committee to identify, develop, implement and evaluate priority initiatives.
"Our partnership has enriched this community in so many ways, from the health professionals we graduate at A&T who then go into Cone Health settings to serve the public, to the numerous ways we collaborate toward greater health equity throughout the Piedmont Triad," said Chancellor Harold L. Martin Sr. "That work is critical as we jointly seek to address and improve processes and outcomes that have disadvantaged specific communities and populations for generations. Because of all that we have accomplished previously, the new MOU portends well for our students and for the hundreds of thousands of patients and families served by both our institutions each year."
Cone Health has been a long-standing partner for clinical training of students in the B.S.N. program at N.C. A&T. This MOU sets forth a broad framework for future cooperation at a time when the university is expanding its clinical degree offerings and advancing multidisciplinary team research approaches to alleviate health disparities.
A recent addition to the clinical degree programs at A&T is an M.S. in physician assistant (PA) studies approved by the UNC Board of Governors in October 2022. Housed in the John R. and Kathy R. Hairston College of Health and Human Sciences, the PA program will seek accreditation through the Accreditation Review Commission on Education for the Physician Assistant (ARC-PA), and will begin to recruit students once the process is complete.
A&T has also received preliminary authorization to develop a doctoral nurse practitioner (DNP) program that focuses on nursing leadership and psychiatry/mental health. Once established, these two programs will position the university to contribute significantly to the training of health care workers with technological and cultural competency skills to more effectively serve minority communities.
"North Carolina A&T's aspirations include collaborative research, entrepreneurial innovation and new standards of public service and community engagement," said Provost and Executive Vice Chancellor of Academic Affairs Tonya Smith-Jackson, Ph.D. "By enhancing our relationship with Cone Health, we will increase opportunities for students pursuing health care careers and for students in other disciplines, such as business, technology, engineering and education.
"Our university is preparing future generations of Aggies to serve as catalysts for improved health outcomes among underserved populations and, in turn, positive economic growth in our community."
Much of the infrastructure for clinical training is already in place. A&T and Cone Health, along with UNC-Greensboro and Guilford Technical Community College, are partnered via Union Square in downtown Greensboro. Opened in 2016, Union Square is a state-of-the-art facility designed to educate nurses from the associate to doctoral degree levels. It is also used for the continuing education of Cone Health physicians.
In 2020, A&T and Cone Health were among 10 organizations receiving $25,000 for work to test a health equity toolkit, addressing nursing's role in building health equity and well-being and promoting a culture of health. The grant was awarded as part of the Future of Nursing: Campaign for Action, an initiative of AARP Foundation, AARP and the Robert Wood Johnson Foundation.
A&T and Cone Health also collaborate to improve infant health outcomes. In Spring 2022, a lactation clinic within Cone Health's MedCenter for Women – a joint venture between A&T and Cone Health – opened to serve nursing mothers and families seeking advice and support. It is staffed primarily by students and graduates from the lactation certificate program, which is part of the university's College of Agriculture and Environmental Sciences. The lactation certificate program is one of only two lactation programs housed at a historically Black college or university (HBCU), one of only nine such programs in the world and one of the few that requires an undergraduate degree first. The ultimate goal is to train more lactation consultants who look like the families they serve and normalize breastfeeding among women of color.
Cone Health has been a valuable clinical research partner for A&T faculty, leveraging the complementary resources and expertise at each institution. Starting in 2013, the Cone Health Community Clinic led by Olu Jegede, M.D., vice president clinical care-health equity, implemented a research program under the Minority Men's Health Initiative (MMHI) led by Hairston College Dean Elimelda Moige Ongeri, Ph.D., and Robert Newman, Ph.D., distinguished professor of biology in the College of Science and Technology, that focuses on diabetic kidney disease. The MMHI created coalitions with local faith-based communities to advance diabetes health literacy among African American men.
Additionally, Stephanie Teixeira-Poit, Ph.D., an associate professor in the Hairston College's Department of Sociology and Social Work, is performing some of her research on neonatal intensive care units at Cone Health. She is using a $568,960 National Institutes of Health grant she received last year to conduct the study with a team that includes co-investigators Bonnie Fields, Ph.D., clinical associate professor in A&T's School of Nursing, and Marjorie Jenkins, Ph.D., director of nursing research at Cone Health.
Future research collaborations will leverage resources at A&T's recently established Center of Excellence in Integrative Health Disparities and Equity Research and Cone Health's Center of Health Equity with joint development of research grant proposals.
A&T has enjoyed a long-standing partnership with Cone Health's Piedmont Area Health Education Center, formerly known as the Greensboro Area Health Education Center, which has supported no fewer than five major initiatives designed to improve student preparedness and success as far back as 2008. These programs provide exposure to health careers and research for middle school, high school, college and professional school students.
The impact of A&T and Cone Health collaborations on communities in Greensboro was perhaps most evident during the COVID-19 pandemic. Working with the Guilford Department of Health and Human Services, they jointly opened a COVID-19 vaccination and testing clinic on the A&T campus. This initiative promoted uptake of COVID-19 vaccinations especially in the Black community, mitigated the effects of the global pandemic and saved lives and livelihoods.
"For decades, Cone Health and North Carolina A&T partnered on meeting the health care needs of people across the Triad," said Cone Health CEO Mary Jo Cagle, M.D. "Today's actions expand our work beyond the needs of today to working toward healthier tomorrows, richer opportunities for students and longer and better lives in every community we serve."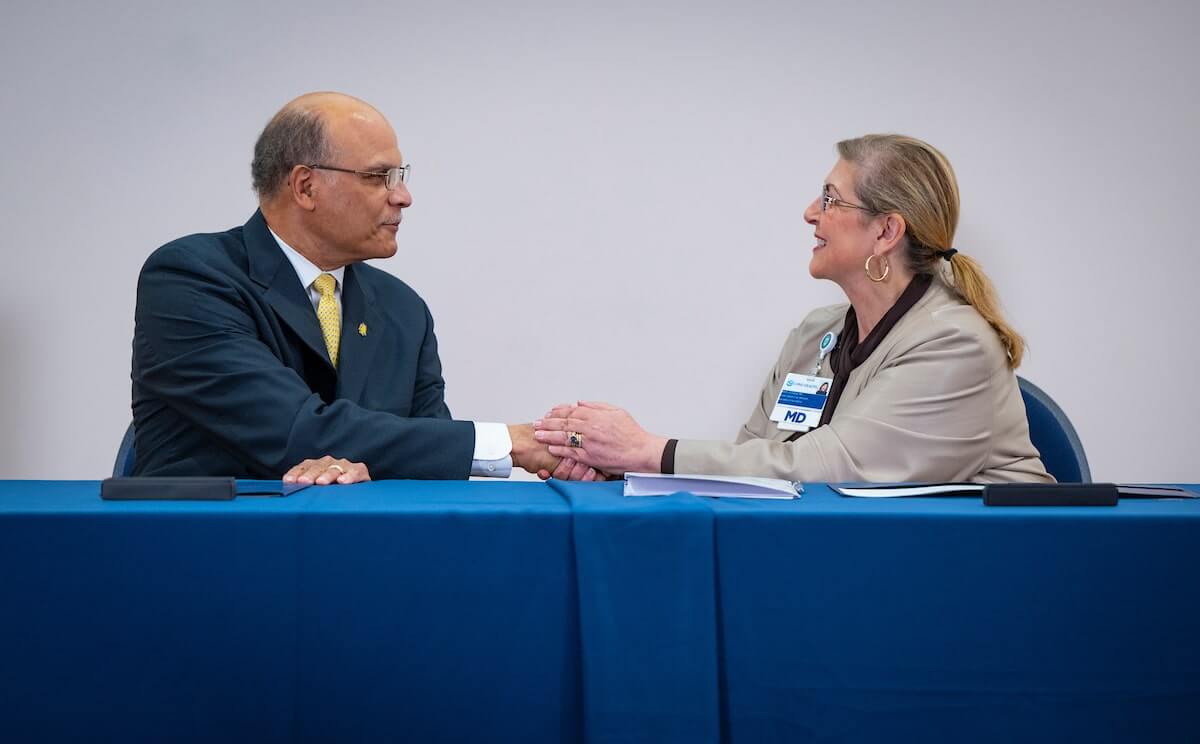 North Carolina Agricultural and Technical State University Chancellor Harold L. Martin Sr. shakes hands with Cone Health CEO Mary Jo Cagle, M.D., Thursday, March 2, at the university.