Sterling K. Brown Talks Health, Education and Justice at N.C. A&T Speaker Series on "MENtality"
By Tonya Dixon / 02/17/2023
EAST GREENSBORO, N.C. (Feb. 17, 2023) – In a room nearly filled to capacity, Emmy Award-winning actor and producer Sterling K. Brown quickly captured the attention of students, faculty, staff and friends for the Chancellor's Speaker Series, "MENtality," Feb. 16, in Harrison Auditorum.
Brown and speaker series moderator Ray Trapp, an alumnus and Research Triangle Foundation Vice President of Strategic Engagement were warmly welcomed to the stage by a crowd  anticipating engaging and informative dialogue. They were not disappointed.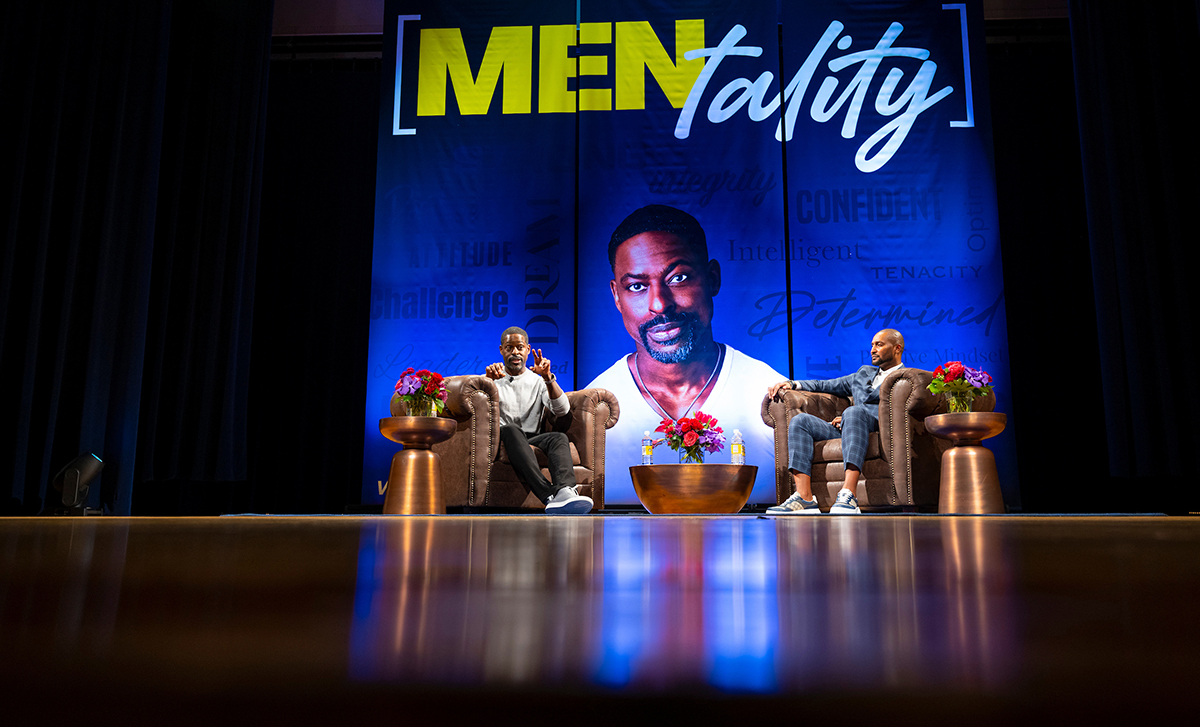 Trapp began by sharing a personal health update: "I had a scan that revealed I'm seven months in with no cancerous reoccurrence and no new masses," he said. The news elicited a round of applause in concerted thanksgiving.
With Trapp's revelation and the conversation surrounding health, education and race and justice that ensued, the core message for the night was underscored by a simple message by Brown: "You have the power to choose your path," he said. But it begins with the proper mentality.
After delving into the importance of emotional stability, professional therapy and the need for continuity of community support systems, Brown and Trapp touched on the dichotomous relationship and attitude of the African American community toward law enforcement. Trapp questioned how to balance the need for safety and security while rejecting overpolicing and brutality.
Brown's not-so-simple response was to share some thoughts but admit he didn't have an answer – an answer the audience appreciated and accepted.
Although not naïve to believe his process would work for everyone, Brown said, "I feel like when I appeal to the best part of an individual, I in turn receive the best they have."
Nevertheless, his message was clear that a sound mental state is necessary. And in the end, people need one another.
"You're not weak if you ask for help," he said. "It takes real strength to admit there's only so far I can go alone. I can go a little farther if somone helps me out."