EAST GREENSBORO, N.C. (Dec. 13, 2022) – The public will be able to view the 2022 homecoming mural designed by North Carolina Agricultural and Technical State University visual arts student Laila Rahman-Latta until Dec. 31 at Bojangles' 1115 E. Bessemer Avenue, Greensboro, location.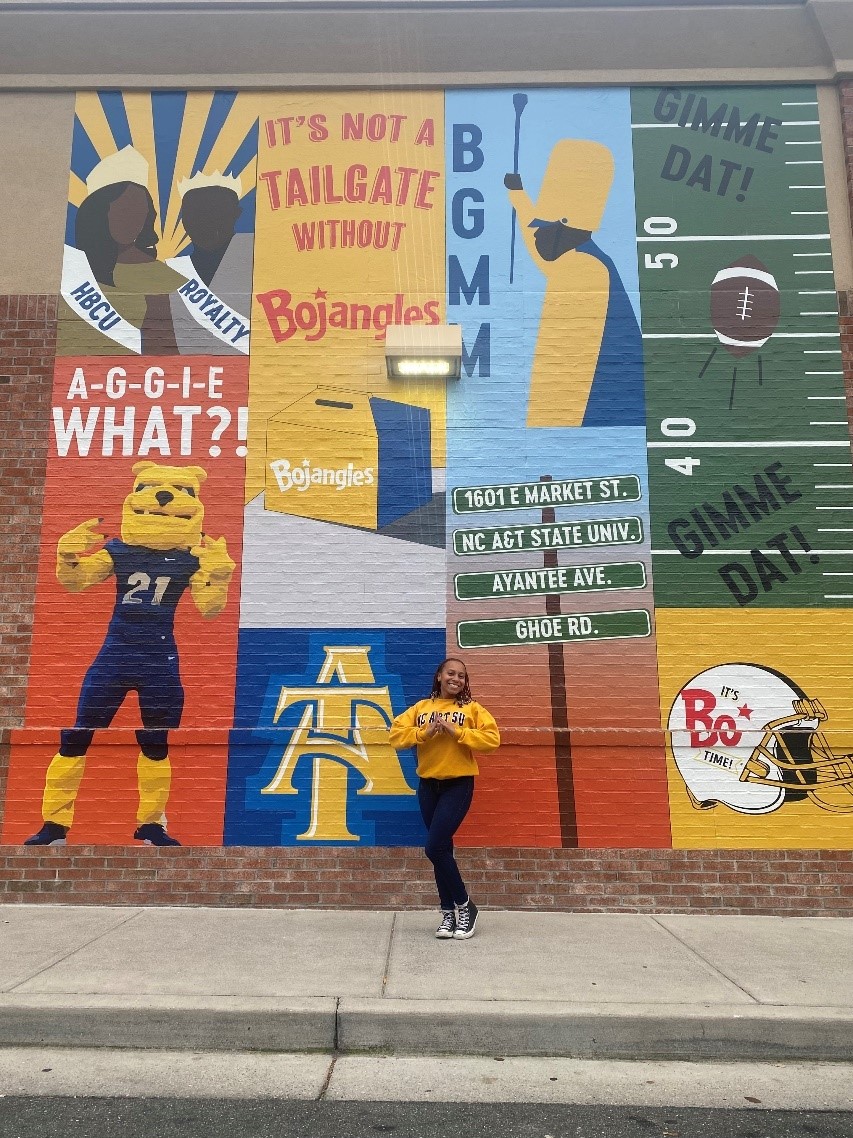 "It felt really good and also felt unreal seeing my work displayed like that," said Rahman-Latta. "As a designer, sometimes it feels as though my art goes into a black hole but when this happened, people are able to see it each day."
Jeremy D. Wright, coordinator of marketing and community outreach and external operations for N.C. A&T's Athletics Department, initiated the A&T Homecoming Mural Project. Wright connected Samuel Warren, senior creative director at Bojangles, with Roymieco Carter, A&T professor and director of the Visual Arts Program.
 Several visual arts students submitted their 8-by-8-foot, step-and-repeat designs commemorating the 2022 event for the program, but Rahman-Latta's work stood out. With revisions and an evaluation of her work by Carter, she had a very short timeframe to complete this project.
"It was challenging to get the design done in time for homecoming because I only had two weeks to complete it: one week to draft a design and execute it and one week to complete revisions. I had to go back to the drawing board a few times," she said. "Finally, I took the idea of faceless silhouettes and thought about things we may see at homecoming – the football game, the Aggie dog, Mr. & Miss A&T, tailgating – and I wanted to make sure I embodied all of that energy within the design.
"This piece is timeless because no matter what part of the design you see, it's relevant to all Aggies," she said.
A native of Chicago, Rahman-Latta is the founder of the Aggie Artist Alliance organization within the Department of Visual and Performing Arts in the College of Arts, Humanities and Social Sciences (CAHSS).
"This is the only organization dedication to visual arts," she said. "The goal is to bring together artists from all majors by holding events, programs and service functions to help artists on campus be celebrated and recognized."
Rahman-Latta is also a Student Government Association senator for CAHSS, a member of Mid-West Aggies and a Cheatham-White Scholar.
"As I leave my mark, I want this organization to continue to flourish," she said. "Professor Carter has been helpful making me a better designer. He always leads you in the right direction with his feedback. His knowledge and background as an art director really propels me towards my goal of one day becoming an art director in television film."
This year's football season marked Bojangles' first Tailgate Tour, which featured parties, games, celebrities and giveaways at some of the biggest college football matchups of the season. Alongside the tour, Bojangles brought back its college and NFL-themed Bo Boxes, which featured A&T.
Media Contact Information: mcrowe@ncat.edu
College News, Headlines, All News