EAST GREENSBORO, N.C. (July 7, 2022) – North Carolina Agricultural and Technical State University alumna Nasya Blackwell has been chosen to participate in the 2022 Princeton in Africa (PiAf) program as a Fellow with Emerging Public Leaders in Accra, Ghana for 2022-2023 – the first in the university's history.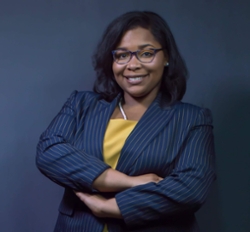 Additionally, Blackwell is the only historically Black college or university graduate in this year's 27-member cohort.
Blackwell, of Washington, D.C., graduated cum laude in May 2020 with a B.A. in political science and B.A. in English with a minor in Spanish and was a member of the Blue and Gold Marching Machine.
A semifinalist in the 2021-22 Fulbright Program grant cycle, Blackwell completed the intensive Spanish language and culture program at Veritas Universidad in San Jose, Costa Rica as a Benjamin A. Gilman Scholar in 2019.
Blackwell also completed the ISEP Global Engagement program at the University of Ghana in Accra. She served as an official representative of the Department of State and Meridian International during the 2018 U.S. Congress-Republic of Korea National Assembly Exchange Program in Seoul, South Korea.
"I never imagined the possibilities of a career in international relations. My career goals evolved through my experiences abroad," said Blackwell. "During my fall semester at the University of Ghana in 2019, I found a home away from home. My experience on the continent transformed my perspective on the world and transformed my perspective on my role within the world.
"My goal is to use my experience to help women and girls on the African continent receive greater access to education, opportunities, and equal rights."
Blackwell works for the U.S. House of Representatives as a constituent liaison in the office of Congresswoman Eleanor Holmes-Norton. Her government affairs portfolio includes interning as a Congressional Black Caucus intern in the office of Congressman Hakeem Jeffries and interning with the Historically Black College and University (HBCU) Bipartisan Caucus in the offices of Congressman Mark Walker and fellow A&T alumna Congresswoman Alma Adams '68.
"Nasya is the first in her family to go abroad, and she has remained committed to inspiring other Aggies to travel outside of the U.S. Her selection for numerous prestigious international internships and programs reflects both her credentials and her persistence," said Alsace-Lorraine Gallop, A&T's national scholarships and fellowships coordinator with NCAT Extraordinary Opportunities. "Nasya's faculty, congressional supervisors and mentors consistently laud her innovative leadership, graceful responses to adversity, and curiosity – as do I."
Founded in 1999, PiAf develops young leaders committed to Africa's advancement by offering yearlong fellowship opportunities with a variety of organizations that work across the African continent.
PiAf matches talented and passionate college graduates with organizations working across Africa for yearlong service placements. The program is open to graduating seniors and young alumni from any college or university accredited in the U.S.
Fellows have helped improve education and public health, source fresh water and alternative energy, increase family incomes, and more. To date, the program has placed more than 600 Fellows with more than 100 organizations in 36 countries.
Faculty, staff, students and alumni with questions about the program or application process should email Gallop at acgallop@ncat.edu for details.