University Galleries to Host Noted African American Artist and Gallery Owner to Discuss the Importance of African American Art Galleries
EAST GREENSBORO, N.C. (June 15, 2022) – The University Galleries at North Carolina Agricultural and Technical State University will host a virtual program, "The Role and Importance of Black Art Gallery Owners" Wednesday, June 22, at noon. Artist Jason Franklin will delve into the world of African American art gallery ownership and its importance to artists of color. 

Franklin is a native of North Carolina and holds a B.S. in mathematics education with a minor in art and design (painting) and an M.A. of industrial design with a concentration in illustration from N.C. State.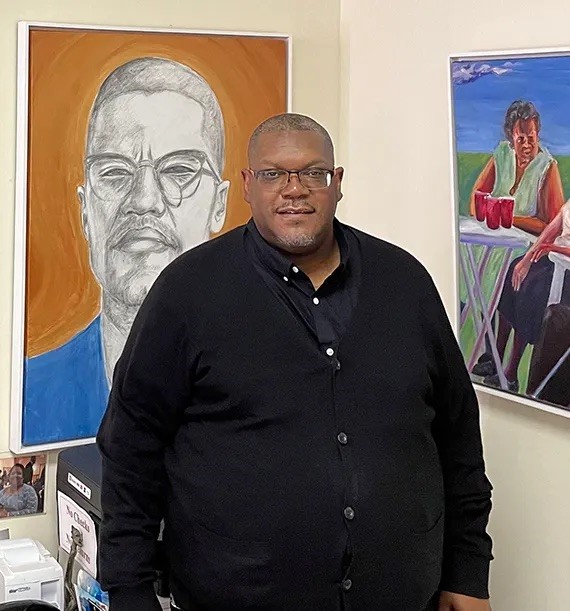 He has served the public as an art educator for the past 28 years in settings such as public schools, private schools and universities. He is the executive director/co-owner of the Triangle Cultural Art Gallery in Raleigh, North Carolina.

As an artist, Franklin states, "In my work, I narrate many aspects of the human condition from an American perspective focusing on love, family, faith, dreams, and friendship. I visualize simple situations in extraordinary ways using color, size, composition, and contrast as a premise for my imagery. I'll prolong a moment so that we can celebrate it."
 
The event is open to the public and can be accessed via Zoom with Meeting ID: 714 0899 8372 and passcode: 6ephuM
The University Galleries at A&T are a part of the College of Arts, Humanities and Social Sciences and play an integral role in supporting its mission of providing cultural exposure to the art of the African Diaspora. As part of the university and surrounding communities, the University Galleries are committed to increasing cultural competency and intellectual dialogue about the art and culture of people from the African diaspora through the exhibition of art, artifacts and material culture.

The University Galleries are located in the Dudley Building, 202 University Circle, off East Market Street on the A&T campus. Gallery hours are 10 a.m. to 5 p.m. weekdays and Saturday by appointment. Exhibits are free and open to the public.
Media Contact Information: uncomm@ncat.edu
Headlines, All News, College News