EAST GREENSBORO, N.C. (June 21, 2022) – North Carolina Agricultural and Technical State University's Claudia Duverglas and Josette Stewart have been named 2022 AWESOME Excellence in Education Scholarship winners – the university's first.
Duverglas and Stewart are third-year students in the Willie A. Deese College of Business and Economics' nationally ranked supply chain management program, which helps students develop the knowledge and skills needed to secure key roles in companies managing the sourcing, manufacturing, transportation and distribution of goods. Both are serving as supply chain management and operations interns this summer with Apple in Austin, Texas.
AWESOME, which stands for Achieving Women's Excellence in Supply chain Operations, Management, and Education, has given aspiring business leaders the opportunity to attend conferences and connect with a strong network of women.
The AWESOME Excellence in Education Scholarship was created in 2013 to provide women enrolled in a full-time supply chain management degree program with the opportunity to attend the AWESOME Symposium and the CSCMP EDGE Conference. Five women have been selected each year until 2021, when the program was expanded to include 20 recipients and a $5,000 financial award toward tuition.
"Josette and Claudia are engaged students who are continually wanting to learn and absorb as much information, education, and experience as they can," said Joseph Huscroft, Ph.D., Department of Marketing, Transportation and Supply Chain Management chair and associate supply chain management professor. "Both are laser-focused students who know what they want and take the initiative to make it happen."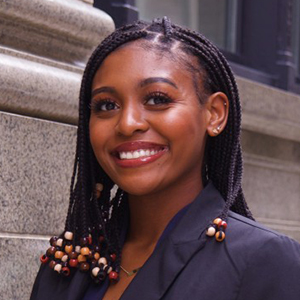 Duverglas, of Boston, is a North Carolina A&T Center for Financial Advancement Scholar and active member of the African Aggies Coalition and Caribbean Students Association at the university, as well as Waves of Change, HBCU Inc.
This year, Duverglas has been recognized  by the McKinsey & Co. HBCU Consulting League, is a Management Leadership for Tomorrow Career Prep Fellow and Prudential Financial Scholar, and was the second-place winner in the Summer Institute for Emerging Managers and Leaders case study competition. She also has served as a logistic monitor intern for Volvo Group and market intelligence extern for Meta.
Stewart, of Cleveland, is a Center for Advanced Mobility Transportation Scholar and president of both the Supply Chain Aggies student organization and Midwest Aggies. A member of Beta Gamma Sigma Honor Society and National Society of Leadership and Success, she has been named to the Chancellor's List, is a math tutor for the Black Male Initiative in the Deese College and volunteers through the Cleveland Muny Football League.
Additionally, Stewart is the CEO and founder of JB Signature Collection LLC, a fashion accessories line she established in 2015, and donates a portion of its proceeds to various charities during summers "with the hope to inspire other teens to follow their dreams of becoming entrepreneurs." She also has interned with IBM as a procurement professional.
Duverglas and Stewart join a cohort of AWESOME Scholars, representing all years from 2013, who are forming connection with each other through AWESOME Scholar Connect! and gaining valuable career-building programming through the AWESOME Scholar Forum.
"In today's business world, it is essential for aspiring young female supply chain management students to have appropriate role models and to develop a network of outstanding female supply chain management and operations leaders," said Huscroft. "It is critical to have a professional network of like-minded and supportive colleagues in supply chain management. This can inspire students to excel and reach their full business and leadership potential."