N.C. A&T Only HBCU Ranked Among Best Online Master's Degree Programs for 2022
By Jackie Torok / 06/03/2022 The Graduate College
EAST GREENSBORO, N.C. (June 3, 2022) – North Carolina Agricultural and Technical State University is the only historically Black college or university (HBCU) that University Headquarters recognized among its top 100 for Best Online Master's Degree Programs in 2022.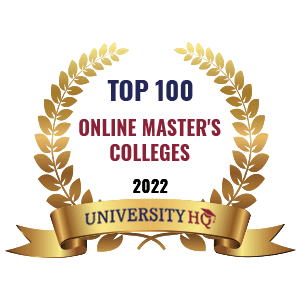 N.C. A&T is ranked at No. 32 by University HQ, an independent educational organization that compiles information on colleges, entrance requirements and career paths for students pursuing higher education. North Carolina State University is the only institution in North Carolina ranked higher.
A&T's master's degree programs are available through The Graduate College. Students can earn an M.S. in agricultural education, civil engineering, computer science, data science and engineering, electrical engineering, industrial and systems engineering, information technology, and technology management, MBA and Master of Arts in Teaching online. The MAT is offered in 12 concentrations: biology education; business education; chemistry education; child development, early education and family studies; elementary education; English education; family and consumer sciences; health and physical education; history education; mathematics education; special education; and technology education.
 "Providing quality online programs is critically important to higher education institutions today," said Clay Gloster Jr., Ph.D., dean of The Graduate College. "Graduate students are attracted to the flexibility, accessibility, affordability, and other benefits of pursuing their graduate degrees online and do not want to sacrifice quality."
This recognition for A&T comes as online graduate programs are experiencing significantly higher growth rates than programs held on campus. A&T had its largest-ever online enrollment of 1,092 students in Fall 2021, a 47.6% increase from Fall 2020 and a five-year increase of 104%.
"Online programs are particularly attractive to working adults," said Tonya Amankwatia, Ph.D., assistant vice provost of Distance Education and Extended Learning. "A&T is committed to providing a convenient and well-supported path for career advancement to learners who often must balance their educational goals with their job and family responsibilities."
University HQ's list includes other University of North Carolina System institutions UNC Charlotte, Appalachian State University and East Carolina University, along with institutions such as Oklahoma State University, Texas Tech University, Louisiana State University, Washington State University, the University of Arkansas, Temple University, the University of South Carolina, Florida Atlantic University, the University of Kentucky, Syracuse University and New Mexico State University – all of which are ranked below A&T.
To create its lists, University HQ uses data collected from College Navigator, College Scorecard, U.S. Bureau of Labor Statistics and Payscale. Ranking factors include tuition cost, admission, retention and graduation rates, number of students receiving financial aid, graduating salary, reputation and expert opinion.
The University HQ ranking is the latest accolade for A&T's online graduate programs. Earlier this year, U.S. News and World Report named A&T's graduate degree in information technology to its top 20 online master's programs list and top 20 list of such programs for veterans.