EAST GREENSBORO, N.C. (May 11, 2022) – More than 1,900 degrees are expected to be awarded to North Carolina Agricultural and Technical State University students during its spring 2022 commencement ceremony, Saturday, May 14, 8:30 a.m., at Greensboro Coliseum.
The journey has been great for many students and these soon-to-be alumni share their stories of perseverance, dedication, scholarship and innovation.
N.C. A&T students have risen above and excelled. While there are hundreds of stories to be told, they represent the diverse intellectual climate, entrepreneurial spirit, civic engagement and academic excellence that characterizes the A&T experience. Here are a few of their stories, in their own words. Read more on the university's Instagram, Facebook and LinkedIn pages.
Terrell Richardson
"I am a native of Wilmington, North Carolina, graduating with a Master of Social Work from the Joint Master of Social Work Program (JMSW) at the John R. and Kathy R. Hairston College of Health and Human Sciences at North Carolina A&T and UNC Greensboro. As a first-generation student, guided by a trusted family member and a zeal to improve the quality of life for marginalized communities, I chose social work.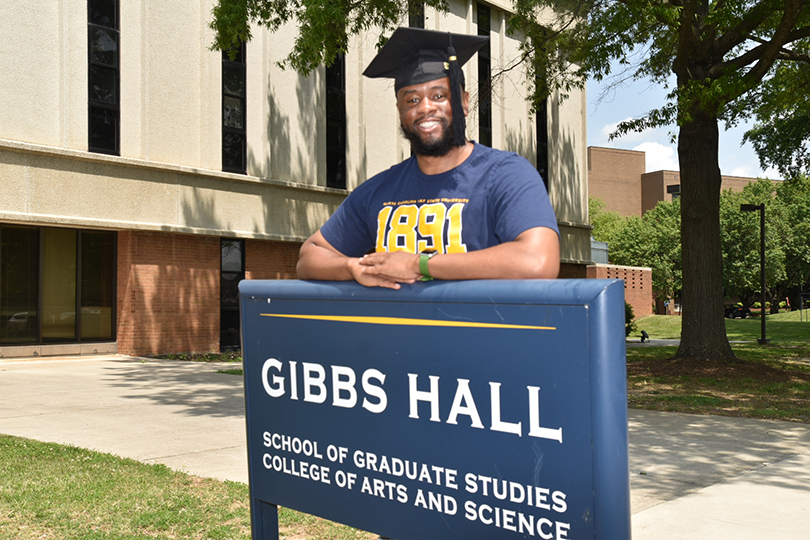 After earning my Bachelor of Social Work and Master of Education, I realized that I was called to social work, and I applied to the JMSW program. Throughout my time in the program, I've had multiple successes, such as being selected as one of 45 MSW students nationwide for the Council on Social Work Education Master's Minority Fellowship."
"My time at A&T has been nothing short of amazing. The JMSW program has prepared my colleagues and me to join in the fight for equality and instilled in us the skills to adapt to an ever-changing environment and deliver quality and culturally informed care to those we serve. I greatly cherish our fantastic faculty in the JMSW program. The faculty's mentorship allowed me to make my dreams a reality; because of their mentorship, I'm headed to the University of Alabama School of Social Work as a Capstone Fellow to pursue my Ph.D. in social work. A&T faculty members Drs. Jeffrey Shears, Sharon Parker, Grace Gowdy, and Carmen Monico truly embodied what it means to attend an HBCU and receive a 'visceral promise of support.' One of the most meaningful actions a student can take while attending A&T is to forge connections with faculty members as they may become mentors or supporters as you strive to set and accomplish your goals."
"I am graduating from the JMSW program equipped and confident that excellence has no boundaries. I am incredibly grateful to be a part of the rich tradition of Aggies. AGGIE PRIDE!"
Ericka Quesada Gomis
May 2022 graduate Ericka Quesada Gomis, of San José, Costa Rica double majored in finance and accounting as an Aggie athlete. She wrapped up her collegiate bowling career as a National Tenpin Coaches Association Academic All-American and a member of the team that won the 2021 and 2022 Mid-Eastern Athletic Conference championships and made it to the NCAA Championship Bowling Tournament for a second straight year.
"I chose to study finance because I was always interested in analyzing, forecasting and investing. However, after taking some accounting classes, it all just "clicked" on me, and I decided to pursue a double major in finance and accounting." 
"What I love about the Willie E. Deese College of Business and Economics is the connections that you build with both faculty and other students and how those connections push you to become your better self and face new challenges. When I was not sure about how to add accounting into my education, it was the faculty who encouraged me to pursue a double major. Then, it was other students who pushed me to pursue more professional opportunities, such as internships, development programs and honor societies."
"Overall, it was the people who made me choose A&T and it was also the people who made my four years here unforgettable. During the summer, I will complete my second internship with Deloitte's Audit & Assurance department, and I am interested in building a career in audit afterward. During the fall, I will continue my education and pursue a master's in accounting so that I can both prepare and meet the 150-credit requirement to sit for the CPA exams."
"The advice I would give to current and potential students is to take advantage of the opportunities the college gives because so many of my opportunities came from there. I would also encourage other students to network with their peers since they will push you to become better and it is also very likely you will work with them in the future."
CorregGio Peagler
Correggio Peagler knew from middle school that he wanted to go North Carolina A&T after a very informative campus tour with his older sisters and a knowledgeable professor. He knew in high school, after an athletic injury required hospitalization, that he wanted to be an orthopedic surgeon.
As a senior pre-medical biology student in the College of Science and Technology, Correggio already knows his next move: George Washington University School of Medicine on a full-tuition scholarship.
During his time at A&T, Correggio has distinguished himself as a Lewis and Elizabeth Dowdy Scholar, an undergraduate researcher, working with Robert H. Newman, Ph.D., to research cell signal pathways, and earned the Chancellor's Award this spring.
He's thrived socially, joining several student organizations including the Minority Association for Pre-med Students, Kappa Alpha Psi Fraternity Inc., Phi Kappa Phi National Honors Society and his hometown organization, Georgia Aggies.
"My time at A&T has been invaluable," he said. "I've met so many people – people who look like me, people who don't look like me and people who look like me but think differently ¬– who have allowed me to connect with different kinds of people. I'm glad to have had so many experiences that will take me past graduation."
Olivia Bright
Olivia was born in Baltimore and raised in Charlotte, North Carolina. She's always been aware of North Carolina A&T, especially throughout her middle and high school years, and even attended the dance clinics the Golden Delights hosted.
"I've been an entertainer and performer my whole life, and have been dancing since I was eight," she said.
When visiting A&T's campus, it felt more inclusive and more like home. Olivia would later join and become the captain of the Cool Mist Dancers team, performing with the drumline during basketball season.
Even though news reporting is what sparked Olivia's passion for being on air, she realized through coursework in the College of Arts, Humanities and Social Sciences and other opportunities how much she enjoyed both the on-camera and production aspects of storytelling. From there, she decided to pursue a film and television career.
Olivia loves analyzing movies with her family and friends. As a 2021 cohort member of the HBCU in LA Entertainment Industry College Outreach Program, she starred as a lead in a short film shot over the course of two days. From there, Olivia fully realized she had a natural gift to act, thrived in fast-paced environments and enjoyed storytelling in various formats.
Olivia, and one of her best friends Kalyn Wright, also remotely interned as a story researcher and video editors for The Mista Pat Project—a nonprofit organization dedicated to educating children and exposing them to science, technology, engineering, arts and mathematics (STEAM) through animated shorts and longer-form videos.
"That opportunity allowed me to tell stories and educate kids on African-American culture, and I really enjoyed that, because our history and community isn't just connected to trauma," she said.
Olivia and her friends are incredibly tight-knit and have become more like family. They study together, write scripts together, support each other's endeavors and sharpen each other in and outside of the classroom.
No matter what Olivia does, she always brings her incredible work ethic to the table. The management team at Red Crab Seafood established an endowed scholarship at North Carolina A&T. Professor Gail Wiggins recommended Olivia and the company selected her as its first recipient for the Spring 2022 semester.
After graduating with her B.S. in journalism and mass communication, she looks forward to a bright future.
"My time at A&T has been life-changing," she said. "I'm going wherever the good Lord takes me, and I plan to continue my journey as an actress and creative."
Steven Freeman
A native of Virginia Beach, Steven Freeman previously earned a Bachelor of Arts in Political Science from A&T and on May 14, he will be able to add M.S. in Adult Education behind his name.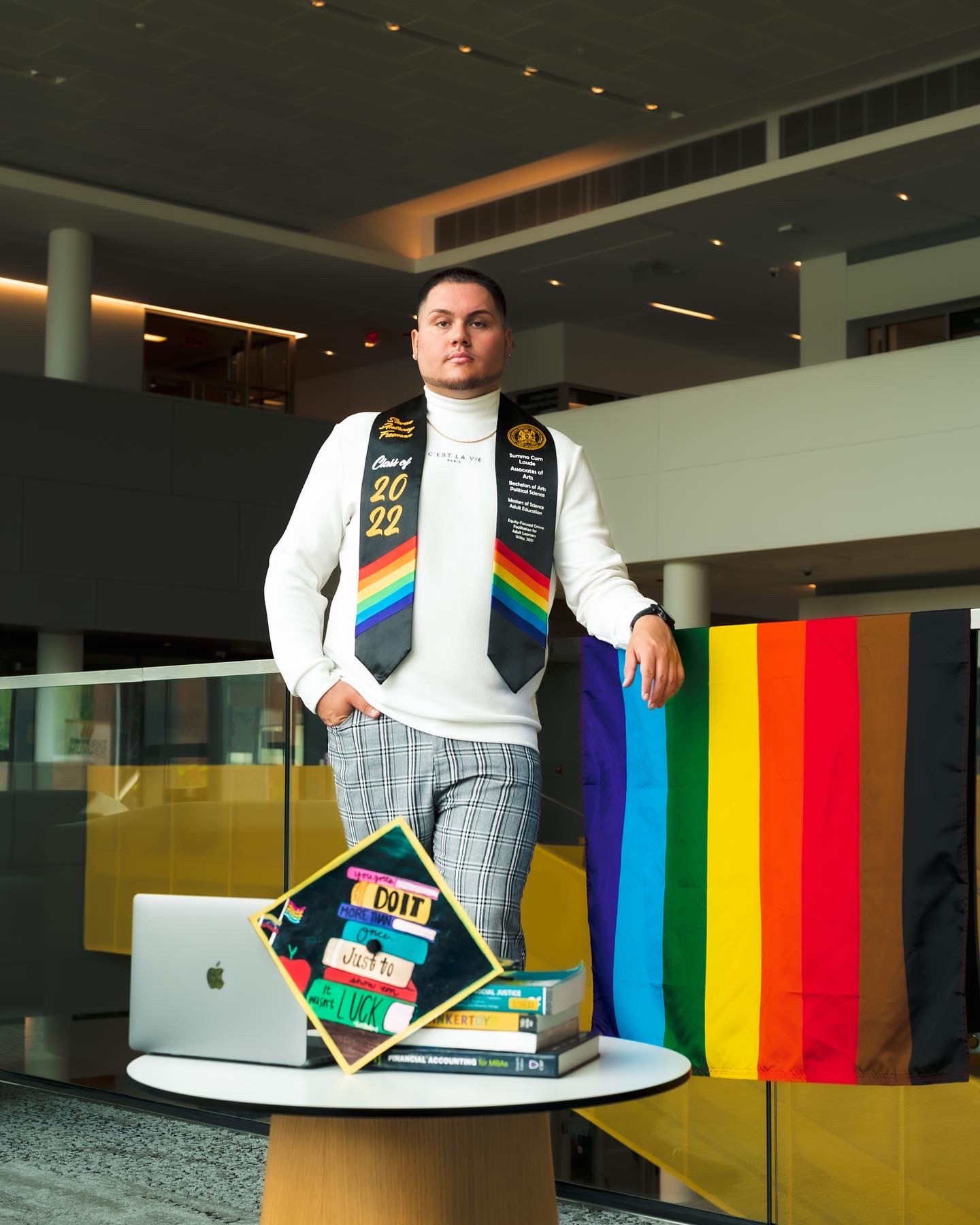 "A&T has shaped me into the leader I am today. From helping other students in my program, to mentoring students in their undergraduate studies. This university has taught me so many leadership skills, delegating, influencing, communicating and even to have empathy for others in the community.
My time here at A&T has been nothing less than exhilarating. Since I've set foot on campus, it has always felt like home and everybody has shown nothing but love. The professors, students, faculty, and staff have helped me in different and incredible ways, that are priceless. Reflecting on the different universities I have attended; I wouldn't want any other institution listed on my Bachelor's or Master's degrees.
I have some short-term and long-term goals that I have set for after graduation. In the short-term, I'm applying to doctoral programs and starting my work in student affairs. My long-term goals include becoming a director of a multi-cultural center at an HBCU and helping underrepresented students become successful during their higher education journey. My passion for adult education and the leadership skills that I gained from A&T will ensure my goals are met and surpassed."
Onnr Grogan
Here's something you might not expect to hear from a bright N.C. A&T senior who's planning to pursue a doctorate in biological systems engineering:
School, said Onnr Grogan, is hard.
School means spending up to 10 hours, four days a week in a lab in Carver Hall tending to her research. It's running from the lab to class and back again to turn on pumps, adjust tubes and collect data for her Undergraduate Research Scholars Program (URSP) project.
For Grogan, a biological engineering major in the College of Agriculture and Environmental Sciences, school means undertaking a second research project to fulfill the terms of a scholarship. It's tackling all of this high-level work while recovering from a traumatic injury that shattered her body and erased two months of her memory.
In September 2019, Grogan was crossing East Market Street on the way to class when a car slammed into her. The impact shattered her leg, fractured her collarbone and left her with a traumatic brain injury. Grogan spent two and a half months in the hospital and missed an entire year of school. Her body has completely healed, but her emotional and cognitive rehabilitation continue.
The Raleigh native returned to Greensboro in fall 2020.
Back on campus, Grogan jumped right back into class and into her URSP project, working to determine the best frequency and duration for applying wastewater to soil to filter out nitrates.
Grogan also is working on a second research project for the N.C. Composting Council, which awarded her a scholarship to conduct research at A&T. For this project, she's comparing different ways to convert food waste to compost that could help schools interested in starting their own composting programs.
"She is a true example of resilience, perseverance, and never-give-up mentality," said Aryal, an assistant professor of biological engineering. "She has already come a long way and is continuing to work on her recovery. I am proud of her accomplishments."
Grogan's next stop will be Virginia Tech, where she will pursue a Ph.D. in biological systems engineering starting this fall. She said she's passionate about treating waste and composting and hopes to work in one of these fields.
"I got a lot done," said Grogan. "Getting my degree in biological engineering from N.C. A&T is one of my biggest goals in life.
Amaya McNealey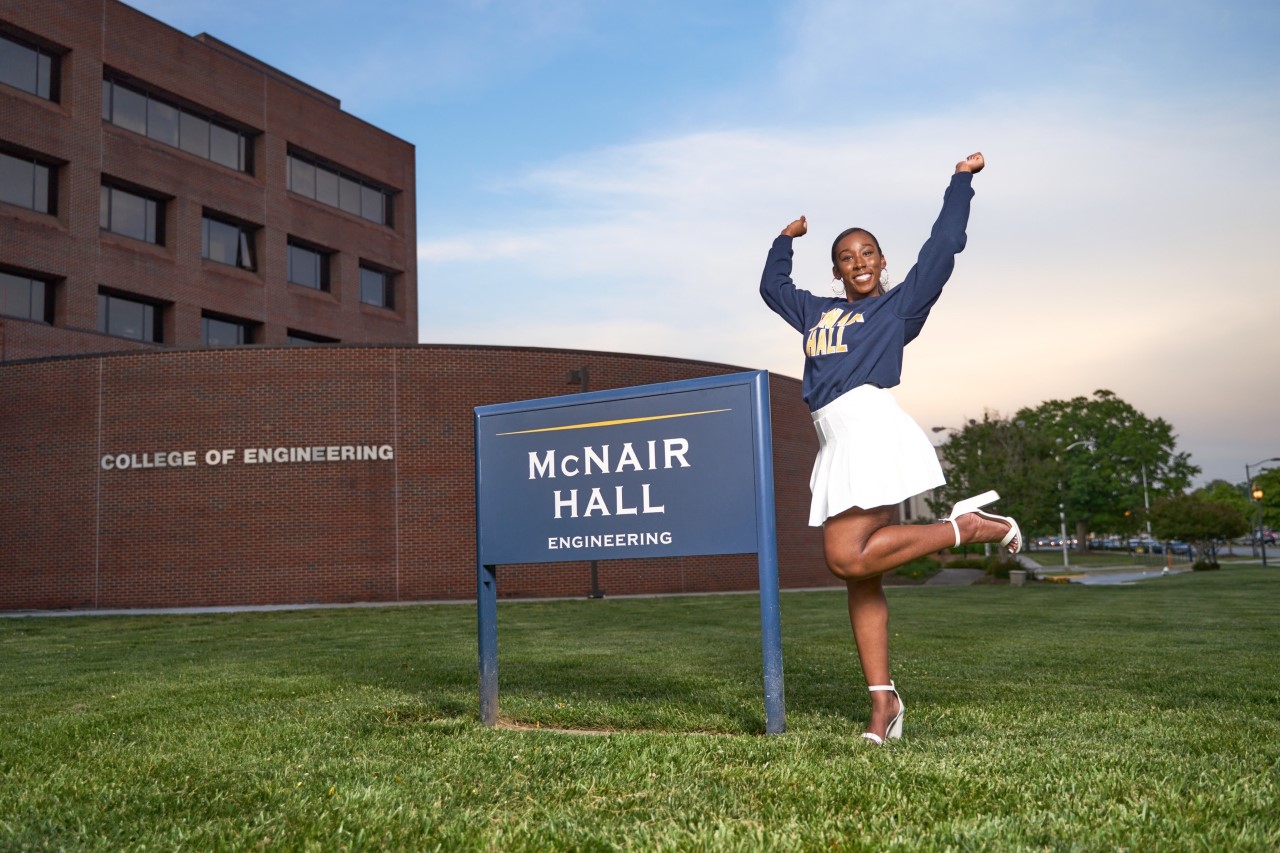 Amaya McNealey is originally from Tuscaloosa, Alabama and decided her senior year of high school that she wanted to become an engineer after realizing how much she loved physics and learned some of the doors engineering could open.
When she visited North Carolina A&T for the Scholars Day program her senior year, learning about the College of Engineering (COE) solidified her decision to pursue the field. She was scared at first.
"At one point I started to think I wasn't going to like it because engineering takes a lot of math and a lot of science. But it all ended up working out and I love it," she said.
"Ended up working out" is an understatement.
Amaya entered as a freshman as part of the university's honors program, and among her many other accomplishments throughout the years, she was named a Tau Beta Pi Engineering Honor Society fellow, earned the National Academy of Engineering Grand Challenges Scholar designation, founded her own organization "Your Health, Our Hope" and recently became a member of Alpha Kappa Alpha Sorority, Inc.
Amaya also connected and refocused her early childhood interest in the medical field to an interest in health care administration while studying industrial systems engineering (ISE).
Amaya is grateful for everything A&T, and especially those in the ISE department, did to help her recognize what all she could accomplish on campus and beyond.
"All these opportunities and experiences helped me increase my confidence overall," she said.
Amaya will attend the Georgia Institute of Technology in pursuit of her Ph.D. in industrial engineering.
Victor Solomon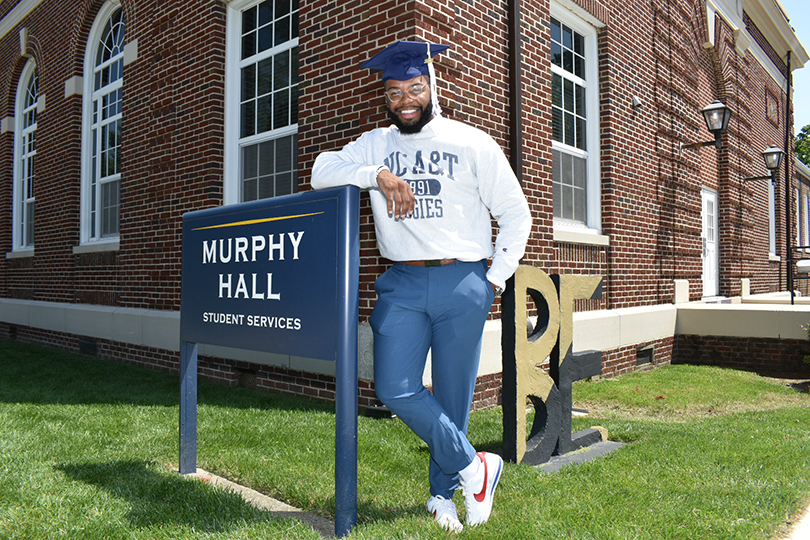 "A&T was everything I expected and more. I love the Black excellence. It's one of the best choices I've made in my life.
"Growing up, I was a little rough around the edges. I was in a lot of fights. I had anger problems when I was young. But I was resilient and determined in school." Solomon says he matured and improved his focus. Once he got to A&T, there was no stopping him.
"When it comes to my tenure at A&T I just believe that I was, again, resilient. My first couple years here everything I ran for I didn't get it. I ran for Mister Freshman and Mister Sophomore. I didn't win, but I stayed determined to leave a positive impact on this campus and community as well.
"Two things happened to me during my freshman year. I was able to sing at the crowning of Mister and Miss A&T. Everybody was there. It was a huge crowd. That video went viral on social media. After that, I realized I can really do what I want to do. Back home I was known for singing, featured in newspapers, on the news and those type things, but I really wanted to do that in Greensboro. I took advantage of every opportunity that was presented to me. During the spring semester, Common came to A&T and I was able to sing in front of him. It's just about seizing the moment. Anytime someone gave me the mic, I took it. And that's what got me in the position I'm in today. 
"I realized I could sing when I was about six years old. I was with my sister and we were just playing around singing songs, watching '106 and Park' and she stopped me and said, 'Victor you sound like the people on the music videos.' I started hearing that more often. My first public performance was when my mom had me sing at a family reunion. I sang 'I Need You Now,' by Smokie Norful. Afterward, everyone told me how much they enjoyed it. I said, I think this is something I really want to pursue.
"I came here thinking I wanted to be an engineer, but it wasn't me. I switched to musical performance, but I was thinking about graduation and what options would I have. So, I changed to business management. When it was time for me to graduate, I was told I had another year left because I changed my major. By this time things were taking off in my music career and I was participating in 'The Voice.' I was told I would graduate in fall 2022. I couldn't do that. There was an option for me to be switched over to Liberal Studies and still pursue management in the business and corporate field. On top of that, God has opened up many doors as far as my singing career. Things are already lined up that I can't wait to announce. I was always told that my gift would make room for me and if I keep God first then everything will fall in line. 
"One thing about me, I've always done more than one thing. Singing isn't my only passion. When I was running for positions some people said, 'All he does is sing.' Well, no, I have other talents as well. I can command the room. I'm definitely pursuing business and I currently have something in the works with Amazon Music. Business is in every occupation and I plan to work in that aspect as well. 
"When it comes to my life and my career, I just don't want to be put into a box. I'm ready for whatever comes my way."
Media Contact Information: uncomm@ncat.edu
Media Spotlight, Headlines, College News, All News