EAST GREENSBORO, N.C. (May 18, 2022) — North Carolina Agricultural and Technical State University professors and alumni co-authored a new book about New Farmers of America, a former national youth organization that helped train generations of Black farmers and leaders.
Released on May 2 by Arcadia Publishing, "Legacy of New Farmers of America," was penned by Antoine J. Alston, Ph.D., a professor of agricultural education and associate dean of academic studies in A&T's College of Agriculture and Environmental Sciences, and Netta S. Cox, a university librarian and associate professor of library services, and Dexter B. Wakefield, PhD, Alcorn State University professor and associate dean for academic programs within the School of Agriculture and Applied Sciences.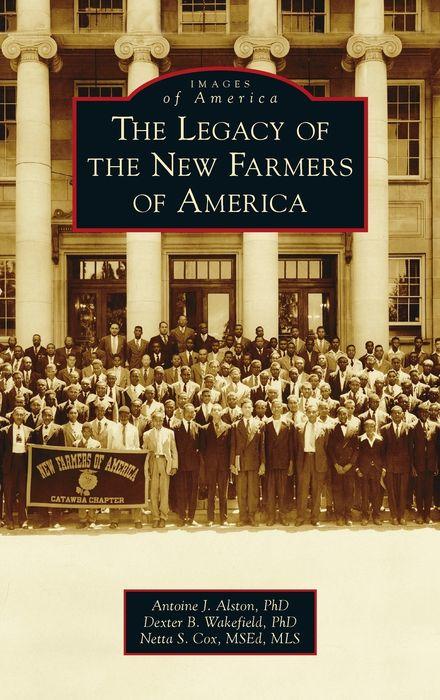 The book explores the Black youth organization which was founded in 1935 to promote vocational agriculture education in public schools throughout the South and teach farming skills and leadership and citizenship values to young Black males. It is available at Barnes &Noble, Target 
NFA's first national headquarters was at A&T, and S.B. Simmons, an A&T faculty member in agricultural education, served as a senior NFA leader for two decades. Similar in purpose and structure to Future Farmers of America, NFA had more than 58,000 members in 1,000 chapters when it merged with FFA in 1965, a year after the federal Civil Rights Act banned racial segregation.
A&T has what it believes to be the largest collection of NFA materials to be found anywhere — documents, records, correspondence, banners, medals, photographs and many other items. Much of it has never been seen publicly.
In February, Cox and Alston received a three-year grant of $324,422 from the National FFA Foundation, the philanthropic arm of the National FFA Organization to digitize an estimated 150,000 pieces of memorabilia from New Farmers of America. The project also will offer online access to the materials so students, scholars and the public can learn more about an organization that played a vital role during segregation.
Cox, who serves as head of serials and government documents at F.D. Bluford Library, is the principal investigator on the grant. Alston serves as the co-principal investigator.
The New Farmers of America History and Legacy Collection held by the library will add important pieces to the historical record because agriculture employed so many people throughout the South and the nation during NFA's existence.
Founded in 1928, the National FFA Organization develops leadership, personal growth and career success of youth through agricultural education. FFA has more than 735,000 student members in grades 7-12 in more than 8,800 local chapters in all 50 U.S. states, Puerto Rico and the U.S. Virgin Islands.