'A Place Where the Future is Being Written' President Biden Speaks at N.C. A&T
04/15/2022
President Biden Visits A&T: Gallery

He has been a U.S. senator, a two-term vice president of the United States, and for the past two years, its 46th president.
But on Thursday, April 14, after a day on the North Carolina Agricultural and Technical State University campus, he was an unabashed fan.
"A&T is an extraordinary university with a great tradition – an HBCU tradition," said Biden following a tour of the new Harold L. Martin Sr. Engineering Research & Innovation Complex with A&T students, U.S. Rep. Kathy Manning and Engineering Dean Robin Coger. "I've been on a lot of university campuses – as a matter of fact, for four years, I was a full professor at the University of Pennsylvania. And North Carolina A&T is a really impressive place with a lot of very impressive students."
The $90-million Martin Complex, which opened in February, is equipped with cutting-edge technology and research capabilities, including humanoid and animal robots, a hologram design studio, a 360-degree immersive driving simulator, self-driving vehicles, the latest in drone systems and much more. It is home to A&T's Computer Science programs, which are growing in impact, research interests and corporate partnerships with well-known brands.
Biden recognized the dazzling complex and held it up as a metaphor of A&T's rise to the leadership of its namesake, Chancellor Harold L. Martin Sr. (below, center), now in his 13th year and the longest currently serving chancellor in the UNC System. "You're making Greensboro a place where the future is being written," Biden said to Martin in front of a capacity crowd at the A&T Alumni Foundation Event Center.
The president's stop at the nation's largest HBCU and one of North Carolina's top three public research universities kicked off a national tour focused on growing awareness of America's new successes in manufacturing and company expansions. As part of that, the president is touting the America Competes Act, legislation aimed at enhancing research and manufacturing, which Biden said are fueling America's voracious economic recovery. The bill would invest at least $335 billion in those areas over the next 10 years.
Included in the bill are provisions of potential interest to A&T students and faculty. A major investment in funding for wireless supply chain innovation, for instance, could have a significant effect on graduates of A&T's Supply Chain Management and Marketing program, ranked no. 21 nationally for its bachelor's degree and 19th for the Supply Chain Management concentration of its MBA program.
Such investment is critical, Biden argued, to continue the resurgence of America's manufacturing sector, which is particularly visible in the Greensboro/Piedmont Triad region. Global manufacturing concerns such as Corning, Toyota, Boom Supersonic, Apple, Merck and Honda have all announced major new operations or campuses over the past year, bringing many thousands of new high-paying jobs and extensive capital investments to this state. (Boom CEO Blake Scholl was among Thursday's guests.)
"America used to be ranked No. 1 in the world in investing in the future. Now we're ranked No. 9 on research and development. Other countries are closing in fast," Biden said. "We can and we must change that."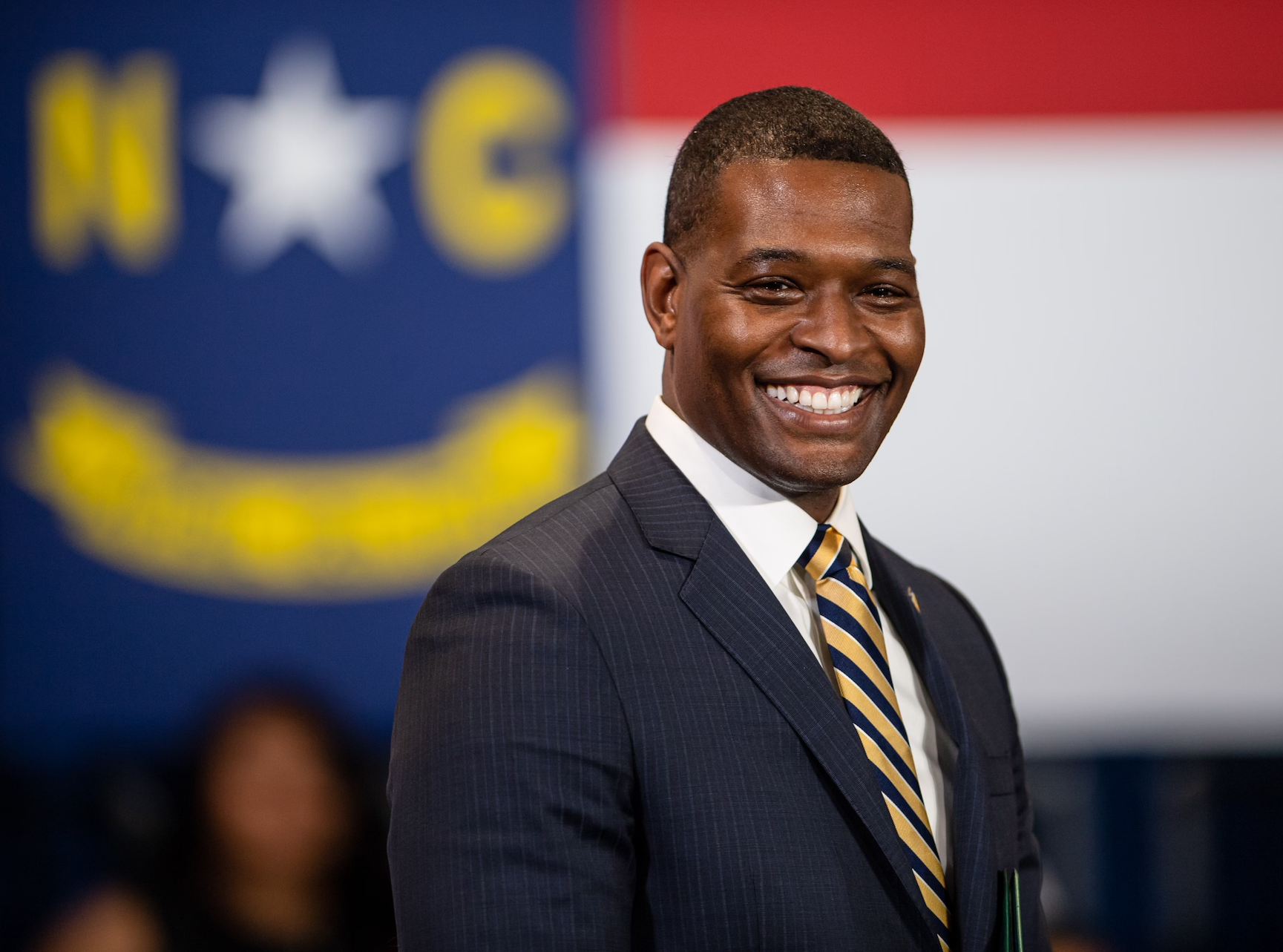 President Biden was the most prominent of a long list of public leaders at the event, including Gov. Roy Cooper, members of Congress Rep. Alma Adams, Rep. G.K. Butterfield and Rep. Kathy Manning, state legislators and numerous local officials. Perhaps the most popular with attendees was Michael S. Regan (left), administrator of the U.S. Environmental Protection Agency and an alumnus of A&T's prestigious College of Agriculture and Environmental Science, which produces more Black graduates than any such program in America.
Flanked by Gov. Cooper and Rep. Manning, Regan kicked off the program with warm sentiments for his alma mater: "I would not be where I am today, serving as the first Black man to lead the EPA, were it not for the time I spent here at North Carolina A&T."
Nominated to his Cabinet-level role by President Biden, Regan was sworn in to his office last year by Vice President Kamala Harris, marking the first time that two HBCU graduates have had led such a ceremony. VP Harris is a Howard University graduate.
The White House eschewed the usual playbook for visits like the one to A&T, instead choosing an A&T student to introduce the president, in collaboration with the university. Malkam Hawkins, a senior in electrical engineering and captain of A&T's national championship Honda Campus All-Star Challenge team, used his own experience and the rise of A&T overall to illustrate "how much is possible with investment in HBCUs."  
"As I graduate next month, I feel fully equipped with the knowledge I'll need to excel. I'm excited to see HBCUs continue to rise in prominence, and I can't wait to see how they impact America in the future," said Hawkins, who President Biden later revealed will begin work with IBM after graduation.
Biden's connections to A&T pre-dated his appearance in Greensboro. In addition to Regan's service in the Biden Cabinet, the president recently named retired Merck pharmaceutical executive Willie A. Deese and National Society of Black Engineers CEO Janeen Uzzell, both A&T alumni, among his first 18 appointees to the White House Advisory Council on HBCUs. They both attended Thursday's event, where Biden publicly thanked them for their council service.
Also on the council: Critically acclaimed actor Teraji P. Henson, who attended A&T before graduating from Howard, and NBA superstar Chris Paul, who originated a master class at A&T in entertainment, sports, media and business, led in campus get-out-the-vote activities in 2020 and has famously worn A&T gear on numerous high-profile NBA occasions.
The president said the new council is emblematic of his commitment to HBCUs, noting his executive order last year to advance HBCU excellence across his administration – "from policies to funding," he underscored. He also touted his administration as having "delivered $5 billion for HBCUs last year, and there's more to come this year.
"They said we couldn't do it. But everybody is finally realizing what an incredible asset HBCUs are."