EAST GREENSBORO, N.C. (March 31, 2022) – North Carolina Agricultural and Technical State University student Tanae Lewis has been named a 2022 Goldwater Scholar – the fourth to receive the honor in the university's history.
Named for Sen. Barry Goldwater, the Goldwater Scholarship Program was designed to foster and encourage outstanding students to pursue research careers in the fields of the natural sciences, engineering and mathematics. A federally funded program and the preeminent undergraduate award of its type, it includes benefits up to $7,500 for up to two years of eligible educational expenses as well as the opportunity to participate in a lifetime network of STEM researchers.
Lewis, of Youngsville, North Carolina, is one of only 12 students to represent a North Carolina college or university in 2022. A&T is one of five historically Black colleges or universities to have a 2022 Goldwater Scholar.
While pursuing her B.S. in chemistry, Lewis serves as a peer mentor and Aggie Student Success leader in the College of Science and Technology (CoST) and social media manager for the N.C. A&T Chemistry Club. She is a 2019-21 SciTech Scholar in CoST, as well a Department of Chemistry scholarship recipient and an Aggie Gentz Scholarship recipient for 2021-22. She also has been named to A&T's Chancellor's List, which recognizes full-time students who earn at least a 3.75 GPA in at least 12 hours or more of semester credit, since 2019.
Additionally, Lewis has been an intern since June 2021 at the National Institute of Environmental Sciences, part of the National Institutes of Health, where she works to identify how the disruption of a specific RNA processing pathway is associated with neurodegenerative disease.
"Following my uncle's (Alzheimer's disease) diagnosis, I sought to find a research program that studied neurodegenerative diseases firsthand," said Lewis. "While working on this project, I became enthralled with the process of turning mere curiosities into discoveries that have the potential to lead to advancements and improvements."
This project has resulted in "Recent insights into the structure, function and regulation of the eukaryotic tRNA splicing endonuclease (TSEN) complex," by Lewis and her mentors, principal investigator Robin Stanley, Ph.D., and Cassandra Hayne, Ph.D., a postdoctoral researcher under Stanley.
Lewis plans to earn a Ph.D. in biochemistry and pursue a career focused on neurodegenerative research with the goal of uncovering mechanisms that could be used in new treatments for conditions like Alzheimer's disease.
"We are extremely proud of Tanae's accomplishment of earning a Goldwater Scholarship," said Margaret I. Kanipes, Ph.D., A&T's Honors Program director and professor of chemistry. "She will make a tremendous impact in the field of neurodegenerative diseases and serve as a role model for others who strive for excellence in STEM disciplines."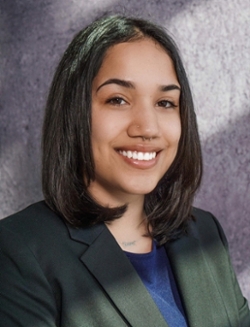 Lewis – along with third-year biology student Celeste Robles – were endorsed to apply for the 2022 Goldwater Scholarship through NCAT Extraordinary Opportunities (NCAT EO) after review by a university committee that included associate chemistry professor Tanay Malloy, Ph.D., distinguished associate biology professor Robert Newman, Ph.D., and associate biology professor Checo Rorie, Ph.D.
"I am thrilled for this national recognition of Tanae's STEM research career pursuits and am excited to see her continue reaching for her highest goals," said Alsace-Lorraine Gallop, A&T's National Scholarships and Fellowships Coordinator and Fulbright Program Adviser. "Tanae and Celeste are prime examples of curious and talented students and perseverant early researchers. I hope more students are inspired by this and last year's Goldwater endorsees and recipients and consider applying for externally funded extraordinary opportunities."
Lewis is among 417 sophomores and juniors selected as 2022 Goldwater Scholars from a pool of 1,242 endorsed applications nominated from 433 institutions. She also is A&T's second consecutive Goldwater Scholar, following Rachel Richards who received the honor in 2021 and was the first Aggie to do so since 2014.
Eligible A&T undergraduates in all STEM majors who will not graduate before May 2024 should contact Gallop by early fall for more information about the next Goldwater Scholarship cycle and the required institutional selection process.