EAST GREENSBORO, N.C. (March 1, 2022)  – Internationally renowned landscape designer Walter Hood '81 returned virtually to the College of Agriculture and Environmental Sciences to give the first in a series of lunchtime lectures for students and faculty. 
Hood was the first speaker in the new Charles Fountain Memorial Lecture Series, a partnership between the landscape architecture programs at A&T and the University of California at Berkeley, where Hood is a faculty member.  
The series is named for Hood's mentor at N.C. A&T, Charles Fountain, Ph.D., founder of the program. Hood is a graduate of the landscape architecture program's first class. The lecture series marks his first return to the university since the 1990s.  
"Hopefully, I can augment your education, but more importantly, push you guys to think about all the possibilities," Hood told a room full of students and program faculty. "Charles Fountain was this amazing person in my life – he made me do a lot of things I didn't want to do. As part of the inaugural class, none of us knew what we were getting into, so that helped." 
Chancellor Harold L. Martin Sr., CAES Dean Mohamed Ahmedna and Gregory Goins, Ph.D., chairman of the Department of Natural Resources and Environmental Design, were all on hand to welcome Hood back to Carver Hall for a lecture called "Hybrid Landscapes," a look at the connections landscape architecture can make between things that are not readily connected.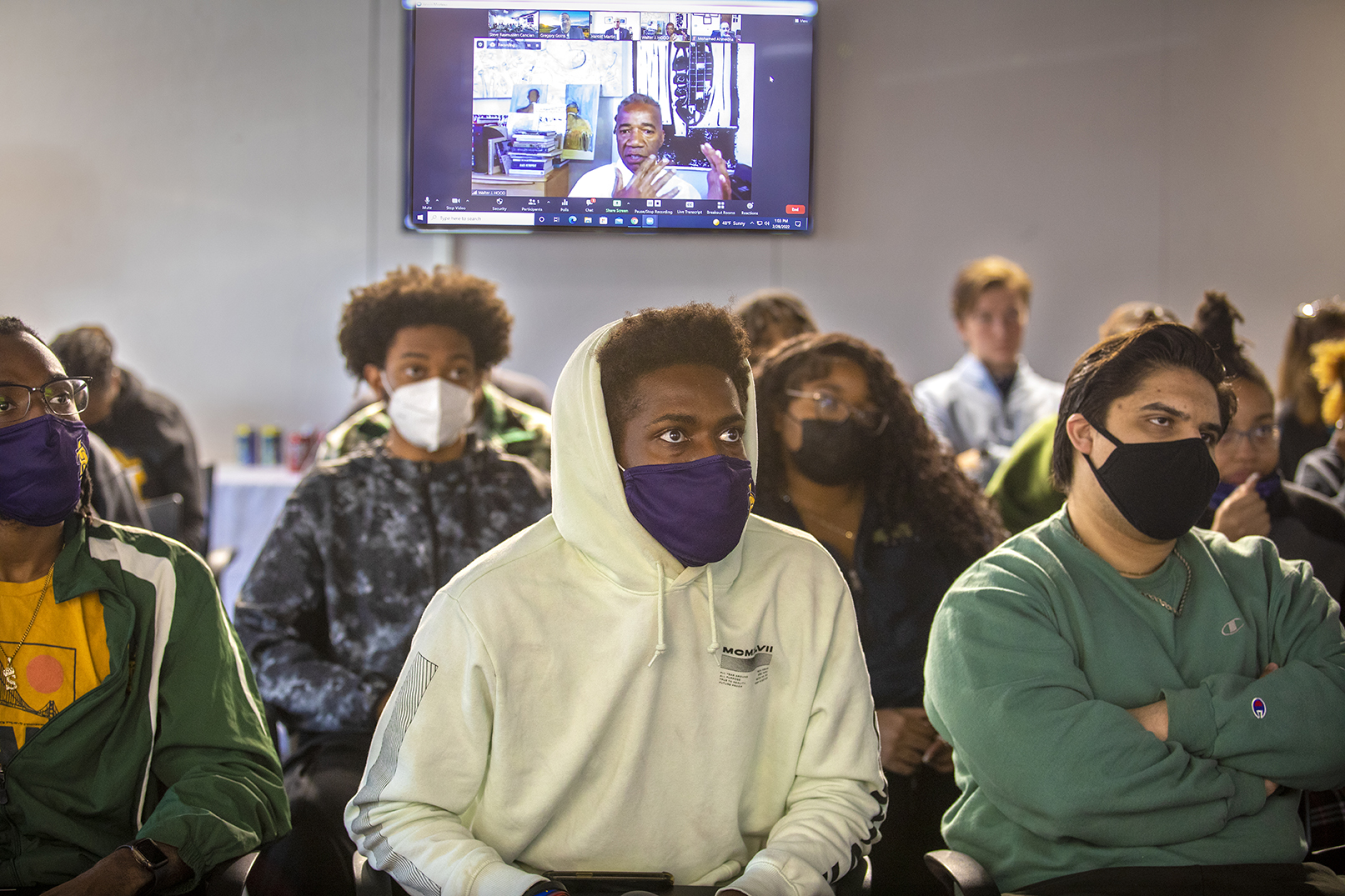 "I am excited that Mr. Hood can join us," Martin said. "Mr. Hood and I once sat in seats where you now sit on this campus, and the educational opportunities afforded us at this university have served us both well." 
Dean Ahmedna welcomed Hood on behalf of the college's faculty, students and staff. 
"We are delighted that you are back," Ahmedna said. "We know that we are standing on the shoulders of pioneers like Dr. Fountain, and you. You and he are part of the DNA of our program." 
During his hour-long talk, Hood touched on the connections found in his designs, the importance of a liberal arts education, and the significance of unearthing history – including historically or emotionally  important African American sites that are at risk for obliteration.  
"My mother is buried in Angier, N.C. About 20 years ago, my sisters and I went back to put a headstone on, and the church was gone," he said. "We couldn't even locate the burial ground. We have to mark these spaces in ways that make them important. It's our job to bring them to light." 
He also took students' questions and encouraged them to apply to his studio for summer internships. Hood announced the beginning of a partnership between A&T's program and that of U.C. Berkeley as well.
Hood, founder of Hood Design Studio in Oakland, CA, is the 2019 recipient of a Macarthur Foundation "genius" grant; a 2021 inductee into the American Academy of Arts and Letters; and is a 2021 United States Artists Fellow, among other awards.  
"A&T gave me great skills…and courage I didn't know I was getting," Hood said in a 2021 interview for the college's magazine Re:Search.  
Hood primarily works within the public realm and in urban environments. Locally, he has designed the Liberty Street pedestrian bridge over Salem Parkway (formerly Business I-40) in Winston-Salem, and submitted designs for a park at the bridge's base. 
Born in Charlotte, Hood has worked and lived in Oakland for more than 20 years, establishing Hood Design Studio in 1992 and joining the faculty at UC-Berkeley in 1993. 
A different lunchtime lecture is planned for each month through next fall and will be available for viewing on YouTube at caesncat. 
"Walter's work raises the voices of places, often voices that have been long silent," said landscape architecture faculty member Steve Cancian, who is one of Hood's former students. "What Walter's experience shows us is that, as an Aggie landscape architect, there's no ceiling."