N.C. A&T Names Student Health Center for Blount
By Jackie Torok / 03/16/2022 Alumni
EAST GREENSBORO, N.C. (March 16, 2022) – The late Dr. Alvin V. Blount Jr. '43 once remarked to his practice manager, "My life is my memorial."
As a testament to his enduring legacy as a health care pioneer, civic leader and ardent supporter of his alma mater, North Carolina Agricultural and Technical State University officially named its Student Health Center in his memory.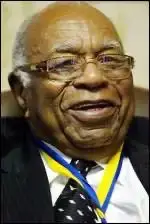 The Alvin V. Blount Jr. Student Health Center signage was unveiled during a March 11 ceremony attended by members of Blount's family and about 100 North Carolina A&T and community dignitaries, including representatives of Cone Health.
Padonda Webb, D.N.P., who serves as the center's director, said the naming is most appropriate because Blount's dedication to excellence in health care and in the university he loved still resonates today.
"He paved the way for many providers of color," said Webb.
The center, at 112 N. Benbow Road, is a 27,000-square-foot, two-story facility that opened in January 2015 and is located just down the street from where Blount operated his expanded private practice.
"A man of firsts," as Chancellor Harold L. Martin Sr. described him, Blount had a no-nonsense way of engaging people – from his patients to the university's leaders dating back to F.D. Bluford, who was A&T's president when Blount was a student.
Blount graduated magna cum laude from A&T with bachelor's degrees in both chemistry and math – a feat that speaks to his brilliance, said Martin. Blount went on to earn his medical degree in 1947 from Howard University's School of Medicine, then served in the Army Medical Corps during the Korean War.
Although he was the only Black surgeon in his unit, Blount said race was never an issue in the operating room on the front lines.
That was not the case upon his return to the United States, however.
When Blount came home from the war, he established his private medical practice in East Greensboro and became North Carolina's first Black board-certified surgeon, serving as chief of surgery at L. Richardson Memorial Hospital for nearly 50 years.
Blount also was one of the plaintiffs in a federal lawsuit that desegregated Greensboro's two white hospitals and, ultimately, hospitals across the nation. The 1963 case, Simkins v. Moses H. Cone Memorial Hospital, is considered as important to the integration of public health care facilities as Brown versus the Board of Education is to integrating public schools.
Blount was the first Black doctor to perform a medical procedure at Moses H. Cone Memorial Hospital. Cone Health publicly and privately issued an apology to Blount, the only living plaintiff, in 2016.
"He was a man of change, a man of courage, and a man who believed in doing the right thing and doing good," said Cone Health CEO Mary Jo Cagle, M.D., who noted that Cone and A&T are partners today in looking toward the future to create a better environment for all citizens. "I'd like to think Dr. Blount is seeing this and is proud of that change."
Martin said the demands, expectations and aspirations Blount had for himself and others applied to A&T as well.
In addition to his work in health care and civil rights, Blount was one of the first board members of the A&T Foundation when it was reactivated in 1966. During his 20-year tenure as chair (1974-94), the foundation raised more than $26 million.
In 1983, A&T awarded Blount a Doctor of Humanities acknowledging his support for the general welfare of the citizens of Greensboro. Following his retirement from the board in 1994, Blount was designated chairman emeritus and, in 2000, the foundation established the Dr. Alvin V. Blount Scholarship Fund.
Among the many awards Blount received in his lifetime was the Order of Long Leaf Pine, one of North Carolina's highest civilian awards. He was a member of the Greensboro Men's Club and North Carolina Chapter of the National Association of Guardsmen, along with many other civic organizations.
Blount remained active in the community and continued to treat patients until his death at age 94 in 2017 at Moses H. Cone Memorial Hospital.
"This naming is not just about what Dr. Blount did at North Carolina A&T and in Greensboro. It's also about the contributions he made to this nation and to the world," he said. "When you go past the Alvin V. Blount Jr. Student Health Center, it will cause you to pause and think again about this incredible individual."