Finance Expert Hobson Talks Money, Investing, Entrepreneurship and More for Build Black Wealth Speaker Series
By Tonya D. Dixon / 02/18/2022
EAST GREENSBORO, NC (Feb. 18, 2022) – Garnering more than 1,000 virtual registrants, the first Chancellor's Speaker Series of the spring semester at North Carolina Agricultural and Technical State University didn't disappoint. The conversation, focusing on "Building Black Wealth," was held Feb. 17 and featured global finance expert Mellody Hobson. A replay of the conversation is available online. 
To the delight of viewers, the conversation progressed along the lines of an intimate conversation between trusted advisors. Both Hobson and moderator, alumna Ebony Thomas, brought significant expertise and knowledge to the table, yet engaged viewers through simplified, relevant and practical steps.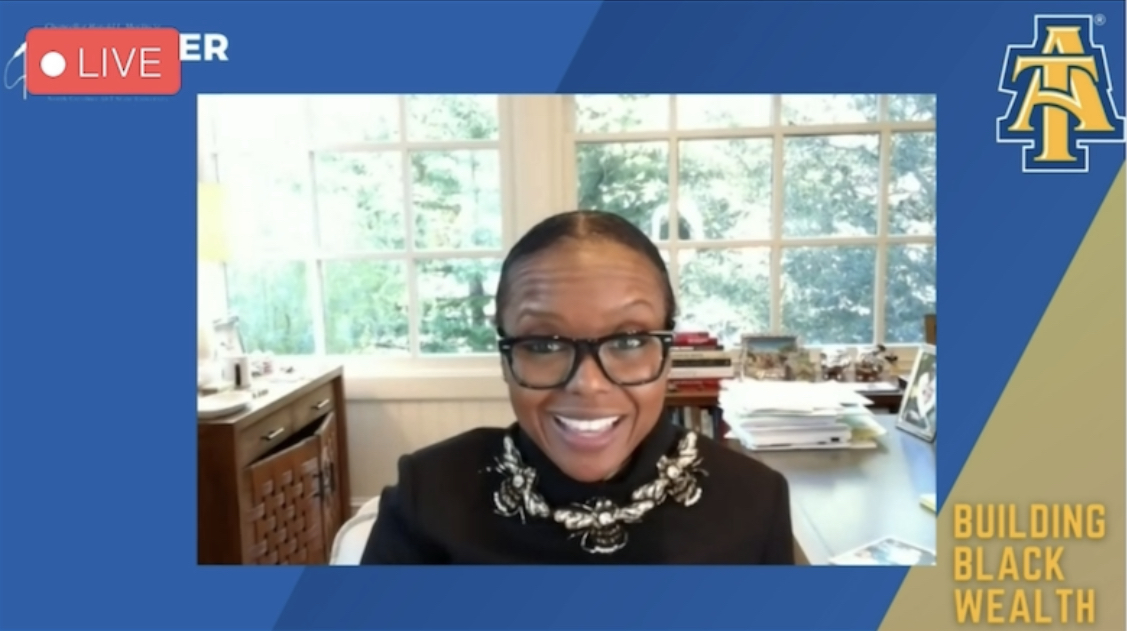 Hobson immediately addressed one of the top roadblocks to Black wealth creation and proliferation, citing an age-old tradition that money should not be discussed. She said it is, unfortunately, taboo to talk about money, particularly in the African American community, but must be dispelled. 
"When I was very young, my mother had me paying the check. In the beginning it was handing the money over the counter, then it was counting the change," she said, noting the very act of participating in the process and exchange of money provides a sense of clarity for children at a young age. 
The conversation perfectly navigated and addressed several issues specific to college students, many of which were raised by A&T students, including student loan repayment, foundational components of investing and finance, integrating a degree with entrepreneurial pursuits, career and plan roadblocks, corporate success and more. 
Concluding the conversation, Hobson addressed the considerable need to improve financial literacy. 
"If I could change one thing, if I were queen for a day, and if I could just wave my wand, it's that we would be teaching money and investing starting in grade school," she said. "I think financial knowledge and the language of money is like a foreign language. The earlier you start, the better you will be." 
While time constraints prevented every question from being addressed, professionals in the A&T Family Financial Planning Certificate program and the Willie A. Deese College of Business and Economics Department of Finance have provided answers to submitted questions with the same level of professional insight. Visit https://bit.ly/BlackWealthQandA.