N.C. A&T Names Dale Vice Provost for Engagement and Outreach
By Jackie Torok / 12/07/2021 Academic Affairs
EAST GREENSBORO, N.C. (Dec. 7, 2021) – North Carolina Agricultural and Technical State University announced Rosalind Dale, Ed.D., has been named vice provost for engagement and outreach.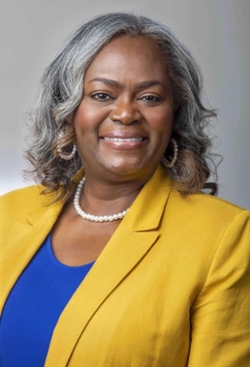 In this position, Dale will bring together multiple units, including Community Engagement, Distance Education and Extended Learning, and Career Services and Experiential Learning, and work closely with the university's centers of excellence, particularly the Center of Excellence in Entrepreneurship and Innovation. She also will work with the Division of Research and Economic Development to expand the economic development enterprise of N.C. A&T.
"We are very pleased to welcome Dr. Dale to our team, and look forward to the impact that her expertise will have on our outreach community and engagement activities," said Provost Beryl McEwen, Ph.D., executive vice chancellor for academic affairs. "Her leadership skills, along with her ability to engage underserved, limited-resource and diverse populations, will amplify high-impact collaboration efforts with each and every one of our community stakeholders." 
Dale has been A&T's associate dean for the College of Agriculture and Environmental Sciences and Cooperative Extension administrator since 2015. In these roles, she has been responsible for the university's educational outreach, Extension and engagement efforts to improve local, state and regional economic interests and quality of life and ensured that long-range programming met the current and emerging needs of limited-resource audiences across all 100 of the state's counties and the Eastern Band of the Cherokee Indian Nation.
Dale served as the lead principal investigator (PI) for the $1 million Supplemental Nutrition Assistance Program Education (SNAP-Ed) grant award to enhance the delivery of nutritional education for limited-resource audiences and ensured that long-range programming met the current and emerging needs of limited-resource audiences in about a third of the state's counties.
Additionally, Dale led the creation of the five-year-strategic plan, "Mission Possible: An Organizational Plan to Inspire North Carolinians to Improve Their Lives," and spearheaded a statewide volunteer advisory leadership group, the Strategic Planning Council.
Dale served as interim 4-H and Family/Consumer Sciences Program Leader from 2014 to 2015, when she led strategic Cooperative Extension efforts for youth, family and community programming to meet the needs of North Carolina's limited-resource population. She directed and managed Extension specialists and associates, overseeing the planning and implementation of 4-H Youth Development, Community and Rural Development, and Family and Consumer Sciences programs. Also, as lead PI for a newly funded SNAP-Ed program, she handled the administration of the initial seven-month budget of more than $900,000, staffing, training and submission of the more than $1.28 million Year Two proposal.
"As a land-grant university, engagement and outreach are core to our mission, and I am excited to serve in this new role which allows me to connect our resources to communities across the state," said Dale. "This work centers around how we collaborate with local, regional and national partners to enhance the wellbeing of our neighbors and neighborhoods, develop a 21st-century workforce and improve the economic viability of our communities."
Dale joined A&T and the North Carolina Cooperative Extension in 2011 after 17 years in various roles with the University of Illinois at Urbana-Champaign and University of Illinois Extension, where she last served for five years as District Coordinator II for Cook County and Family Nutrition Program Director.
Dale earned a B.S. in home economics food and lodging management from Western Illinois University, a B.S. in nutrition sciences from Benedictine University, M.S. in human services administration from Spertus Institute for Jewish Learning and Leadership, and Doctor of Education in adult and continuing education from National Louis University. She also is a graduate of North Central National Extension Leadership Development, LEAD21, A&T Executive Leadership and Food Systems Leadership Institute development programs, as well as a Real Colors Certified Facilitator by the National Curriculum and Training Institute.