Photo caption: Jacob Som and Manosi Roy, mechanical engineering doctoral candidates, work with their advisor, Dhananjay Kumar, Ph.D., to fabricate nanostructures using the pulsed laser deposition system at A&T. Som and Roy anticipate conducting research at Cornell University as part of the exchange.
EAST GREENSBORO, N.C. (Oct. 8, 2021) – The College of Engineering (COE) at North Carolina Agricultural and Technical State University is partnering with Cornell University on a three-year $800,000 seed grant funded by the National Science Foundation (NSF) Partnerships for Research and Education in Materials (PREM) initiative.
The funding is part of a total NSF investment of $8 million to 10 institutions to support materials research partnerships between minority-serving institutions and large-scale, NSF-supported research centers and facilities.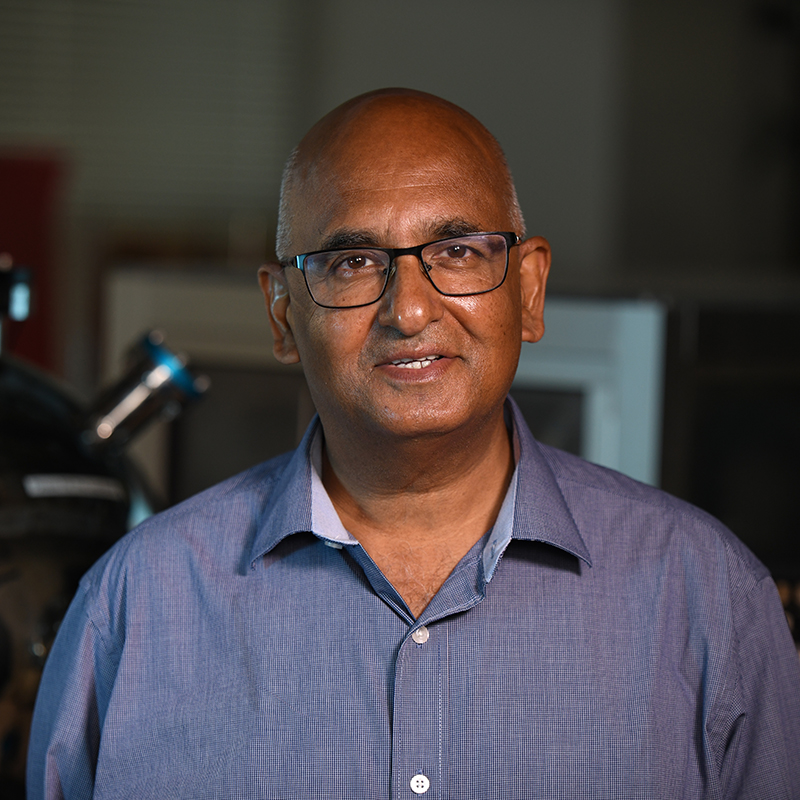 Dhananjay Kumar, Ph.D., professor in COE's mechanical engineering department, serves as the principal investigator (PI). 
With the PREM funding, the research team will develop low-dimensional titanium oxynitride-based materials capable of supporting energy conversion reactions. Using materials of incredibly small dimensions (i.e., nanometer width, height or length), researchers will develop ways to split water into oxygen and hydrogen for use in fuel cells and to use solar light in the full spectrum range to convert the sun's energy into usable electrical energy.
"With this grant, we are introducing students at A&T into the pipeline of development of environmentally friendly, pollution-free, sustainable energy research with broad applications," said Kumar.
The purpose of the grant is two-fold: to leverage the world-class materials science expertise at A&T to advance an important energy application and to ensure that students historically underrepresented in the materials research area are actively engaged in the work.
"Prem in Hindi can be translated to love or devotion," said Kumar, who earned his Ph.D. in chemistry at the Indian Institute of Technology, Bombay, and later completed a post-doctoral fellowship at the University of Florida in electronic, magnetic and nano materials. "This partnership with Cornell is a demonstration to our students at A&T that we are devoted to providing them a meaningful education while studying here, as well as establishing partnerships for them with top-notch materials researchers at A&T and Cornell."
Kumar looks forward to a strong exchange of faculty and students between A&T and Cornell over the next three years that prioritizes working together on nano-scale material research and collaboratively writing manuscripts.
Additionally, Ph.D. and M.S. students working on the PREM project at A&T will each have a committee member representing Cornell.
"Cornell faculty will be there for the students not just on defense of their thesis, but from beginning to end," said Kumar.
"The talent of the faculty and student teams engaged on this NSF project is such that I fully anticipate that this research collaboration will produce deliverables that will benefit the development of next generation fuel cells," said Robin Coger, Ph.D., COE dean. "This collaborative effort will simultaneously demonstrate true innovation as this team of diverse minds and multiple disciplines works together in addressing a complex technical problem."
Frank Wise, Ph.D., director of the Cornell Center for Materials Research, serves as the PI for Cornell's sub award of this grant. His role is to support the new collaborations with A&T students and faculty and to assure the relationships are meaningful to all parties. 
Several senior investigators from A&T are participating in the PREM project including Bishnu Bastakoti, Ph.D., assistant chemistry professor; Caroline Booth, Ph.D., associate counseling professor; Derome Dunn, Ph.D., associate mechanical engineering professor; Abebe Kebede, Ph.D., associate physics professor; John Kizito, Ph.D., mechanical engineering professor; Xiaochuan Lu, Ph.D., associate applied engineering technology professor; Kristen Rhinehardt, Ph.D., assistant computational data science and engineering professor; and David Schall, Ph.D., assistant mechanical engineering professor.
Also joining the grant are Jin Suntivich, Ph.D., associate materials science and engineering professor at Cornell and Jenora Waterman, Ph.D., associate professor of biology at A&T and interim director of the Applied Science and Technology Ph.D. Program at A&T.
University Distinguished Professor Jag Sankar, Ph.D., director of the NSF-Engineering Research Center and the Center for Advanced Materials and Smart Structures infrastructure, joins as a co-PI of the project to facilitate the various needs of this funding in support of materials research partnerships.
"The funding is a testament to the strength of materials research at the COE and the power of cross-institutional research to solve some of the world's premier challenges, such as energy production and climate change," said Kumar.
Media Contact Information: uncomm@ncat.edu
College News, All News, Headlines