N.C. A&T Homecoming Alumni Concert to Feature Stephanie Mills and Con Funk Shun on Oct. 29
By Alana Allen / 09/27/2021 Alumni
When alumni think of home, they think of Aggieland, and this year's annual Aggie Alumni Homecoming Concert will feature Grammy award-winning, R&B singer and songwriter, Stephanie Mills. Mills is well-known for her role as Dorothy in "The Wiz," and hit songs such as "Home," "I Feel Good All Over" and "I Have Learned to Respect the Power of Love."
The concert will also feature special guest, Con Funk Shun, best-known for their party hits, "Shake and Dance with Me," "Chase Me," "Got to Be Enough" and the ballad, "Love's Train." The alumni concert will take place Friday, Oct. 29, 2021, at The Koury Convention Center, in Greensboro, North Carolina.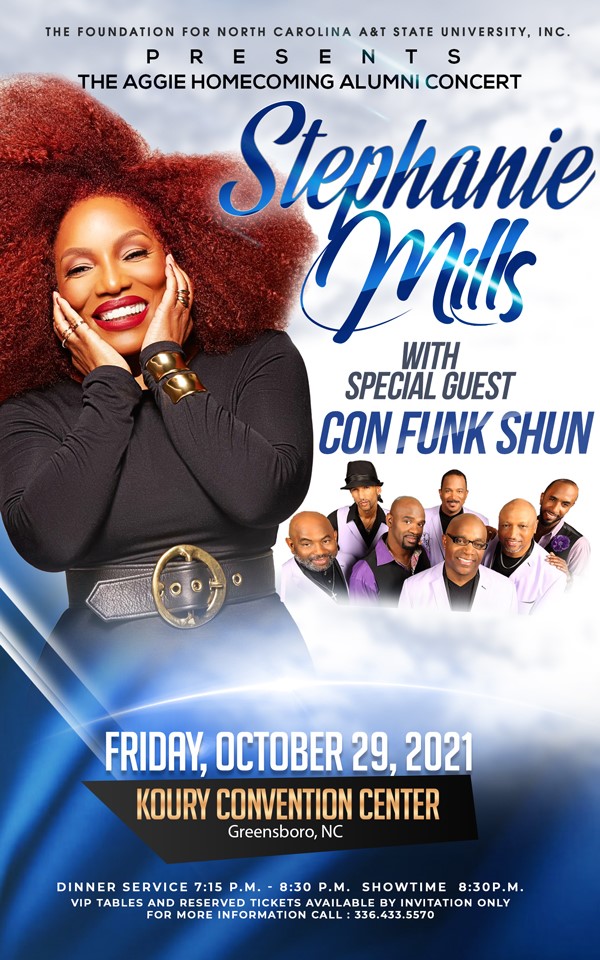 Due to COVID-19 restrictions and safety precautions, the concert will operate at 50% capacity. Tickets can be purchased online. 
The Aggie Alumni Homecoming Concert will follow the COVID-19 policies put in place by North Carolina Agricultural and Technical State University by requiring concertgoers to provide proof of COVID-19 vaccination -- either both Moderna or Pfizer shots or the single Johnson & Johnson vaccine. The proof may be the paper vaccination card provided when the attendee got their shot, a digital image of the card or digital proof of vaccination from the state Department of Health, and must be accompanied by a photo ID that associates the attendee with the vaccination proof.
In the absence of a vaccination card, patrons will be required to show proof of a negative COVID-19 PCR test result within 72 hours prior to the concert and photo ID that associates the attendee with the test result. Only PCR test results will be accepted -- rapid-response test results will not be allowed.
Failure to comply will result in the attendee being refused entry to the concert.
For more information or questions about the N.C. A&T Aggie Alumni Homecoming concert, please email the Office of Alumni Relations at alumni@ncat.edu or call 336-433-5570.
Media Contact Information: avallen@ncat.edu
Headlines, All News, Media Spotlight