WELDON, N.C. (July 2, 2021) – Recent grants from the Center for Energy Research and Technology (CERT) at North Carolina Agricultural and Technical State University are already providing early success in skills development and professional training in the solar and wind installation industries.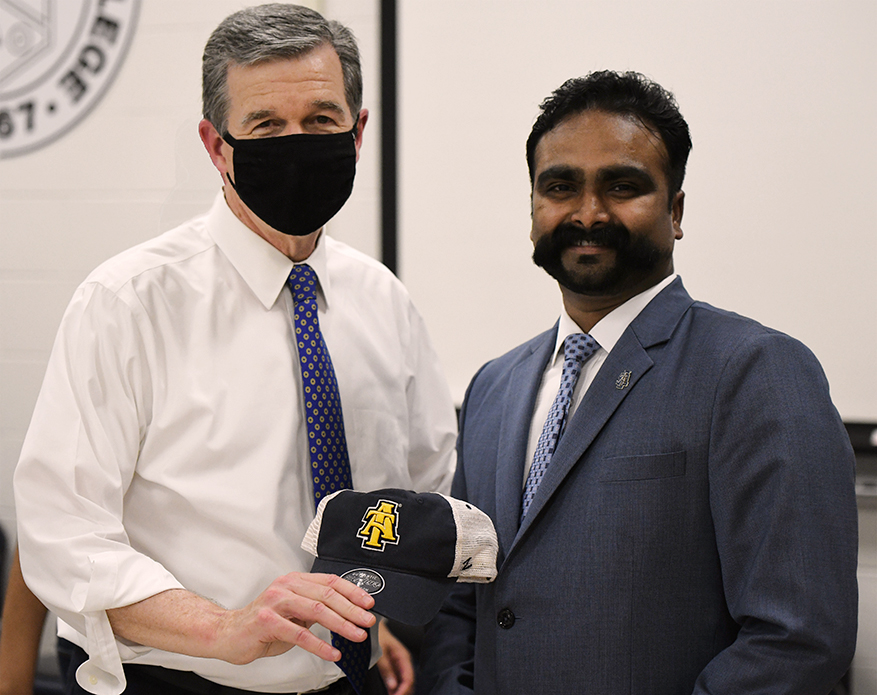 On Thursday, July 1, Gov. Roy Cooper visited Halifax Community College to learn more about North Carolina's first Clean Energy Youth Apprenticeship Pilot and the Halifax Lighthouse Solar Camp. Cooper also met with partners, including Balu Gokaraju, Ph.D., an associate professor and principal investigator leading this the team from A&T's College of Engineering. 
Cooper spoke alongside Michael A. Elam, Ed.D., president and CEO of Halifax Community College, and Eric Cunningham, Ph.D., superintendent of Halifax County Schools. In the governor's announcement, he praised the program and saw it as a national model for job creation in the emerging clean energy sector. The pilot program is the first of its kind in the nation. 
"I am proud that A&T is leading the accreditations for clean energy certificates that could be transferred to associate of applied science degrees and even four-year bachelor's degree programs," said Gokaraju. "With this initiative in place, we aim for statewide workforce development."
Gokaraju is the principal investigator for the Energy Fast-Track Certifications and Local Industry Partnerships (E-FLIP), a $165,000 grant issued from the North Carolina Department of Environmental Quality (DEQ) State Energy Office.
"The comments issued during the event are a great recognition of the critically important programs and research coming out of A&T," said Gregory Monty, Ph.D., CERT director. "The program highlighted by Governor Cooper's visit will help develop energy employees for the growing clean energy sector in North Carolina." 
At Thursday's event, 20 high school students demonstrated solar panel installation on the lawn outside Halifax Community College while speaking with the governor. Students who complete the program will receive a Solar Workforce Certificate along with three industry certifications: OSHA 10 – Construction, Lean Six Sigma Yellow Belt Level, and Working Smart.
"In addition to the partners mentioned above, we would like to recognize the partnerships from the Office of the Governor, NCBCE, NC DHHS, U.S. DHHS, ApprenticeshipNC, C4EE and Strata Solar, LLC," said Gokaraju.