N.C. A&T's Allen Named to United Way of Greater Greensboro Board
By Jackie Torok / 07/21/2021 Alumni
EAST GREENSBORO, N.C. (July 21, 2021) – North Carolina Agricultural and Technical State University Director of Alumni Communications Alana V. Allen '07 has been named to the United Way of Greater Greensboro (UWGG) Board of Directors.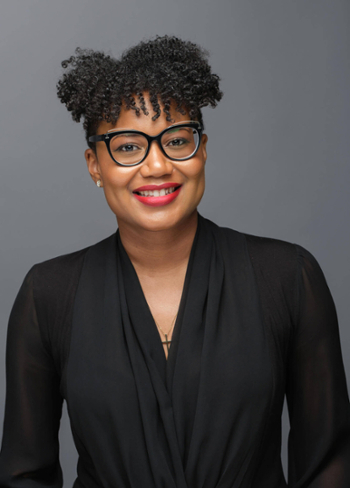 Allen, who accepted her current role in the Division of University Advancement at North Carolina A&T in May 2017, has served as a volunteer on the UWGG marketing committee since December.
A native of Reidsville, North Carolina, Allen has 14 years of experience in the government, nonprofit, agency and educational sectors where she has performed duties ranging from strategic planning, special events and product launches to speech writing, media relations and crisis communications. Her career in public relations includes three years of service as public relations officer and deputy press secretary for North Carolina's first female governor, Beverly E. Perdue.
Allen also is the founder and executive director of I Am A Queen, a youth development nonprofit based in the Greensboro-High Point area of North Carolina. For 12 years, she has cultivated a thriving year-round mentorship program for girls ages 10-18 that focuses on building their self-esteem and leadership skills, in addition to encouraging girls and others to give back to their community through charitable deeds.
Additionally, Allen owns Alana Knows Nonprofits, a boutique consulting firm she established in October 2015 that focuses on developing startup nonprofits.
In February 2017, Allen received the AC Stowe Lifetime Achievement Award, presented by McDonald's Rhythms of Triumph, for her commitment to community leadership.
Along with Allen's service to UWGG, she is a board member for Operation Xcel, an organization based in North Carolina's Triad that offers academic and enrichment programs for youth in kindergarten through middle school as well as empowerment and literacy services in specific areas to adults.
Allen earned her B.S. in journalism and mass communication from N.C. A&T's College of Arts, Humanities and Social Sciences.
Allen joins three alumni – Manuel Dudley '11, of Guilford Technical Community College, Niketa Greene '97, vice president of leadership, diversity and inclusion for the Greensboro Chamber of Commerce, and Antonia Monk Richburg '14, of Cone Health Foundation – on the UWGG board. Davida Martin, community leader and wife of Chancellor Harold L. Martin Sr., and Charise Hart of Ready for School, Ready for Life, who served on A&T's Board of Visitors from 2015 to 2017, also are UWGG board members, while Brian Graham '02 served as UWGG's interim president and CEO.