EAST GREENSBORO, N.C. (June 16, 2021) – North Carolina Agricultural and Technical State University alumna and retired Brig. Gen. Clara Adams-Ender '61, 18th chief of the Army Nurse Air Corps, is combatting COVID-19 by vaccinating her community.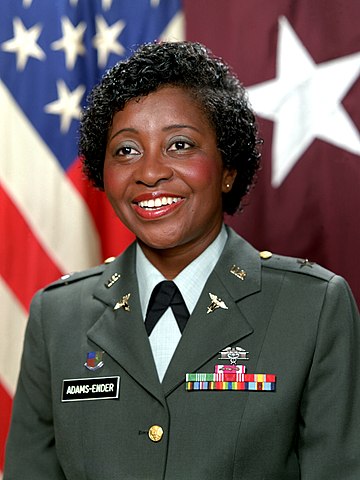 Adams-Ender, 81, who is serving on the frontline in Manassas, Virginia, is featured in a Department of Defense video for continuing her lifetime of service as a volunteer with the Medical Reserve Corps.
"I chose to give the vaccine because I have taken many, many vaccines over my course of living that had to do with diseases and communicable diseases that were causing us problems at the time," said Adams-Ender, "and so I just considered that this was another one that we had to deal with."
A native of Willow Springs, North Carolina, Adams-Ender discovered the Army Student Nurse Program in her second year at North Carolina A&T, where she earned her B.S. in nursing and participated in the Woolworth sit-ins to desegregate its white-only lunch counter.
Adams-Ender went on to become the first woman in the Army to qualify for the Expert Field Medical Badge, the first woman to receive a Master of Military Arts and Sciences from the Army Command and General Staff College and the first African-American nurse corps officer to graduate from the Army War College in 1982. She also earned her M.S.N. from the University of Minnesota.
She served as chief of the Army Nurse Corps from September 1987 to August 1991. During this time, she instituted an array of strategies to recruit and retain military nurses, conceived and implemented the Enlisted Commissioning Program and expanded Reserve Officers' Training Corps scholarships. Additionally, she led the Corps through two major combat operations – Just Cause and Desert Shield/Storm.
In 1991, Adams-Ender assumed command of Fort Belvoir, Virginia, and served as deputy commanding general of the Military District of Washington. She retired in 1993 after serving 34 years in the Army.
Adams-Ender has remained active in community service. She established a management consultation business called Caring About People With Enthusiasm (CAPE Associates, Inc.), which she later served as executive director for its Legacy Fund, a nonprofit foundation dedicated to assisting students of modest means to complete their education. She also served on the board of directors at Andrews Federal Credit Union, mentored military officers and others, particularly under the aegis of the ROCKS organization; and contributed as a member of the Defense Advisory Committee on Women in the Services.
"I'm proud to say this: This is my 60th year in nursing practice," Adams-Ender said. "I'm out here right now giving the vaccine and doing my work as a nurse because I heard that the nation needed to be vaccinated."
A recipient of the Army Distinguished Service Medal with one oak leaf cluster, the Roy Wilkins Meritorious Services and Gertrude E. Rush Award for Leadership, Adams-Ender was inducted in 2019 into the Army Women's Hall of Fame. The American Academy of Nursing recognized her as a Living Legend and the Army War College Foundation Board honored her as an Outstanding Alumna.