N.C. A&T Alumnus Graham Named Interim United Way of Greater Greensboro Leader
By Jackie Torok / 04/09/2021 Alumni
EAST GREENSBORO, N.C. (April 9, 2021) – North Carolina Agricultural and Technical State University alumnus Brian Graham '02 has been named interim chief operating officer of the United Way of Greater Greensboro (UWGG).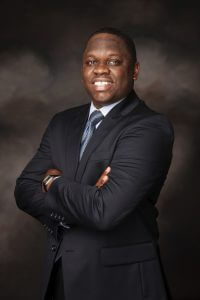 In this role, Graham will report to outgoing president and CEO Michelle Gethers-Clark until her last day and transition to reporting to UWGG Board Chair Kim Gatling until a new president and CEO is hired.
"In accordance with United Way's succession plan, Brian was identified as someone with strong financial acumen and leadership skills, and who has the combination of academic and large nonprofit experience, having come from the Community Foundation of Atlanta," said Gatling, a 1996 N.C. A&T alumna. "He has also been intimately involved with the current strategic planning process. The board has complete confidence in Brian's abilities to maintain organizational operations and provide a seamless transition for future leadership." 
Since 2019, Graham has strategically managed UWGG's financial, human resources, information and technology, and facility and administration operations. In addition, he serves as the executive staff lead on UWGG's finance, human resources, and strategic planning committees. Last year, Black Business Ink magazine named him to its list of "40 Under 40 Most Influential African Americans in the Piedmont," which honored individuals from Guilford and Forsyth counties.
"Thanks to our board, extraordinary team, and committed volunteers, we will not pause in partnering with nonprofits, businesses and volunteers on behalf of children and families on their journeys out of poverty," Graham said.
Immediately before joining UWGG, Graham served as controller for the Community Foundation of Greater Atlanta, where he was responsible for organization's financial operations of more than $1.1 billion. At the foundation, he also co-led cross-functional resource deployment functions overseeing all grant making, policy and civic awareness, donor collaboration, human resources, and volunteer/board engagement.
Graham's career includes extensive financial oversight and management within education and faith-based institutions and working as a Senior Auditor for Ernst & Young, where one of his primary clients was The Coca-Cola Co.
Graham graduated Summa cum Laude with a B.S. in accounting from A&T and earned his Master of Accountancy from the University of Virginia.