EAST GREENSBORO, N.C. (Jan. 12, 2021) – Karen T. Jackson, Ph.D., an assistant professor of leadership studies in North Carolina Agricultural and Technical State University's College of Education, will lead a webinar in February about food system equity.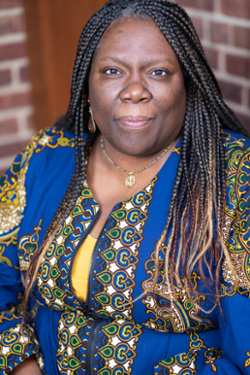 Jackson, joined by Hannah Quigley, former program director of Kellogg Healthy and Equitable Food Systems Capital Initiative, will present "Redefining Food System Equity: Examining Innovation in Capital Access and Wealth Generation for People of Color," on Tuesday, Feb. 2, at 7 p.m. online at http://bit.ly/LEAPresearch2021.
Jackson and Quigley will identify inequities in the food system and present options for redefining the food system with equity in mind. Case studies of innovative equitable food system models as well as an approach to measuring food system equity will be included in the presentation. Attendees will have an opportunity to participate in the discussion.
N.C. A&T, along with UNC Greensboro, supports project LEAP: Lifetime Eating and Physical Activity Practices as part of its commitment to community engagement, service and outreach.
LEAP is a collaborative partnership between Guilford County residents and representatives of health service agencies, health care providers, higher education institutions, nonprofits, foundations, and city and county governments.
It seeks to improve health by working toward a greater understanding of the many factors, from structural to individual, that impact healthy eating and physical activity in Guilford County and how to measure them effectively.
LEAP is designed to identify common goals and measures that existing program providers and residents can use to inform their health and wellness efforts. It brings together multiple stakeholders across the county to collectively determine these goals and measures through various meetings.
In addition to Jackson, Joanie Chavis, Kathleen Edwards, Lauren Haldeman, Michael Hemphill, Jake Hochrein, Emily Janke, Marianne LeGreco and Michelle Gill-Moffat are members of the LEAP Core Leadership Team.
For more information about LEAP, visit https://communityengagement.uncg.edu/leap/.