A&T Rises in U.S. News & World Report's National University Rankings Across Multiple Categories
By Todd Simmons / 09/14/2020
EAST GREENSBORO, N.C. (Sept. 14, 2020) – Coming on the heels of Money magazine's ranking of North Carolina Agricultural and Technical State University as the no. 1 historically black university (HBCU) in America, the new U.S. News & World Report's Best Colleges 2021 issue is out today, continuing the drumbeat of good news this fall for A&T. 
North Carolina A&T maintained its position in U.S. News as the no. 1 public HBCU in America, a spot it shares this year with Florida A&M. Both universities are tied for seventh overall in the HBCU listings. 
A&T moved up in the prestigious National University rankings to a tie at 272, nine spots up from last year's tie at 281 as part of its best showing ever in a range of important national lists. Only 292 schools made the national numerical rankings, with an additional 89 included in the overall category, but not ranked. A&T entered the National University rankings last year for the first time. 
A&T further ranked among America's top 70 national universities in three separate categories, as well as retaining its no. 1 spot among the nation's public HBCUs for the third consecutive year.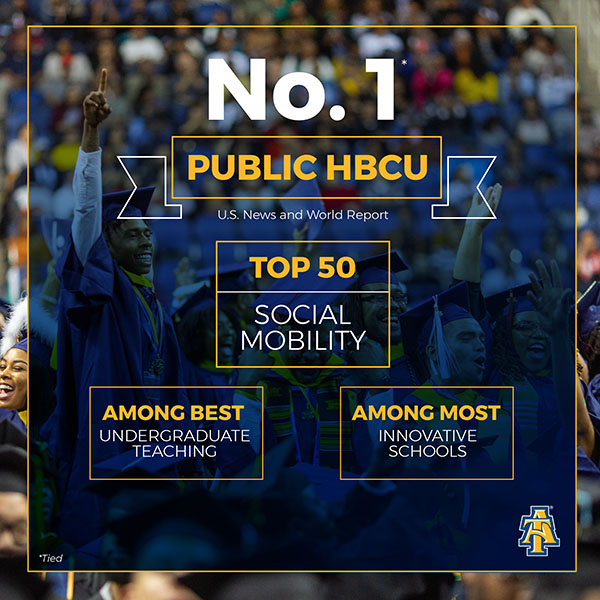 "North Carolina A&T's continued rise in the national rankings is the result of the strategic focus of our institution on academic excellence, as well as the dedication and hard work of our students, faculty and staff," said Chancellor Harold L. Martin Sr. "We not only want to compete with the very best nationally, we are united as a university in our desire to be transformative in the lives of our students, the communities we serve and the research we undertake." 
Of particular note, A&T broke into the magazine's annual ranking of the Most Innovative Schools for the first time. It is the nation's only public HBCU included in that list, with Howard being the only other HBCU to join it. A&T tied at no. 68 with such schools as Penn State, Syracuse, Virginia, North Carolina State and Florida State. 
A&T further tied for 61st nationally for universities with the Best Undergraduate Teaching, a list that recognizes institutions with "an exceptionally strong commitment" to the classroom experience. 
A&T also earned a spot among the top 50 campuses nationally in social mobility, ranking no. 48 nationally – up from no. 66 last year -- in this key measure of how successfully it performs in graduating students who receive Pell Grants compared to its success in graduating non-Pell recipients. Most Pell Grants go to students with a family income of less than $20,000. A&T tied with the universities of Florida, Houston and West Georgia. 
A&T further tied for no. 132 among all doctoral university engineering programs nationwide, a slight move up from last year's tie at 134. A&T produces more African American engineers at the bachelors, masters and doctoral level combined than any university in the nation. The university also ranks no. 210 nationally among best computer science programs. 
Both the U.S. News and Money rankings come as the university begins the 2020-21 academic year with an enrollment of 12,754 students, setting an institutional record for the fifth consecutive year and making it America's largest HBCU for the seventh consecutive year.