Speaker Series at N.C. A&T to Feature Veteran CNN Anchor Discussing Power of Privilege
By Tonya Dixon / 08/17/2020
EAST GREENSBORO, N.C. (Aug. 17, 2020) – As North Carolina Agricultural and Technical State University prepares to begin the 2020-21 academic year, the Chancellor's Speaker Series will hold its first of a three-part series for the semester. The initial conversation, "The Power of Privilege," will feature veteran news anchor and correspondent, Don Lemon, moderated by alumna and sociologist, Destiny-Simone Ramjohn, Ph.D. The virtual event will take place, Tuesday, Aug. 25, 2020, at 6 p.m., via ncatchancellorsspeakerseries.com.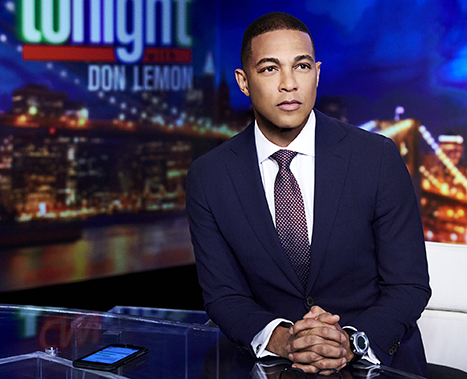 "The Power of Privilege" conversation will focus on four interrelated components of privilege – equity, access, participation and rights – examined through the multifaceted internal and external impact of privilege on racial discrimination, economic disenfranchisement and lack of privilege through education.
 As the anchor of "CNN Tonight with Don Lemon," Lemon brings a fresh perspective drawn from his significant experiences and insight gained through various interviews, news coverage, investigative reporting, interactions and thought-provoking, passionate commentary.
 Lemon has reported and anchored many on-the-scene breaking domestic news stories, including numerous mass shooting incidents, the death of Freddie Gray while in police custody, the shooting of unarmed teenager Michael Brown in Ferguson, Missouri, the George Zimmerman trial, in Florida, the Boston Marathon bombing, the deaths of Whitney Houston and Michael Jackson, and the inauguration of the 44th President Barack Obama, among others.
 He is the author of the 2011 memoir, "Transparent," in which he publicly came out as gay, becoming one of the few openly gay black men in broadcasting.
 He is a recipient of the prestigious Edward R. Murrow Award for his coverage of the capture of the Washington, D.C., area sniper, in 2002 and has won numerous other awards, including five Emmys.
Since graduating from N.C. A&T in 2002, and securing her doctoral degree in sociomedical science from Columbia University in 2012, Ramjohn has dedicated her life to creating conditions that promote health equity. Presently, she serves as vice president of Community Health and Social Impact with CareFirst, the largest health care insurer in the Mid-Atlantic Region.
 Cumulatively, Ramjohn's work examines the role anchor institutions, such as academic institutions and health systems, may play in minimizing economic and health disparities. A self-proclaimed strategic disruptor, her research and work are guided by a strong desire to advance health equity using inclusive techniques to bring the nation's most vulnerable from the margins of society to the center of dialogue, advocacy and power.
 The latter two sessions of the Chancellor's Speaker Series for the semester will focus on the power of your voice and the power of your vote.
 The virtual Chancellor's Speaker series is free and open to the public.