N.C. A&T's Caldwell, Martinez Chosen for PPIA Junior Summer Institute
By Jackie Torok / 05/15/2020 Academic Affairs
EAST GREENSBORO, N.C. (May 15, 2020) – North Carolina Agricultural and Technical State University juniors Brenda Caldwell and Joanna Martinez have been selected for the 2020 Public Policy and International Affairs (PPIA) Junior Summer Institute.
This marks the first time two Aggies have been chosen for the program in the same year.
"Congratulations to Brenda and Joanna for this remarkable achievement," said Margaret I. Kanipes, Ph.D., North Carolina A&T Honors Program director. "The PPIA Junior Summer Institute is an exceptional opportunity that will continue to foster their leadership and commitment to public service. We are proud of our Honors scholars."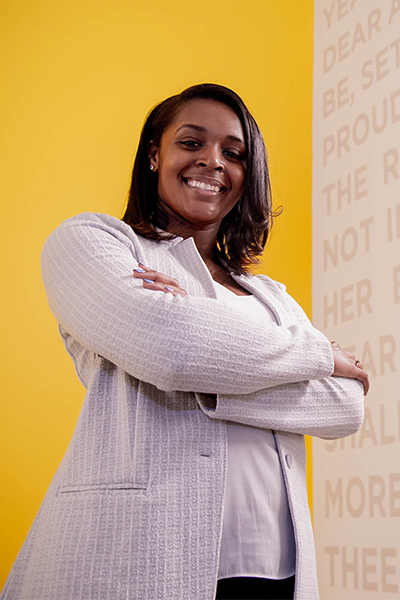 Caldwell is studying political science and will attend the summer 2020 program at the Heinz College of Information Systems and Public Policy at Carnegie Mellon University in Pittsburgh.
While serving as attorney general of the Student Government Association, Caldwell also has worked to increase voter engagement by leading registration drives and requesting the restoration of an early poling site on campus for the 2020 elections. She plans to earn a master's degree and Juris Doctor in public policy as she works to improve political engagement among young Americans and marginalized groups.
Martinez is studying history and will attend the summer 2020 program at the Hubert H. Humphrey School of Public Affairs at the University of Minnesota.
While serving as vice president of History Scholars, Martinez also has been an ambassador for both the A&T Census Committee and the university's Honors Program and participated in the "People, Not Property: Slave Deeds of North Carolina" project. After graduating from A&T, she plans to complete fellowships and earn a law school degree to work in public interest law, helping to craft policies that help marginalized populations.
Caldwell and Martinez follow fellow University Honors Program member Kailyn Price, the third Aggie selected as a PPIA Junior Summer Institute recipient and A&T's first since 2000. Price is a senior studying biology who attended the summer 2019 program at Princeton University's Woodrow Wilson School of Public and International Affairs.
PPIA, now in its 40th year, is a not-for-profit that supports efforts to increase diversity in public service. It focuses on students from groups who are underrepresented in leadership positions in government, nonprofits, international organizations and other institutional settings, recognizing that international affairs are increasingly mixed with local concerns.
Its Junior Summer Institute is a seven-week fully-funded fellowship program that provides student training and financial support for graduate school and facilitates ongoing professional development with classes and co-curricular activities that are structured to introduce or strengthen skills in economics, statistics, policy analysis, writing and public speaking. Among the GRE preparation assistance and career guidance coaching, along with a stipend of up to $1,500.\