EAST GREENSBORO (March 10, 2020) – Two students for the College of Agriculture and Environmental Science were named to USDA's Future Leaders in Agriculture program.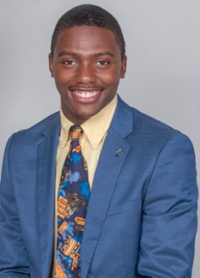 Bobby Brooks, an animal science undergraduate student, and Christina Bradshaw, an integrated animal health systems graduate student, were two of 30 students from across the nation selected to participate in a weeklong trip to Washington, D.C.
During their visit to Washington, D.C., Brooks and Bradshaw took part in a USDA briefing and discussion of career opportunities with agriculture leaders in academia, government and industry. They toured the nation's capital, attend the Forum, and met with U.S. Secretary of Agriculture Sonny Perdue.
"This experience opened my eyes to areas that can be impacted and advanced by agriculture," Bradshaw said. "It was really great to meet so many people from different backgrounds who want to see ag move forward in the same way."
Since 2007, USDA has hosted undergraduate and graduate students at the Forum to enable real-world learning opportunities in contemporary agribusiness, scientific research, and agricultural policy. The program selects 20 university undergraduates and 10 graduate students based on essays on agricultural careers and challenges. These students major in agriculture-related studies, including business, economics, communications, nutrition, food science, and veterinary studies. Finalists are selected from land-grant universities, Hispanic-serving institutions, and non-land-grant colleges of agriculture.
Bradshaw's essay included her thoughts on the past, present and future of agriculture and Brooks' essay addressed the career and lifestyle of agriculture.
"Going to the forum really broadened my view on field of agriculture and how it can be a part of so many industries," Brooks said. "Even when you think you know what you want to do, 10 more doors can open just by participating in programs like this."
The Future Leaders in Agriculture Program is supported by academic institutions, corporations, and government institutions dedicated to promoting the education of the next generation of agriculture. This year's sponsoring organizations include the University of Maryland Eastern Shore and Farm Credit.
This program is one of many partnership efforts among USDA, 1862 Land-Grant institutions, 1890 Historically Black Land-Grant Colleges and Universities, 1994 Tribal Land-Grant Colleges and Universities, and Hispanic-Serving Institutions. These partnerships support capacity building initiatives that bolster education and career opportunities for students and faculty, and recruit new talent for USDA and agriculture.