N.C. A&T Announces New Athletics Affiliation: Big South Conference
02/06/2020 Athletics
EAST GREENSBORO, N.C. (Feb. 7, 2020) – Come July 1, 2021, North Carolina Agricultural and Technical State University will be a full member of the Big South Conference. The move was announced at a press conference Friday morning on the N.C. A&T campus.
"We have been looking carefully at our opportunities in athletics for five years and more intensively over the past year. We're pleased to have brought that process to fruition and excited to be ushering in a new alliance with the Big South," said Chancellor Harold L. Martin Sr. "This move makes great sense for our student athletes, for our fans and for our bottom line. We will always have a place in our hearts for the MEAC, and we look forward to what the new conference will make possible for the Aggies."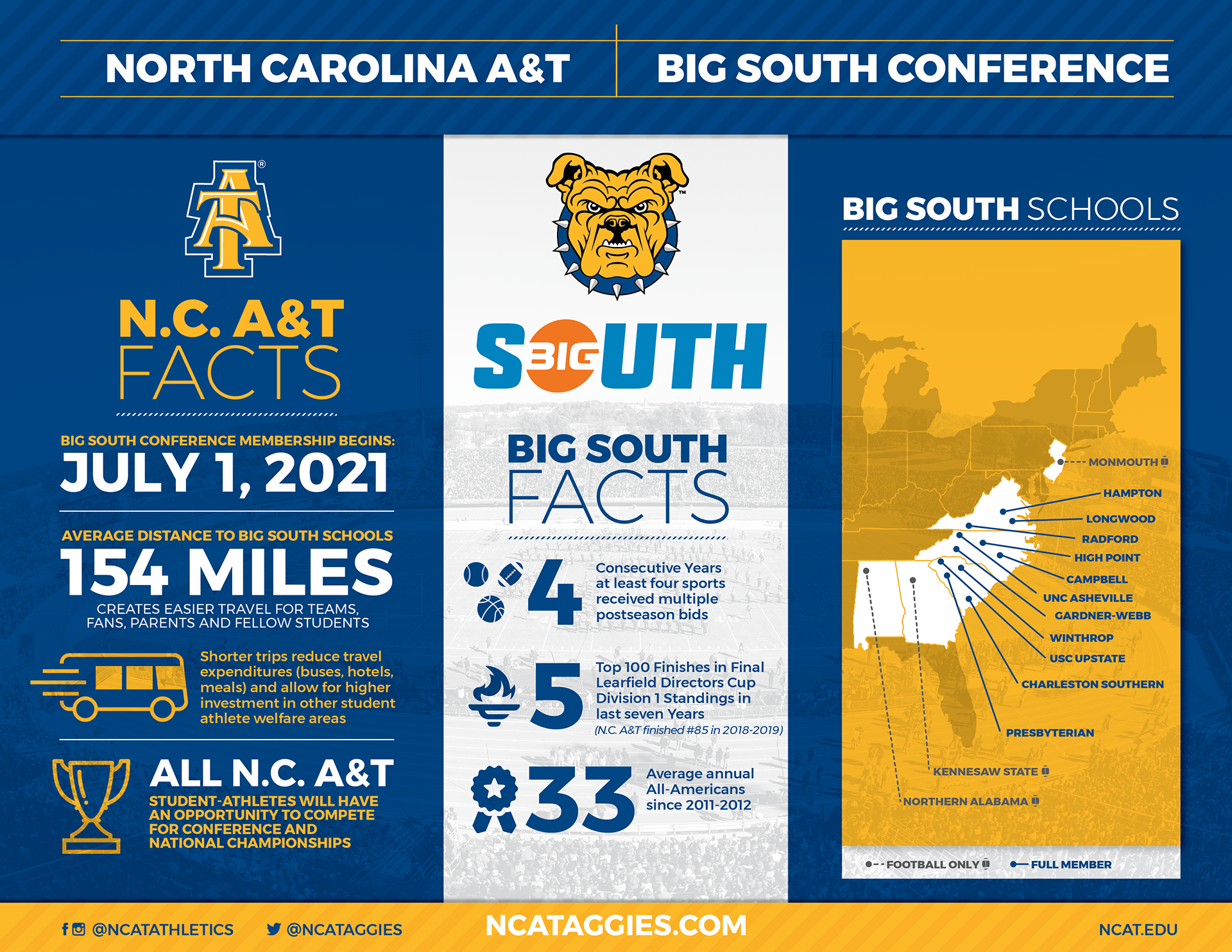 The N.C. A&T Board of Trustees voted to switch athletic conferences from the Mid-Eastern Athletic Conference (MEAC) to the Big South on Friday morning just prior to the press conference, acting on a study and recommendation from its Athletic Conference Assessment Committee. The committee completed its study and approved the recommendation on Tuesday.
"As our committee did its due diligence over the past year, the opportunities to positively impact the lives of our student athletes and the financial health of athletics became increasingly clear and detailed," said A&T trustee and ACAC Committee Chair Timothy King. "In the end, we had compelling answers to all our questions, making our choice straightforward." 
The Aggies will continue to compete in the MEAC through the end of the 2020-21 academic year before joining 11 member institutions in the Big South from Virginia, South Carolina and North Carolina – including Campbell University, Gardner-Webb University, UNC Asheville and Triad neighbor High Point University. Former MEAC member Hampton University is also a Big South campus.
"The Big South Conference is thrilled to welcome North Carolina Agricultural and Technical State University as its 12th member," said Kyle Kallander, Big South commissioner. "In its progressive approach to membership expansion, the Big South looks for institutions that will be value-added, and that will enhance its student-athletes' opportunities and success. From its outstanding academic profile, to its proud history, to its impressive athletic achievements, North Carolina A&T does just that. This significant addition makes us all better.  It is a great day for the Big South Conference!"
The N.C. A&T Aggies sponsor 17 varsity sports at the Division I level, 16 of which are represented in the Big South – football, men's and women's basketball, men's and women's cross country, men's and women's tennis, men's and women's indoor and outdoor track & field, baseball, softball, men's and women's golf, and women's volleyball. A&T's bowling team will continue to compete in the MEAC.
The university's athletics history dates back to 1924 and includes achievements such as winning seven straight men's basketball conference tournaments from 1982-88, having one of the best track and field programs in the nation, five FCS Championship postseason appearances, 55 MEAC championships, and four Celebration Bowl wins in five years.
N.C. A&T is alma mater for many notable athletic alumni, such as Chicago Bears Pro Bowler Tarik Cohen, NFL Hall of Famer Elvin Bethea, Naismith Basketball Hall of Famer Al Attles, College Baseball Hall of Famer Al Holland, world-class track athletes Chris Belcher and Kayla White, Buffalo Bills defensive end Darryl Johnson and Las Vegas Raiders offensive tackle Brandon Parker.