Riley, Cox and Ross Slated to Discuss Self Love at N.C. A&T Chancellor's Speaker Series
09/02/2019
Riley, Cox and Ross Slated to Discuss Self Love at N.C. A&T Chancellor's Speaker Series
EAST GREENSBORO, N.C. (Sept. 3, 2019) – In a world where appearances, stereotypes and unsolicited opinions often negatively dominate the societal narrative, North Carolina Agricultural and Technical State University is rebutting and changing the conversation through the fall Chancellor's Speaker Series, "Love the Skin You're In," at 6 p.m., Thursday, Oct. 3, 2019, in Harrison Auditorium.

This installment will feature a diverse panel of advocates for equality and healthy living, including Amber Riley, Laverne Cox and Shaun Ross. The discussion will be moderated by 2001 alumna Raushannah "Dr. RJ" Johnson-Verwayne.

Aligning with the university's strategic goal of fostering a more diverse and inclusive campus climate, the panel will discuss the intersections of self-love and the extension of love toward others, infused with relevant and timely topics regarding body image perception, stereotypes, personal values, the constructs associated with social media and more, leading to a healthy, happy life. 

Best known for her role as Mercedes Jones on FOX's Golden Globe and SAG award-winning musical comedy, "Glee;" season 17 winner of ABC's "Dancing With the Stars;" and previous member of Seventeen Magazine's Body Peace Council, Riley is a two-time NAACP Image Award and Teen Choice Award nominee. Her repertoire also includes theater, where she has landed numerous roles with the Los Angeles Opera.

Cox's groundbreaking role of Sophia Burset, in the critically-acclaimed Netflix original series, "Orange is The New Black," brought her to the attention of diverse audiences all over the world. The role led to Cox becoming the first openly transgender actress to be nominated for a primetime acting Emmy. She also holds two SAG Awards. Cox maintains an empowering message of moving beyond gender expectations to live more authentically.

Ross is a trendsetting model, singer, actor and dancer who has reshaped the fashion and entertainment industries. As the first male model to represent albinism, he campaigns for diversity and inclusion within all sectors of the entertainment industry. Redefining conventional standards of beauty, he has appeared in top magazines British GQ and Italian Vogue. Ross most recently entered the music industry, releasing two singles, "Chrysalis" and "Symmetry."

As a licensed clinical psychologist, Dr. RJ adds the perspective and expertise of a mental health professional to the conversation. Passionate about wellness, self-care and advocating for those affected by emotional and behavioral issues, her work has been recognized by the Fulton-Dekalb Hospital Authority through child sex trafficking prevention and appointments to serve on a special task force and as an advisory council member to the Department of Behavioral Health and Developmental Disabilities, respectively.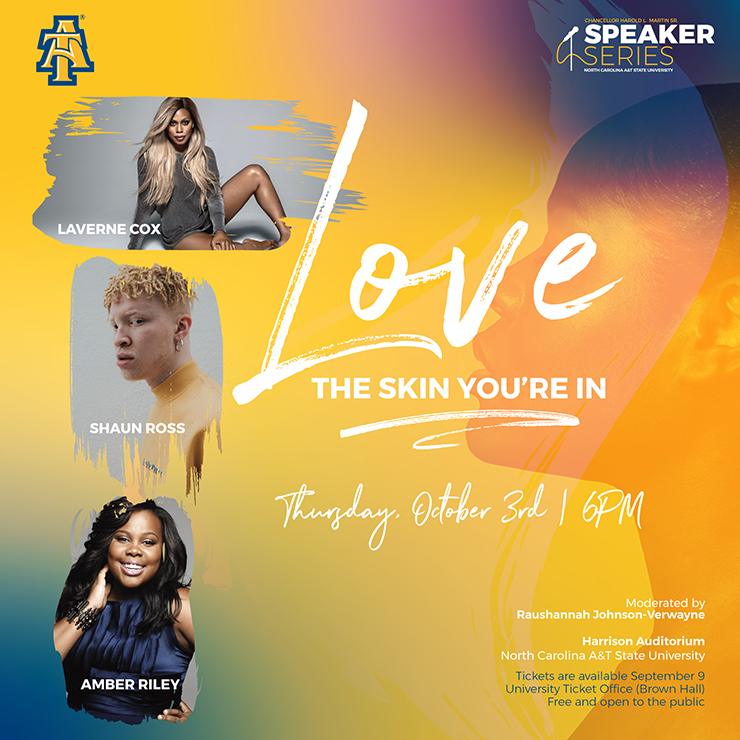 This event is free and open to the public. Students must present their valid Aggie One card to receive a ticket. A limited amount of tickets will be made available to the public. All tickets will be available through the University Ticket Office located in Brown Hall beginning Sept. 9.

For more information, contact University Relations at 336-256-0863 or visit Chancellor's Speaker Series online. To request media credentials, visit the university's website or email tsjones@ncat.edu.