Approximately 200 male students are expected to participate in the college's "Blue and Gold Bus Tour: Exploring Pathways in Education," March 3
EAST GREENSBORO, N.C. (March 2, 2023) – As educators, school leaders and public education advocates across the country are celebrating Public Schools Week, Feb. 27 through March 3– a week designated to highlight and show support for local public schools–the College of Education (CEd) at North Carolina Agricultural and Technical State University is celebrating the week and the esteemed education profession by exposing pre-college students to the career. The college will host and welcome 200 male high school students to campus for the "Blue and Gold Bus Tour: Males Exploring Pathways in Education" on Friday, March 3, from 9 a.m. to 3 p.m.
In a nod to amplify and share its exceptional educator preparation program offerings and opportunities, CEd collaborated with school districts from across the state, including Guilford County Schools (GCS), Lexington City Schools, New Hanover County Schools, Durham Public Schools, Cabarrus County Schools, Charlotte-Mecklenberg Schools and as far away as Lincoln B-Technical High School in Dallas, Texas, to spotlight education as a profession, ultimately recruiting the next generation of teachers, especially those who are deemed high-need in the field.
"We are working very hard to increase and diversify the educator pipeline, while also showcasing the joys of joining the profession," said Gerrelyn Patterson, Ph.D., chairperson for the Department of Educator Preparation.
Historically, North Carolina along with the nation, has experienced low percentages of males, particularly Black males as professional educators. The Department of Educator Preparation structured the "Blue and Gold Bus Tour" program to meet their need while eliminating barriers such as potential transportation or scheduling conflicts by enticing students with a field trip to campus during school hours for teacher career exploration.
The programming will feature panels of esteemed males in the field of education, male alumni of the educator preparation program that are current classroom teachers, and current students enrolled in the program.
"This event will not only highlight the need for males within education, but it also provides an excellent opportunity for students to see what it truly means to be an educator and a transformative agent of change," said Department of Educator Preparation Associate Professor, Brian K. Williams, Ph.D. Williams is one of the Blue and Gold Bus Tour organizers.
In the spring of 2023, the university realigned six undergraduate secondary education programs – chemistry, biology, math, physics, history and English – moving them to the CEd to enhance professional support, classroom readiness and ultimately increase the number of certified teachers, particularly those in science, technology, engineering and mathematics.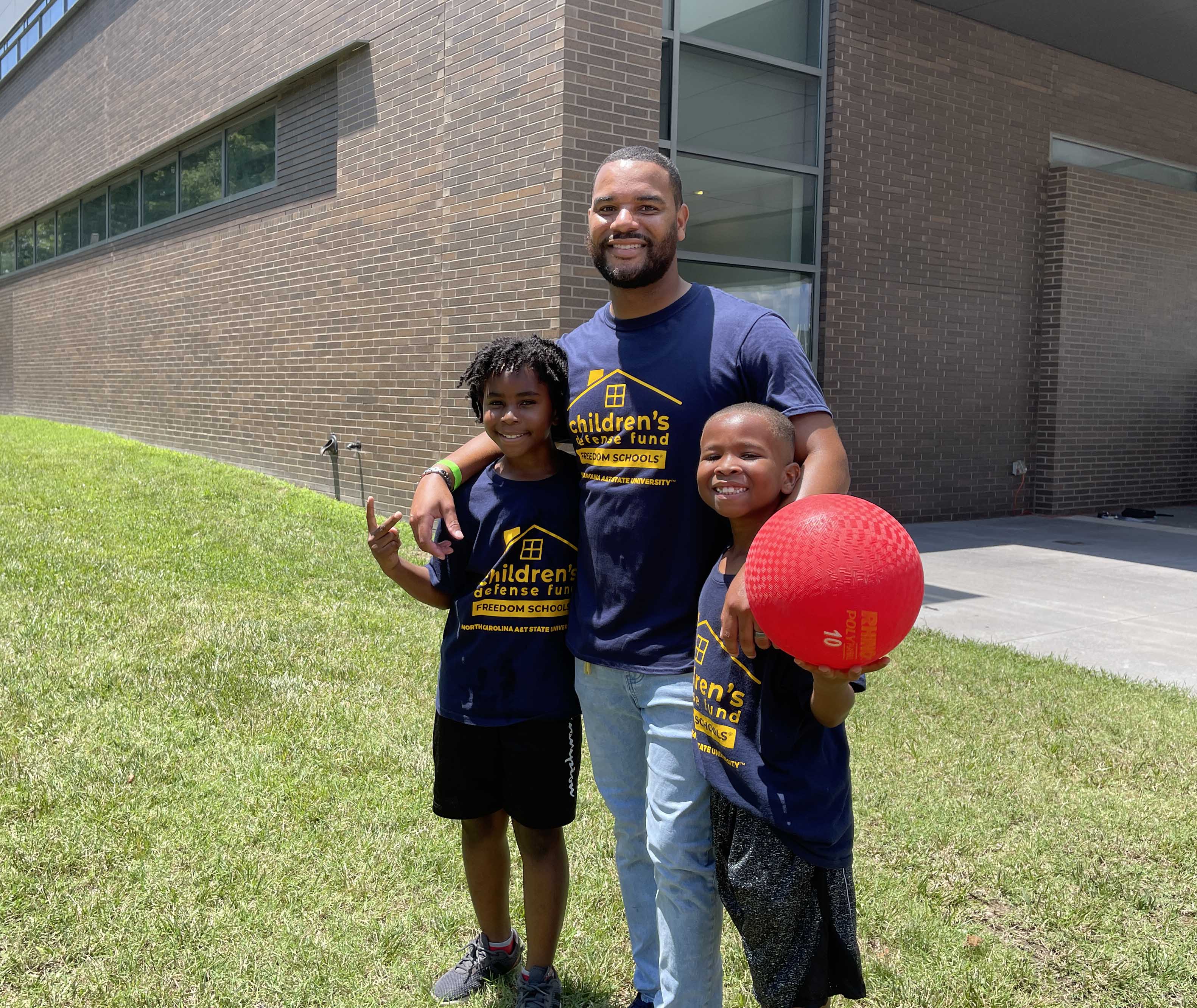 CEd continues to embrace a leadership role in not only producing stu
dents prepared for teaching positions in K-12 classrooms, but as a vital component of the university and its land-grant mission including community education and support.
In 2022, the university established Aggie Academy, an exciting STEAM lab school for third, fourth and fifth grades, serving students who reside in Guilford County. Students who may have encountered difficulties in traditional classroom settings are engaged in culturally responsive, sustaining and experiential teaching and learning. CEd Dean Paula Groves Price, Ph.D., led the charge for the school's establishment and CEd maintains oversight of the lab school. Aggie Academy is an outgrowth of a 2016 North Carolina General Assembly law requiring the UNC System to create "laboratory" schools to improve student performance in regions that included low performing schools. Aggie Academy also serves as a key partner for Educator Preparation students to engage in practice-based teacher education, visiting the school frequently for field experiences as part of their coursework.
Two GCS choice high schools—the STEM Early College at N.C. A&T and the A&T Four Middle College—are also housed on the university's campus. While operated by GCS, these high schools work in collaboration with the CEd on various initiatives, including the development of a Toyota-sponsored STEAM lab for hands-on learning for K-12 learners in the college. In 2022, the STEM Early College was named the No. 2 best high school in North Carolina by U.S. News and World Report and annually ranks high for high-achieving students.
"North Carolina A&T is truly committed to improving the human condition, and it's commitment to public education from pre-K through higher education is a testament to us holding strong to our land-grant mission. With our strong K-12 partnerships, our new laboratory school, and our newly restructured College of Education to include secondary education programs, we are positioned to be a leader in the state and nation in the development of highly qualified, diverse, and culturally responsive educators," said Price. "Aggie educators are in high demand because they have proven that they are among the most highly effective teachers in the state. Our challenge is meeting the great demand when the needs are so great nationally."
In 2022, the Education Preparation program at A&T was accredited through 2029 by the Council for the Accreditation of Educator Preparation (CAEP). Institutions and programs accredited by CAEP have been found to meet rigorous and high academic standards, including solid evidence that the provider's graduates are competent and caring educators; and solid evidence that the provider's educator staff have the capacity to create a culture of evidence and use it to maintain and enhance the quality of the professional programs they offer. Additionally, CAEP is recognized by the Council for Higher Education Accreditation.
With a growing profile, the CEd online MAT program was ranked  No. 1 among historically Black colleges and universities, No. 3 in North Carolina and No. 43 overall.
Media Contact Information: tddixon1@ncat.edu
All News, College News, Media Spotlight, Headlines