EAST GREENSBORO, N.C. (Sept. 29, 2022) – The College of Education (CEd) at North Carolina Agricultural and Technical State University will welcome longtime early childhood educator and best-selling author Paula Young Shelton as guest speaker for the Dean's Equity, Access and Advocacy Speaker Series and related events, Friday, Sept. 30.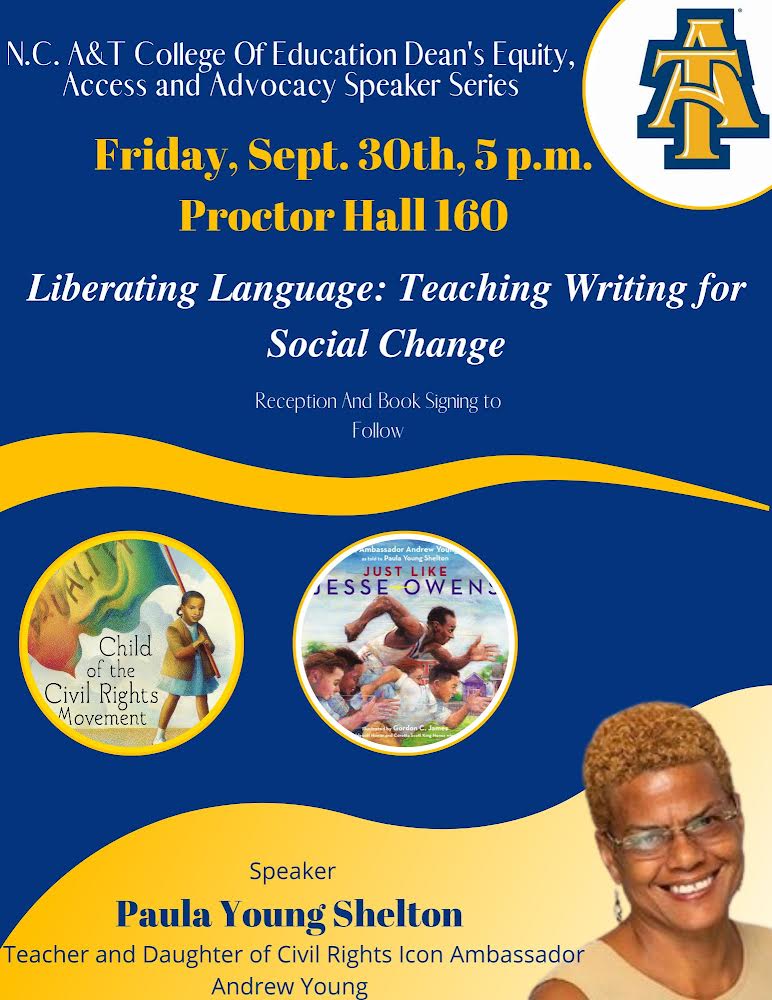 Kicking off the day, Shelton will address students of Aggie Academy at 12:30 p.m. through an engaging, oral presentation and reading of her new book, "Just Like Jesse Owens," co-written with her father, civil rights activist Ambassador Andrew Young. She will also deliver a speech at 5 p.m. in Proctor Hall to faculty and friends titled, "Liberating Language: Teaching Writing for Social Change," based on a self-developed curriculum to help teachers, parents and community members engage children though social justice issues.
"Paula Young Shelton is the perfect fall speaker for the Equity, Access, and Advocacy series because her work pushes us to remember our strong civil rights legacy, while encouraging current generations to carry the baton forward for justice and social change," said CEd Dean Paula Groves Price, Ph.D. "She is accessible for young children and adults alike."
Shelton is also the author of "Child of the Civil Rights Movement," where she recalls that period through her own eyes as a young child listening and watching her father and "Uncle Martin" – Martin Luther King Jr. – strategize and march.
The Equity, Access, and Advocacy speaker series provides opportunities for the N.C. A&T Community and partners to engage with national scholars and leaders committed to equity in education. Additionally, the CEd maintains a significant role preparing graduates to contribute to a diverse society of access, inclusion and equity. While preparing educators, the college collaborates with various community schools providing tutoring and other engagement opportunities.
This speaker series is free and open to the public.