EAST GREENSBORO, N.C. (Aug. 24, 2021) – North Carolina Agricultural and Technical State University is playing a critical role in the creation of Athena, a new artificial intelligence (AI) research center led by Duke University and including Yale, Massachusetts Institute of Technology and other prominent institutional partners. Funded by the National Science Foundation and the Department of Homeland Security, Athena is part of a $220 million investment in 11 AI research institutes engaging campuses in 40 states nationwide.
Daniel Limbrick, Ph.D., an associate professor in the Department of Electrical and Computer Engineering, is the principal investigator for North Carolina A&T's sub-award from Duke University. Limbrick will contribute expertise in microprocessing and autonomous vehicles by creating small-scale testbeds of autonomous vehicle scenarios. The testbeds offer physical platforms to test and research the capabilities and limitations of edge computing and expand the research beyond computational modeling.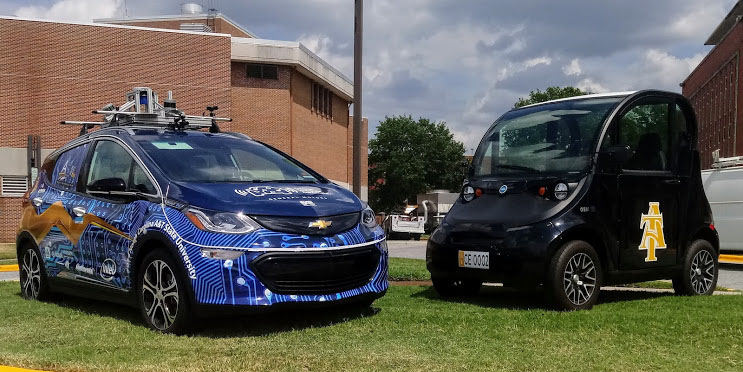 Limbrick will also lead the center's racial and gender diversity and inclusion efforts, where he will collaborate with other researchers to ensure the center meets racial and gender diversity goals by year five of the project.
AI plays an important role in the majority of disciplines within the College of Engineering (COE) at N.C. A&T.
"We understand the dynamism and consequences associated with this AI arena and the positive impact of diverse minds and perspectives being actively engaged in shaping AI and its applications," said Robin N. Coger, Ph.D., COE dean. "Dr. Limbrick's multi-level expertise will be important to further strengthening the research deliverables of the Athena project."
To achieve assured, robust and resilient services for autonomous systems at the edge and to run autonomous driving software with AI to replicate exact scale of real-world scenarios, researchers will focus on two critical, interdependent components of cyber-physical autonomy: situational awareness and learning-enabled control and adaptation.
As a whole, Athena seeks to solve the future data bottleneck issues with the Internet of Everything (IoE), a concept that aims to bring together "people, process, data and things to make networked connections more relevant and valuable" as described by an industry leader. How, with the expertise of Limbrick and other collaborators, can researchers use artificial intelligence in devices that quickly decide where and how to process data?
"With the emergence of the IoE, we will exponentially increase the amount of data being processed," said Limbrick. He cites the example of a camera on a car as part of the sensor safety network. He theorizes the addition of edge technology that uses artificial intelligence to interpret the video data before being routed to central computing. "With AI, we can now develop algorithms to look at the data coming in, resulting in devices deciding automatically and more efficiently where best to distribute information."
Limbrick's expertise is in testing the reliability and security of algorithms and applications. He introduces faults into algorithms (e.g., a disturbance that could cause it to fail) to test resilience and responsiveness to unforeseen issues.
"With this research, we will take some of these emerging applications and identify their computational needs and challenges. In essence, we're testing what would happen if there was a fault," said Limbrick.
COE's participation in this nationally critical research is a testament to the important research that faculty like Limbrick regularly conduct, as well as the infrastructure and partnerships A&T has continued to value and cultivate for decades.