EAST GREENSBORO (July 25, 2020) – For Najawa Huntley '20, this year was an exceptional year to be chosen as a Presidential Scholar by University of North Carolina System Interim President Bill Roper, M.D.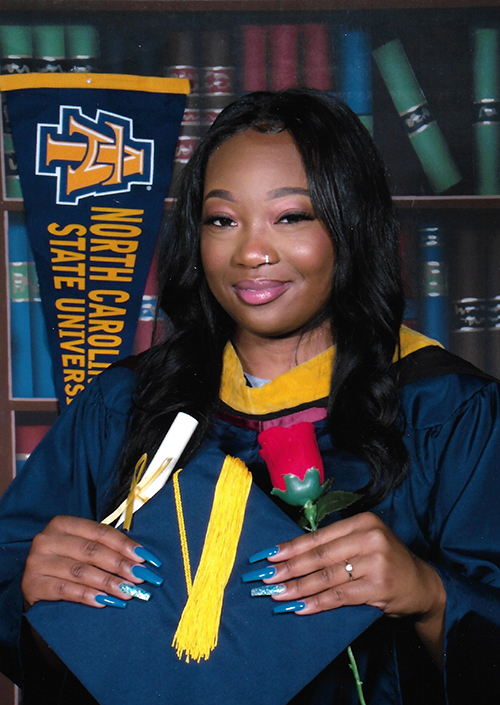 Huntley and two other recent graduates of UNC System institutions will serve a one-year appointment and provide a wide range of professional functions for the UNC System Office. The scholars will interact with the president, his senior leadership and members of the UNC Board of Governors, and contribute and work in areas that include education, public policy, research and data trends that affect higher education.
"Sometimes there aren't enough bridges between what is going on (in the central office) and its effects on students," said Huntley, who majored in political science. "As students, we need that liaison who knows what it's like to be behind the scenes of policy and finance. That way, we know what we can advocate for."
Scholars were selected from among 2020's UNC System graduates. Other scholars are Annalee Banks from Western Carolina University and Liz Chung from the University of North Carolina at Asheville.
Each of the applicants demonstrated leadership skills, intellectual curiosity and a strong interest in higher education and public service. The Scholars program goes beyond higher education and career development, exposing participants to the ideals of public service to the state. Scholars see firsthand how education legislation and university policy affect current students and state residents.
"The scholars earn valuable experience in preparation for promising careers in public leadership and provide key assistance to the UNC System," Roper said. "The program has been a great success, and we are proud of each of these scholars for this great achievement. We anticipate a great working relationship with them in the coming year."
Huntley said she hopes to pursue a career in government policy and this fellowship allows her a great start.
"I want to learn as much as possible about the policies and how the system works," she said. "Although this year is different than most and I have to get used to everything being virtual, it is really interesting to see some of the official work firsthand."