Commencement Stories
Lashaunda Lucas
N.C. A&T Fall 2022 Graduate
Ph.D.: Social Work
Hometown: Knightdale, North Carolina 
My name is Dr. Lashaunda Lucas. I have the honorable distinction of being the first graduate from the Joint Ph.D. Social Work Program. 
I love serving people. I love helping people, particularly women in the areas of self-worth, self-esteem, and self-discovery. It can be a hard field to go into, but I would encourage everyone to do it and make sure that you have the support that you need – those who support you and keep you lifted even in times when you feel like you can't keep going. We have those times in academia and while taking Ph.D. courses but also in the work that we do. 
I absolutely love our Ph.D. program. They allowed me to be my creative outgoing self and pushed me to be the researcher that I am today. I'm a qualitative researcher. I love everything about being with people. They opened the door to creative ways that we can do that. They allowed me to study through more of a clinical lens of social work whereas a lot of programs want you to focus on macro. They allowed me to focus on micro practice and study what I'm passionate about. 
And one area that I'm passionate about is self-worth development for black millennial women, in fact that was my dissertation – Self-worth Development for Black Millennial Women in Intimate Relationships." 
I believe that black women have a unique position in this country regarding race, gender, class, and oppression. I believe we cannot talk about black women outside of those contexts and so when we consider what we deserve and what we contribute, I think it's important to study
that from the lens and experiences of black women and use their voices as rigor in the research. 
Aggie Pride!
---
Tiera Henderson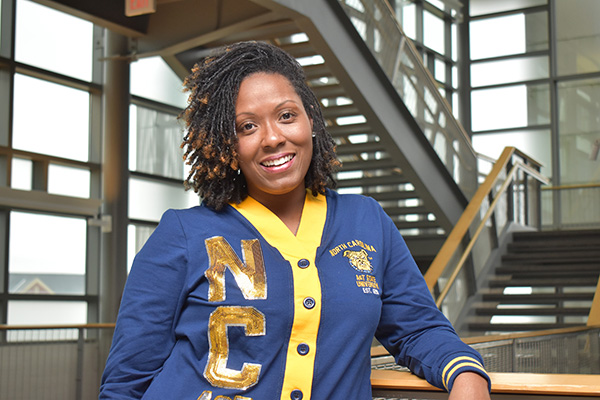 N.C. A&T Fall 2022 Graduate
Masters: Counseling
Hometown: Alexandria, Virginia 
I was working in mental health and decided that I wanted to go back and get my license in counseling. I looked up a few different programs and something about A&T was really calling my name. 
I am representing A&T on a national level with the White House HBCU Initiative. Part of what we do is to recognize the resources that are needed for HBCUs to continue to excel. For instance, we went to a White House conference this past summer and talked about what we needed. What do our classrooms look like? How can we continue to advance our HBCUs to make sure that we are competitive with other colleges and universities? So being able to be chosen to be one of the very few students to represent the entire university is major for me and a huge honor.
About Counseling…
I think it is having the opportunity to shift somebody's mindset or perspective to be able to see things from a bigger picture. Being able to help them make a decision that could possibly change the course of their life.
My hope is to graduate from A&T twice in the Ph.D. program for rehabilitation counseling. I currently work in the Guildford County School System as a counselor. I plan to continue making a difference in younger lives, continue to do research, to better the field of counseling and better myself.
Aggie Pride! 
---
Kayla Henry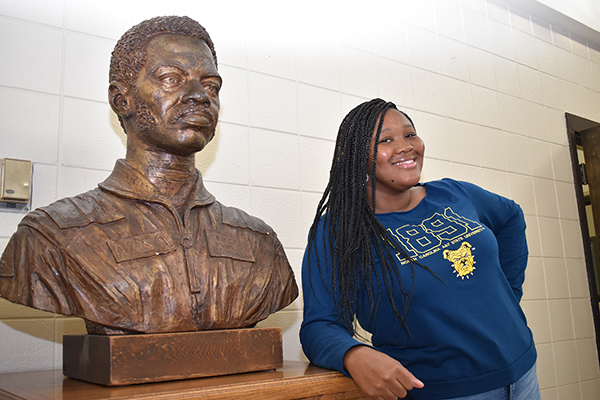 N.C. A&T Fall 2022 Graduate
Major: Computer Science
Hometown: Baltimore, Maryland
I came to A&T timid. I played basketball so I've been used to a team structure but, I've never been the captain or the leader. I saw a need with some of the organizations here at A&T for someone to step up and take leadership roles. I'm like why not give it a try?  We're allowed to really lead our organizations. I was able to step up and redesign my organization the way that I saw fit to best help it in the future.
I love that Computer Science is very broad. You can do a multitude of things. Everyone needs coders, whether that's web development, game development or the log-in screen you see on applications, there's so much you can do with it.
I've been blessed to have an internship every single summer of college. There were, of course some adjustment issues with me being fresh out of high school. I hadn't even had my first college class yet. I was working for a contractor for the Department of Defense. I'm a young black woman with not too much coding experience coming into this high-tech industry. There were some people who doubted me, looked down on me, told me not to talk in meetings, not to speak up. It took me having to find my voice. I know that A&T taught me that when you're a leader on campus you have to speak up because the decisions you make are going to affect everyone else under you and your organization. When I get into these technical internships and leading teams or projects, my name is tied to it. I can't stay quiet. I have to speak up. My name, my reputation, my bosses and all those under me are on the line and I just can't be quiet.
I've interned at Northrop Grumman for three years and then this past summer, I interned at Corning. I have a few offers. I might potentially go back to Corning as a junior IT project manager or I'm going to be working for the U.S. government as a project manager.
Aggie Pride!
---
Sharon Macon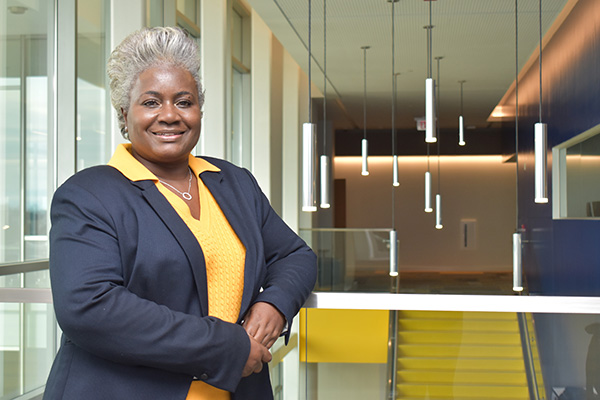 N.C. A&T Fall 2022 Graduate
Aggies at the Goal Line – Liberal Studies Completion
Hometown: Tarboro, North Carolina 
I originally started at A&T in 1982, in Construction Management. I had my son and started working. That substituted me going to school. I was kind of quiet. I had a close circle of friends and just kept to myself. A&T was my only choice.
I believe that I was born an Aggie and I have to go out of this Earth as an Aggie. I had no desire to be anything but an Aggie.

About the Aggies at the Goal Line program
It has been awesome. I wish I knew about it years ago. The process was very streamlined. I felt very well taken care of by the advisers. I kind of felt like my hand was held along the way. They were very hands on. They had a good road map and pathway to lead me to my graduation. 
I have a career as a mechanical drafter. It was a personal goal of mine to finish. I was so close. It was in my heart to finish what I started. And I'm going to do that on Saturday.
I have always gone hard with Aggie's. I've always been to the homecomings and the parades. I'm Aggie die hard. But a small part of me had a void because I hadn't completed my degree.  I would say to anybody, it is well worth it. The Aggies at the Goal Line program makes it possible. I am very happy.
Aggie Pride! 
---
Kingsley Ifedi
N.C. A&T Fall 2022 Graduate
Major: Masters of Accountancy
Hometown: Charlotte (by way of Nigeria) 
I had an opportunity to play quarterback at A&T and being able to play on that high level, I wanted to take that personality into the business field. So now I have four accounting firms. I have offices in Charlotte, Greensboro, Greenville, North Carolina and Atlanta, Georgia. I just try to use that same competitive nature now that I'm becoming a CPA.  
I just finished the Master of Accountancy program here at A&T. It's a little bit different than an MBA. It's just focused on accounting and all things debits and credits.
I've always been a problem solver. I would say I didn't become a numbers guy until college. Throughout school I actually considered myself bad at math, but I love to solve problems. I think accounting is where problem solving meets math.
I originally signed with East Carolina University. I played quarterback there for two years. I'm not an original Aggie, but I always say I am fully Aggie born and Aggie Bred.
Dr. O.J. will tell you the first time I spoke with her, I was like CPA? I don't even know if I even love accounting like that. But all those great professors just kept encouraging us. It's nothing to be afraid of. They said it's nothing that you don't already know. 
I felt a responsibility for A&T and for African Americans. It's a profession where only 1% of the population of CPAs are black. I wanted to make my impact when it came to the world of accounting and to increase that 1%. 
Aggie Pride!
---
Gwendolyn Toon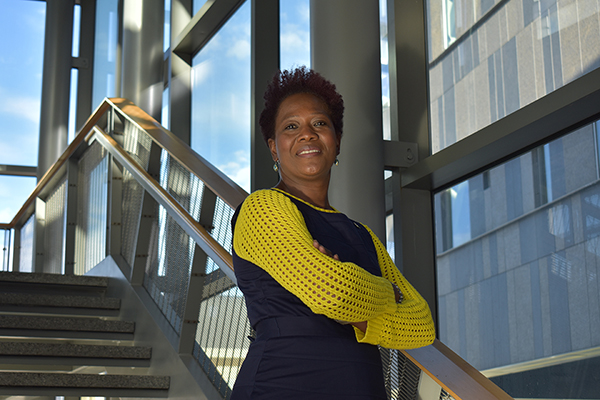 N.C. A&T Fall 2022 Graduate
Major: Aggies at the Goal Line, Liberal Studies
Hometown: Whiteville, North Carolina 
I began at A&T in August of 1981. My major was Industrial Technology, with a concentration in manufacturing. 
My junior year I got married. And moved to Colorado. Probably about three years after that I got divorced, moved back to Greensboro and started raising my daughter. I took care of her and made sure she got what she needed. Then my daughter said, "mom it's time for you to go back to college." I put it off for a couple years. I started once again. But, then I got sick. I had to put my plans on pause again.
A year or so ago I heard about the Aggies at the Goal Line program. I called the number, and the rest is history.
I first entered A&T on a volleyball scholarship. My freshman year was rough. Being a student athlete and being the first child in my family to attend a four-year college was difficult. But then I developed a community.
Being an Aggie is just something that you know you're supposed to be. And I felt like it was something missing in my life. I knew that if I was going to continue college, it had to be at A&T. I had three top things in my life that I wanted to do. First was salvation, then the birth of my daughter and then completing college. I'm just thankful for the Goal Line program that helps students who want to finish their degree to not have to start over. I just said lord how are we going to do this? He said, first of all you're going to finish what you started. And then we'll work out the details. The Aggies at the Goal Line program was the detail. I feel complete. 
Aggie Pride!
---
Nakylah Carter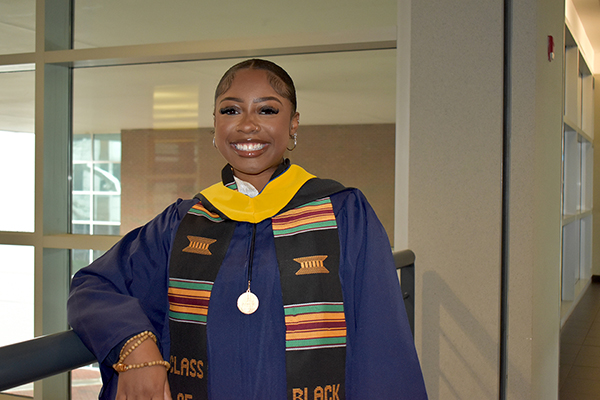 N.C. A&T Fall 2022 Graduate
Major: Journalism and Mass Communication
Hometown: Chicago, Illinois
My name is Nakylah Carter. I'm a Journalism and Mass Communication student with a concentration in multimedia. I was a Dow Jones news fund intern and I got to work with American City Business Journals, specifically one was the Triad Business Journal. I was a business reporting intern. I started off being a minority owned business reporter, but it merged to real estate and honestly a bunch of different things, including restaurant and retail. I ended up finishing with two cover stories and one enterprise story. I think I had over 60 stories and I was there for 11 and a half weeks. 
I want to be a versatile journalist. I think so often journalists or young journalists have this idea of the type of journalism they want to do, but I think learning a little bit of everything would play best in the long run. I think the greatest example of a black woman journalist who is really killing it in the investigative journalism field is Nicole Hannah Jones, especially with her book, New York Times' "The 1619 project" that is still controversial right now. 
I just accepted a six-month internship with the possibility for full time with ABC News' "Race and Culture" unit in Washington D.C. So, I'll be writing with Good Morning America. Com. 
A&T taught me that "no" is not the end. So often, black people in America, especially young black people trying to make it in the world get a "no" and think "maybe I need to do something else," but A&T taught me that a no is just another reason for you to try again. Being around so many like-minded and successful individuals that look like me and aspire to do the things that I do, there are enough "yeses" for all the black people who want to do anything. 
Aggie Pride! 
---

Saniya Sampson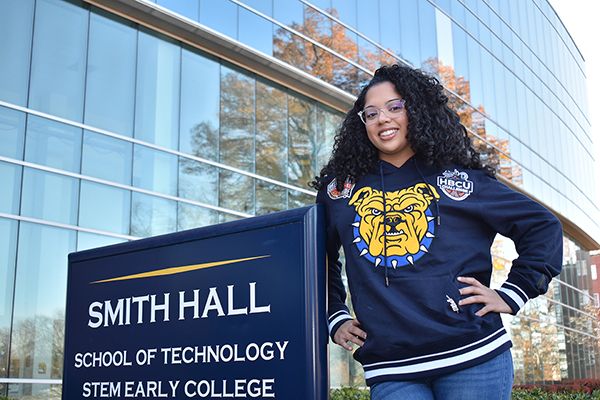 N.C. A&T Fall 2022 Graduate
Major: Construction Management
Hometown: Waldorf, Maryland
I chose construction management because my grandfather and my dad owned a construction business when I was growing up. I used to work with them every summer and even as a little girl, they would take me out to the job sites. 
I feel out of place all the time, but in the back of my mind I just try to continue with confidence knowing that I am just as capable as any man. Just because I'm a woman doesn't stop me from performing and being successful. 
From talking to him [my grandad], I didn't know there weren't many women in the industry. As a young girl I just thought I do all this cool stuff with my granddad. I run all this cool equipment and I play in the dirt. I didn't think about gender. 
People try to put you out of place, but you just have to know within yourself that you are enough. 
At the Thurgood Marshall Competition, we had to create a business pitch. Our pitch won. They gave us a case study to find the perfect city for a biotech company to move to the U.S. from the UK. 
I received my commercial real estate certification from Cornell University. I took those classes while I was doing my internship at JE Dunn Construction. I do furniture renovations; I can put together cabinets. Anything with a hammer and drill I can probably do. 
I have a full-time position at D.A. Everett Construction. It's a black-owned construction firm based out of Charlotte. I will be starting this upcoming January as a project engineer. 
Aggie Pride! 
---
Justin Anderson
N.C. A&T Fall 2022 Graduate
Major: Mechanical Engineering
Hometown: Philadelphia, Pennsylvania
Mechanical engineering is so vast in what you can learn and what you can perform. I thought I came in just for cars, but I've realized that…I like things with space. Things that deal with heat. It's so much. It's so vast. Everything about it, excited me.
For my senior design project, I worked with a company called Sandia National Labs. They came to A&T as a sponsor a couple years ago with the intentions of basically building tools for space. We mainly had to build a lens holder for space that could identify small space degrees with the idea of protecting satellites. We did such a good job on the engineering analysis part that the sponsor told us that if we wanted jobs at any point that we could talk to them. We competed against other teams in Michigan, Baltimore and in Texas. The overall consensus was that we were on top for everything. That kind of helped me out for my internship that I got later that summer. 
I'm currently talking with the company that I did my internship with about getting a nuclear engineering position in Jersey. Hopefully I will get that...oh I know I'm going to get it. It's for me. I'm going to get it. 
I spent so much time in the library as a freshman, as a sophomore and somewhat as a junior, that I met a lot of people from different cultures and different places, different mindsets, and different point of views, that it allowed me to kind of expand how I see the world and make good friends with different people and places around the world. So, I think my best memories are of meeting people in the library. 
Aggie Pride! 
---
Mac Rubio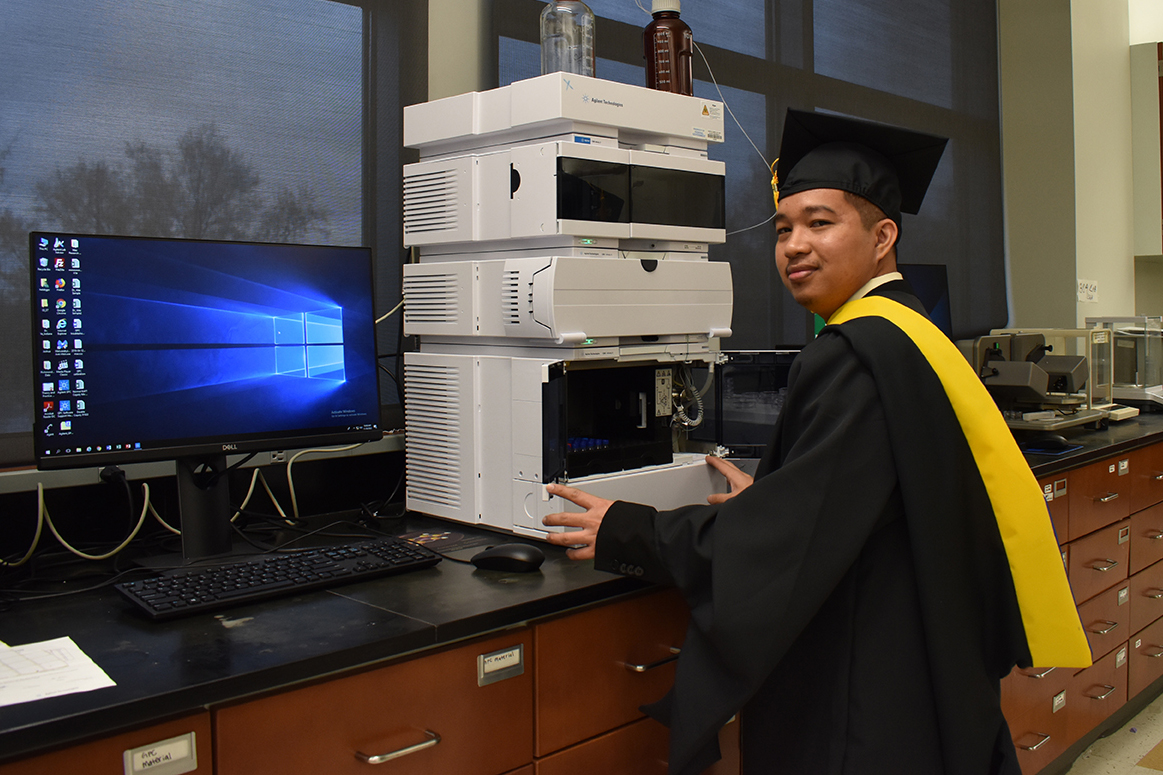 N.C. A&T Fall 2022 Graduate
Major: Masters, Chemistry
Hometown: Philippines
I looked for a great institution around the United States and I found North Carolina A&T State University. I've learned a lot and met a lot of great professors and colleagues.
I researched iodinated polymers that have potential applications in the field of bio imaging. We synthesized different iodinated polymers and conjugates that can be used in different biomedical applications. If you are familiar with bio imaging such as ultrasound and CT scan, we are synthesizing a compound that can overcome the limitations of the commercial contrast agents that are being used in those applications. 
I think the most memorable and unforgettable moments that I have had here is being able to work in the lab independently because my mentor taught me how to be a skilled and passionate researcher and being able to learn and discover a lot of things in the lab helped me to become a professional and a skilled chemist.
I'm planning to go back to the Philippines after my master's degree. I will be working in academia. The very first reason why I studied in the United States is because I wanted to acquire world-class skills and knowledge that can be used to help my country especially in development and innovation in the field of science and technology.
Never give up. I know that challenges and trials are always there, but they are just there to teach us to become better individuals. Always persevere. Always do your best and never give up. Always trust in the Lord and always think that everything happens for a reason.

Aggie Pride!