College of Agriculture and Environmental Sciences
Industrial Hemp Research Projects
Soil Health Management for Value-Added Hemp Production
Project Team
Arnab Bhowmik, Ph.D.
Abolghasem Shahbazi, Ph.D.
Industrial hemp (Cannabis sativa L.) is an emerging crop that not only delivers seed, fiber and medicinal cannabidiol (CBD), but also has the potential to improve soil health and provide environmental benefits. Since the legalization of hemp production by the 2018 United States Farm Bill Act, there has been an increasing interest among small-scale, limited-resource farmers in adopting this crop for CBD production. However, questions remain about how to produce high levels of value-added CBD hemp, while implementing the climate-adaptive soil management practices that also minimize greenhouse gas emissions. This project's objective is to develop a scientific database of the soil health and environmental benefits associated with CBD hemp production, along with increased understanding of hemp agronomics, to benefit the small-scale limited resource farmers interested in adopting this emerging high value crop.
Purification of CBD oil extracted from hemp flowers
Project Team
Abolghasem Shahbazi, Ph.D.
Arnab Bhowmik, Ph.D.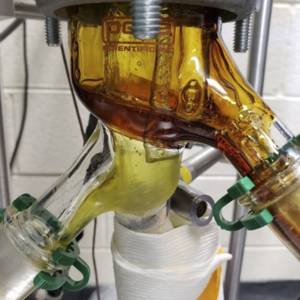 This project examines the viability of using a short-path distillation system to develop advanced processing techniques that achieve greater purity for processed hemp. Once the hemp extract is decarboxylated, it is processed at a lower pressure and temperature than those used by other traditional technologies. The extraction usually involves a solvent that must be removed before the terpenes, cannabinoids, and heavier waxes can be isolated. This system is based on the vapor pressure of the constituting components and is suitable for the purification of compounds such as CBD, which has poor volatility.
Training Farmers and Extension Agents through N.C. A&T's Pilot Industrial Hemp Program
Funding Agency
Project Team
Sanjun Gu, Ph.D.
Guochen Yang, Ph.D.
Valerie Giddings. Ph.D.
This project provides workshops, demonstrations and a Hemp Conference to develop industrial hemp production expertise among County Extension agents, especially A&T agents who directly serve small and limited resource farmers, to enable them to serve as trainers and educators for industrial hemp production. The project also Offers education and training programs to small-scale farmers who are interested in growing industrial hemps as an alternative cash crop, and establishes an outreach program to disseminate research results and state regulations related to the development of industrial hemp as a profitable new commodity.
Development of a Sustainable Cropping System for Industrial Hemp Production by Limited-Resource Farmers
Project Team
Beatrice Dingha, Ph.D.
Louis Jackai, Ph.D.
Arnab Bhowmik, Ph.D.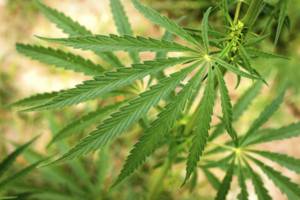 The project will enhance hemp production through management strategies that are sustainable and cost-efficient. It identifies hempseed cultivars suitable to grow in N.C. and evaluates their integration into two cropping systems: crop rotation and intercropping; evaluates soil health indicators with respect to biological nutrient cycling and microbial community; and assesses system profitability from best production practices. The overall goal of the project is to develop a sustainable research-based strategy and communicate information on pests, pollinator activity and soil health that will help farmers make informed decisions about hemp production.
The Economics of Hemp Production and Research: Implications for Farmers in North Carolina
PROJECT TEAM
Obed Quaicoe (PI)

Fafanyo Asiseh

Omoanghe S Isikhuemhen

Felicia N. Anike
Hemp production is touted as a potential lucrative business for farmers in North Carolina in the near future. However, the economic risks and production practices for plant growth and disease prevention are still largely unexplored. Farmers experiencing market failure in the post-tobacco era are willing to try new crops that have the potential to keep their farms in business. The perceived financial benefits hemp promises have heightened interest among existing and new farmers alike; however, farmers in North Carolina are getting into hemp production without having a full understanding of its economic viabilities and risks. There has not been any precise economic analysis of hemp production in North Carolina due to the lack of data. In addition, hemp diseases, which are major risk factors, are better prevented than managed because of their fast spread, have not been adequately studied. The economic uncertainties and the lack of tested production practices constitute a complex and critical sustainability problem that requires multi-dimensional and interdisciplinary collaboration to find holistic and sustainable solutions. This project seeks to identify why farmers go into hemp production, determine the profitability of hemp farms, identify potential risks associated with hemp production and test unique nutrient combinations that will enhance plant growth and reduce disease incidence. Results of the research will present baseline knowledge needed to understand the economics of hemp production and ways to reduce risks and make hemp production profitable and sustainable for farmers in North Carolina.
Characterization of plant extracts as a potential contact surface disinfectant
PROJECT TEAM
Leonard Williams (PI)
Salam Ibrahim
Janak Khatiwada
Omoanghe S. Isikhuemhen
Guochen Yang
Conventional intervention methods used to inactivate viruses, such as ethanol, hypochlorite, and quaternary ammonium formulations, have shown to be ineffective on select food contact and fomite surfaces. Therefore, alternative antiviral agents such as phytochemicals have received attention as potential norovirus inhibitors due to their relatively low toxicity and lack of side effects, which allows them to be prepared as food-safe formulations. The goal of this project is to evaluate the potential of hemp, mushroom and other plant extracts as alternative antiviral and disinfectant replacements for the control of novel SARS-Corona Virus-2 (SARS-CoV-2) on food contact and fomite surfaces.
Evaluating abiotic stress in specialty crops using digital agriculture technology
PROJECT TEAM
Gregory Goins (PI)
Harmandeep Sharma (co-PI)
One of the goals of this project to provide new insights into plant physiology and its impact on yield in CBD hemp varieties under abiotic stress conditions. Plant physiological parameters, such as photosynthesis, transpiration, and stomatal conductance, will be measured using portable photosynthesis machine (i.e. LICOR-6800).