College of Agriculture and Environmental Sciences
N.C. A&T Industrial Hemp Team
Arnab Bhowmik, Ph.D.
Bhowmik, an assistant professor of soil science and soil microbiology, currently serves as the lead PI for the USDA NIFA Evans Allen funded project "Determining Optimal Growing Conditions for Industrial Hemp for CBD Oil in North Carolina." The primary goal of this project is determine the optimal nutrient requirements and soil conditions for different CBD hemp varieties in North Carolina. His group's research also focuses on identifying different climate-adaptive sustainable soil health management practices to produce value-added hemp products. The overall goal is to improve N.C. A&T's research capacity by developing a knowledge platform on sustainable hemp production that will ultimately benefit the small scale, limited resources farmers interested in adopting this high value crop.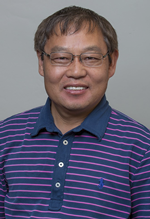 Sanjun Gu, Ph.D.
Gu's industrial hemp efforts are focused on outreach and demonstration. He organizes industrial hemp workshops and field days that help small farmers decide if industrial hemp should be included in their farm operation. He also offers training opportunities to Extension agents on industrial hemp education.  His work includes cultivar demonstrations of industrial hemp varieties for fiber, seed and CBD oil production; high tunnel CBD hemp production for CBD; and hemp production for CBD with and without plastic mulch.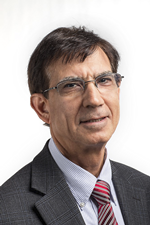 Abolghasem Shahbazi, Ph.D.
Shahbazi is the co-principal investigator of the industrial hemp project at A&T. The project, led by Arnab Bhowmik, Ph.D., is entitled "Determining Optimal Growing Conditions for Industrial Hemp for CBD Oil in North Carolina." This is a three-year project started Oct. 1, 2017. Two hemp varieties grown for CBD oil (Therapy and Cherry) were tested with four different fertilization rates during the first year of this project. Shahbazi, an agricultural and biological engineer who specializes in bioenergy research and product development, is responsible for sample collection, processing and analysis, including the extraction and purification of CBD oil. Analysis involves measuring the concentration of important cannabinoid compounds, including THC and CBD.
Guochen Yang, Ph.D.
Yang, a professor of horticulture and a commissioner on the North Carolina Industrial Hemp Commission, serves as a co-principal investigator on the project "Training Farmers and Extension Agents through the Pilot Industrial Hemp Program at N.C. A&T State University," which is supported by the Golden LEAF Foundation. This project is focused on developing industrial hemp production expertise among county Extension agents, to enable them to serve as trainers and educators of small-scale farmers who are interested in growing industrial hemp as an alternative cash crop. The project also establishes an outreach program disseminating industrial hemp research results and state regulations related to the development of industrial hemp as a profitable new commodity for North Carolina growers. Yang is a horticulture professor in the College of Agriculture and Environmental Sciences.
John Ivey
Ivey is the research specialist for the university's industrial hemp research project. Focusing mainly on production, Ivey is also one of the project's designers. An alumnus of A&T, a farmer and a former agriculture Extension agent in Guilford County, he's proud to bring his passion for research and helping farmers back to the university.