Points of Progress & Pride
Members of the North Carolina A&T Board of Trustees are often called upon to represent A&T in the community. This page is a one-stop resource to ensure Trustees and those around them have the most current and best knowledge about the current state of the university, including its rankings and recognitions. Use the anchor links below to take you to specific sections.
Current State & National Standing
Preeminence in Student Success
Current State & National Standing

Now in its 131st year, North Carolina Agricultural and Technical State University was the second institution created nationally and the first in this state under the 1890 Morrill Act, which provided for land-grant colleges to serve Black students. It has produced more than 70,000 alumni since its inception, and is a leading source today of Black graduates in a range of disciplines, from Engineering to Agriculture to Communications.
In addition to its storied past and abiding nature as a leading historically black university (HBCU), N.C. A&T is a public, land grant, doctoral research university. With a current enrollment of 13,322, it is America's largest HBCU for the eighth consecutive year. North Carolina A&T is also ranked the no. 1 HBCU in America by Washington Monthly (2021 College Guide and Rankings) and Money magazine (Best Colleges 2020), as well as the no. 1 public HBCU in the nation in America's Top Colleges 2021 by Forbes magazine.
For the 2021-22 academic year, A&T has a record enrollment of 13,322, driven largely by a 37% spike in first-year enrollment. But enrollment rose in many critical areas, including graduate programs for the third consecutive year, adding up to 1,726 students pursuing master's or doctoral degrees at A&T. Since Chancellor Harold L. Martin, Sr., joined the university in 2009, enrollment has mushroomed by 25 percent, and entering average GPA has grown from 3.06 to 3.7.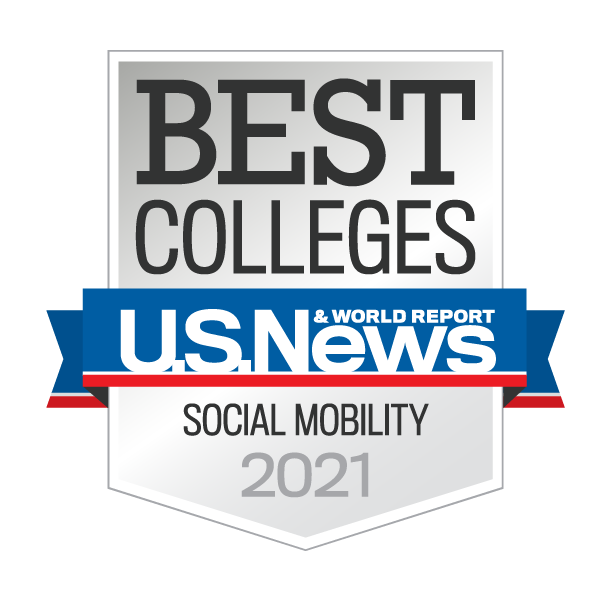 A&T further ranks among the country's top 40 national universities in Social Mobility, its top 50 in Most Innovative campuses, and its top 12 in Economic Diversity (US News & World Report). Also in U.S. News, A&T ranks second only to Spelman College among HBCUs in peer scoring with a 4.3 on a 5.0 scale, signifying that colleagues who perhaps know the university better than others in higher education hold it in exceptionally high regard.
The university is composed of nine colleges and schools:
A&T ranks second nationally among HBCUs and second among UNC System campuses in median starting salaries for alumni, with annual pay of $54,900 (US News & World Report). In North Carolina, it trails only Duke, Wake Forest and N.C. State in this critical measure of return on investment, and offers the lowest cost to attend of any of those campuses. That combination of affordability and outstanding ROI has become a major point of distinction for A&T nationally, growing enrollment and drawing attention.

Preeminence in Student Success


Agriculture & Environmental Sciences, Mathematics & Statistics

A&T produces more Black bachelor's degree graduates in Agriculture, Agriculture Operations and Related Sciences and more Black master's degree earners in Mathematics and Statistics than any campus in America.


Engineering
North Carolina A&T produces more Black engineering grads overall and at the bachelor's and master's degree levels than any university in America (U.S. Dept. of Education). It also sends more Black bachelor's degree graduates on to engineering doctoral programs than any university in the nation (U.S. Black Engineer magazine).
N.C. A&T also produces more Black women engineering graduates than any campus in America and is making significant contributions toward changing the image and reality of Engineering as a male-dominated profession. 

According to the Hundred-Seven Project, North Carolina A&T is also the nation's top producer of black science, technology, engineering and mathematics graduates overall.


Journalism, Liberal Arts, Leisure/Fitness Studies
A&T is one of the nation's top three producers of Black graduates in Communications, Journalism & Related Programs (USDOE). A&T is also the top producer of Black graduates at HBCUs in the Liberal Arts and in Parks, Recreation, Leisure and Fitness Studies (USDOE).
Preeminence in Research
North Carolina A&T ranks among the top three public research universities in this state in sponsored research productivity, alongside North Carolina State and UNC Chapel Hill. It is classified as a Doctoral Research University with High Activity by the Carnegie Classifications for Higher Education.
In FY2021, A&T faculty and student researchers earned more than $78 million in external contracts and grants, a 30% increase over the previous year.
Over the past three years, A&T has launched a series of new centers of excellence in cybersecurity, autonomous vehicles, entrepreneurship, advanced manufacturing and product design and additional areas funded by agencies at the federal and state level.
Preeminence in Service
North Carolina A&T is one of only 119 universities and colleges nationally to hold the Carnegie Foundation's Community Engagement Classification, an elective designation that indicates institutional commitment in this area.
A&T's extensive service commitments include ensuring no student goes without. Over the past three years, student leaders have launched Aggie Source, a food pantry providing free food and personal items, and more recently Aggie Rack, a professional clothing closet that makes business attire available free, enabling students to dress appropriately for career fairs and job interviews.
Preeminence in Athletics
The impact of North Carolina A&T's athletics program has grown explosively over the past five years. Winners of two gold and one bronze medal in the 2020 Tokyo Olympics, four of the past five Black college football national championships, numerous best national and global times in myiad track events, Aggie student athletes have also won scores of conference championships in recent years in bowling, women's and men's basketball and baseball.
Aggie student athletes excel in the classroom, as well. In 2021, 137 Aggies were named to the Mid-Eastern Athletic Conference (MEAC) All-Academic Team, signifying they had earned grade point averages of 3.0 or higher. Overall, A&T has won the MEAC's Academic Performance Rate Award for three consecutive years, meaning that its student athletes have logged stronger academic outcomes than those of any intercollegiate athletics program in the conference.
Also in 2021, the U.S. Track & Field and Cross Country Coaches Association named eight A&T women and five A&T men among its All-Academic Athletes nationally.


Preeminence in Philanthropy
In 2020, A&T completed the most successful fund-raising effort in public HBCU history, closing out the Campaign for North Carolina A&T with $181.4 million. The total was nearly $100 million above the university's original goal of $85 million and significantly more than the revised stretch goal of $100 million.
At the end of FY2021, the university completed an incredible year of raising support for A&T with a record $93.8 million in total gifts. The university's previous best year in fundraising was $18.1 million. The $93.8 million total included the largest single gift in A&T's history, a $45 million donation from philanthropist and author MacKenzie Scott.
The success of the Campaign for North Carolina A&T grew the university's endowment to $157.5 million -- the largest of any public HBCU -- and its total managed assets to  $178 million. While many majority-culture institutions have larger holdings, A&T is beginning to close the wealth gap between itself as an HBCU and other schools that for generations have had access to a level of philanthropic funding that was largely denied HBCUs.