TRiO Upward Bound
We Are
A federally funded TRiO Program sponsored by the U.S. Department of Education, established at North Carolina A&T State University in 1966.
Our Purpose
To generate in participants the skills and motivation necessary to succeed in post-secondary education.
Our Goal
Participants will graduate high school, enroll in college and graduate from a post-secondary institution.
Who We Serve
High school students from low-wealth families and families in which neither parent holds a bachelor's degree.
High school students who are traditionally underrepresented in post-secondary education.
High school students who have limited English proficiency or disabilities.
High School students who are homeless, in foster care, or are disconnected youth.
Our Program Components
Six-week summer residential program
Nine-month academic year program
Five-week summer Bridge program (for approved graduates)
"It has taught me accountability." - Isaiah Bigelow, Class of 2018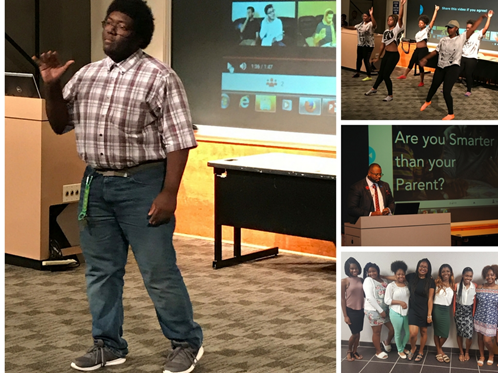 Our Services and Activities Include:
Instruction in Mathematics, Sciences, Composition, Literature, and Foreign Language
Tutoring and Academic Advisement
Cultural Enrichment Activities
Work-Study Program
Financial Literacy Education
College Exploration and Tours
Service Learning Opportunities
Career Exploration
College, Financial Aid, and Scholarship Application Assistance
Eligibility Requirements
To be considered for Upward Bound, applicants must:
Meet family, economic, and parent education status criteria
Attend one of the target high schools: T. Wingate Andrews, James B. Dudley or Ben L. Smith
Be a rising 9th through 12th-grade student
Show an academic need for program services
Complete a TRiO Upward Bound Application to Apply!
Summer Food Service Program
Upward Bound receives funding support from the N.C. Department of Public Instruction (NCDPI)'s summer food service program to provide our residential summer program participants healthy, nutritious meals each day. This partnership enables Upward Bound to provide participants academic and cultural enrichment while developing healthy eating habits. The summer food service program helps to provide breakfast and lunch meals Monday through Friday.
Contact Information
North Carolina Agricultural and Technical State University
TRiO Upward Bound Program
1020 East Wendover Avenue
Suite 205
Greensboro, NC 27405
Mailing Address:
North Carolina A&T State University
TRiO Upward Bound Program
P. O. Box A-22
Greensboro, NC 27411 

Main Phone: 336-334-7659
Fax: 336-334-7286
Hours of Operation
8:00 a.m. - 5:00 p.m. (Monday - Friday)
Staff
Judy Wilson, Director 
jcwilso5@ncat.edu | Phone: 336-285-3825
Keith James, Assistant Director 
knjames@ncat.edu | Phone: 336-285-3827
Brandelyn Hall, Program Counselor
bhall@ncat.edu | Phone: 336-285-3822
Becky Moffitt, Administrative Support
bmoffitt@ncat.edu | Phone: 336-285-3823