N.C. A&T TRiO Ronald E. McNair Post-Baccalaureate Achievement Program
The Life and Legacy of Dr. Ronald E. McNair
Dr. Ronald E. McNair was born Oct. 21, 1950, in Lake City, South Carolina, to Carl C. McNair Jr. and Pearl M. McNair. He attended the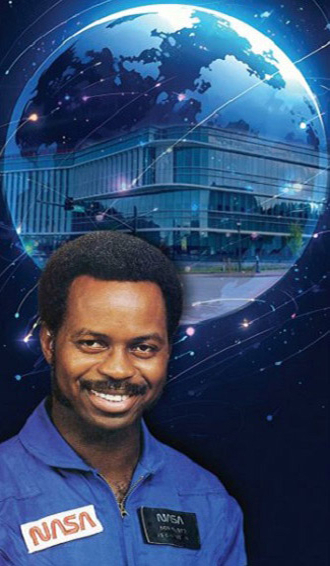 Lake City public schools and graduated valedictorian from Carver High School in 1967. After graduation from high school, he entered North Carolina Agricultural and Technical State University where he graduated magna cum laude with a Bachelor of Science degree in physics in 1971. He went on to pursue a Doctorate of Philosophy in physics at the Massachusetts Institute of Technology (MIT). In 1975, he studied laser physics with many authorities in the field at E'cole D'ete Theroique de Physicque, Les Houches, France. McNair received his doctorate from MIT in 1976. He was also presented an Honorary Doctorate of Laws from North Carolina A&T in 1978 and the Honorary Doctorate of Science from Morris College in 1980 and the University of South Carolina in 1984. 
Following graduation from MIT in 1976, he became a staff physicist with Hughes Research Laboratories in Malibu, California. His assignments included the development of lasers for isotope separation and photochemistry utilizing on-linear interactions in low-temperature liquids and optical pumping techniques. He also conducted research on electro-optic laser modulation for satellite-to-satellite space communications, the construction of ultra-fast infrared detectors, ultraviolet atmospheric remote sensing, and the scientific foundations of the martial arts. McNair was selected as an astronaut candidate by NASA in January 1978. He completed a one-year training and evaluation period in August 1979 and qualified for assignment as a mission specialist astronaut on future space shuttle flights. His first flight as a mission specialist was on STS 41-B launched from Kennedy Space Center, Florida, on Feb. 3, 1984. The flight accomplished the proper shuttle deployment of two Hughes 376 communications satellites as well as the flight-testing of rendezvous sensors and computer programs. This mission marked the first flight of the Manned Maneuvering Unit and the first use of the Canadian Arm (operated by McNair) to position EVA crewman around Challenger payload bay. Challenger culminated the first landing on the runway at Kennedy Space Center on Feb. 11, 1984. With the completion of this flight, he logged a total of 191 hours in space.
After his death in the Challenger tragedy, Congress provided funding for the Ronald E. McNair PostBaccalaureate Achievement Program. This program is designed to prepare and encourage low-income, first-generation, and underrepresented students to enroll in a graduate program of study leading to a doctoral degree and to consider careers in college teaching. The program is dedicated to the high standard of achievement Ronald McNair's life represented.
The Ronald E. McNair Post-Baccalaureate Achievement Program
The N.C. A&T TRIO McNair Scholar Program is an intensive research program that prepares undergraduate students who have a strong interest in pursuing graduate and doctoral studies. Scholars complete a comprehensive program with the support of Faculty Mentors, program staff, and a research stipend.
Research Training and Experience
Mentorship by Faculty Members
Tutoring and GRE Prep
Academic Counseling
Scholarly Workshops
Cultural Enrichment Opportunities
Graduate School Visits
Professional Conferences
Graduate Application Assistance
McNair Scholars are eligible to receive financial support for scholarly research and graduate school applications.
N.C. A&T undergraduate students with a 3.0 GPA
U.S. citizen or permanent resident
Limited-income and first-generation college student OR a member of an underrepresented group
How to Apply?
Applications for the N.C. A&T TRIO McNair Scholar Program are available annually in late spring and when/if there is a vacancy. An essay and two letters of recommendation will be required.
The Ronald E. McNair Scholars
Through a grant competition, funds are awarded to institutions of higher education to prepare eligible participants for doctoral studies through involvement in research and other scholarly activities. Institutions work closely with participants as they complete their undergraduate requirements. Institutions encourage participants to enroll in graduate programs and then track their progress through to the successful completion of advanced degrees. The goal is to increase the attainment of Ph.D. degrees by students from underrepresented segments of society. North Carolina A&T State University, the alma mater of Dr. Ronald E. McNair, is proud to present our first cohort of 2023 McNair Scholars:
Beloved Nicholson, Junior - Animal Science
Felipe Cruz, Sophomore - Computer Science
Jaelynn Allen-Scott, Senior - Chemistry
Danae'jah Jones, Sophomore - Finance
Liana Combs, Sophomore - Psychology
Alyssa Johnson, Sophomore - Business Administration
Faith Springs, Senior - Mechanical Engineering
Jashonti Block, Sophomore - Nursing
Kweston Hill, Junior - Economics
Larry Smith, Jr., Senior - Social Work
Alayah Solomon, Sophomore - Biology
Savannah Spearman, Sophomore - Biology
Anansi Coleman, Junior - Automotive Engineering
Vanessa Jones, Senior - Physics
Victoria Lanier, Senior - Industrial & Systems Engineering
Madison Jordan, Junior - Physics
Elijah Wesley, Sophomore - Biomedical Engineering
Jaedia Rodgers, Junior - Mechanical Engineering
Jordynn Holley, Senior - Journalism
K'nai Nelson, Sophomore - Animal Science
Jessica Maddox, Junior - Psychology
For More Information
Dr. Samantha Aaron, Director | TRIO Ronald E. McNair Post-Baccalaureate
Achievement Scholars Program
Phone: (336) 285-2721 | Email: sgaaron@ncat.edu