Frequently Asked Questions
Contracts
A legal obligation which commits resources,

 
such as
 

money

 
or
 

time.
Only certain employees may enter into a contract on behalf of the University. If you have not been told by your supervisor that you have such authority, you may not enter into a contract binding the University.
Contact the Office of Legal Affairs.
Public Records
All state employees, and contractors including students who are on work study.
You must retain the University's public records according to the University and UNC System's records retention policy.
Contact the Office of Legal Affairs immediately.
Litigation Holds
A litigation hold is a notice letting you know that the University may be sued, or has been sued. It tells you what to do. Some of the steps you may have to take include securing documents until requested.
Contact the Office of Legal Affairs or the Attorney who sent the notice.
Disability
An individual with a disability is one who has a physical or mental impairment that substantially limits one or more major life activities and has documentation of such disability; or is regarded as having a disability. Types of disabilities include: vision; .movement, thinking, and learning. Even when a disability is shared by different individuals, the disability can affect each individual differently.
Individuals who have disabilities have protections from unlawful discrimination under North Carolina and federal law. For instance, the Americans with Disabilities Act prohibits discrimination against individuals who have disabilities in all areas of public life. Similarly, North Carolina law prohibits employers from failing to hire, promote, or consider a person because of that person's disability.
Employees can contact the University's Human Resources Office if they have concerns about unlawful discrimination. Students who have concerns about unlawful discrimination can contact their Advisor, Dean and Office of Accessibility Resources.
Employees. A "Reasonable Accommodation" is .a modification or adjustment to a job, employment practice, or the work environment so that there are equal employment opportunities.
Students. The definition of "Reasonable Accommodation" is extended to students in the learning environment.
The University is required to reasonably accommodate qualified individuals with disabilities except where the accommodation would create an undue hardship on the University. Reasonable Accommodations to a student cannot fundamentally alter the education program.
Whether referring to students or to employees, a reasonable accommodation does not have to be granted automatically; the employee or student must request the reasonable accommodation. Requests for reasonable accommodations must be reviewed on a case-by-case basis.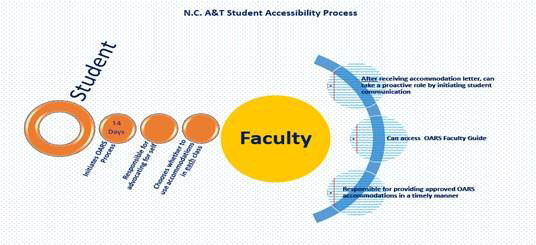 Student 
Initiates OARS Process (14 days)
Responsible for advocating for themselves
Chooses whether to use accommodations in 

each

class
Faculty
After receiving accommodation letter, can take a proactive role by initiating student communication
Can access OARS Faculty Guide
Responsible for providing approved OARS accommodations in a timely manner
Subpoenas
A legal order requiring some action, e.g. producing information, or appearing before a court within a specified period of time.
Immediately contact the Office of Legal Affairs. Subpoenas often require compliance within a short amount of time. Contacting the Office of Legal Affairs will allow the office to respond to the subpoena in a timely fashion, and to address any related questions.
Disclaimer: The information on this page is provided solely for informational purposes, and is not to be construed as, or be a substitute for legal advice.