Office of Career Services
October 2023 Newsletter

UPCOMING EVENTS

The Office of Career Services is excited about upcoming events this month! There will be many information sessions for students to expand their horizons and learn more about certain companies.
Friday, Oct. 6: "Breaking Barriers: Women in Finance" by Bank of America, 10 a.m. in Charlotte, North Carolina
Wednesday, Oct. 11: Lobby Day/Drop-In Hours, College of Arts, Humanities and Social Sciences, 11 a.m. in the General Classroom Building lobby
Tuesday, Oct. 17: Memphis Teacher Residency @ NCAT tabling event, 10 a.m. in the Student Center Stallings Lobby
Thursday, Oct. 19: Career Readiness with Lenovo, 5 p.m. in Student Center Room 222
Tuesday, Oct. 24: Altria Signing Event, noon in the Student Center Stallings Lobby
Log into Handshake for more details and events: https://app.joinhandshake.com/stu/career_fairs/41722?ref=events-search.
FALL CAREER FAIR RECAP
The fall 2023 career fairs held Wednesday, Sept. 13, were a huge success! Record-breaking history was made with nearly 5,000 students and more than 300 employers in attendance.
This year, the fairs were held in three different locations so that students could engage
with more employers about various career opportunities.
The career fairs were divided into two groups: STEM and business and humanities at Corbett Sports Center and the Alumni-Foundation Event Center and education, arts, social sciences and undecided at in the Student Center in the Deese Ballroom.
"I definitely got a couple of professional opportunities that I felt were really good," said business administration student Donovan Bethea. "I was able to encourage a couple of men from the Exceptional Males in Business to come as well, so it was really important to go."
Tania McClary, a public relations student, also enjoyed the career fair and the opportunity to network with specific companies. "I got the chance to speak to Altria, which I met a few other times at the résumé drive, The Fresh Market and Coca-Cola," she said.
THANK YOU, PRESIDENTIAL AND EXECUTIVE SPONSOR

S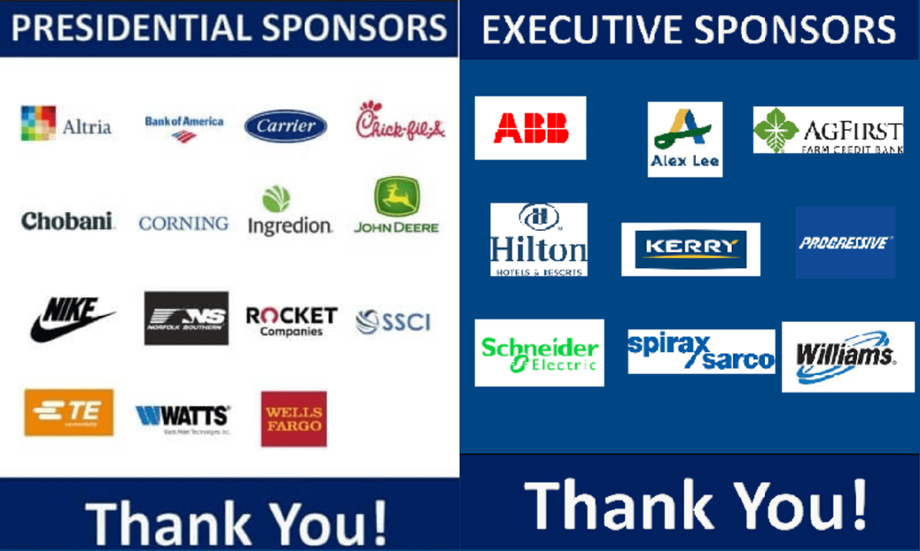 The Office of Career Services at North Carolina Agricultural and Technical State University wants to extend a special thank you to our presidential and executive level sponsors.
Presidential sponsors include Altria, Bank of America, Carrier, Chick-fil-A, Chobani, Corning, Ingredion, John Deere, Nike, Norfolk Southern, Rocket Companies, SSCI, TE, Watts, and Wells Fargo.
Executive sponsors include ABB, Alex Lee, AgFirst Farm Credit Bank, Hilton Hotels & Resorts, Kerry, Progressive, Schneider Electric, Spirax Sarco, and Williams.
OCS offers Presidential and Executive sponsors many opportunities to make student connections, as well as increase campus visibility and engagement to build their brand.
These sponsorship packages help maximize the companies' recruiting strategy and connect students with potential employers.
For more information about sponsorships, visit www.ncat.edu/careerservices.